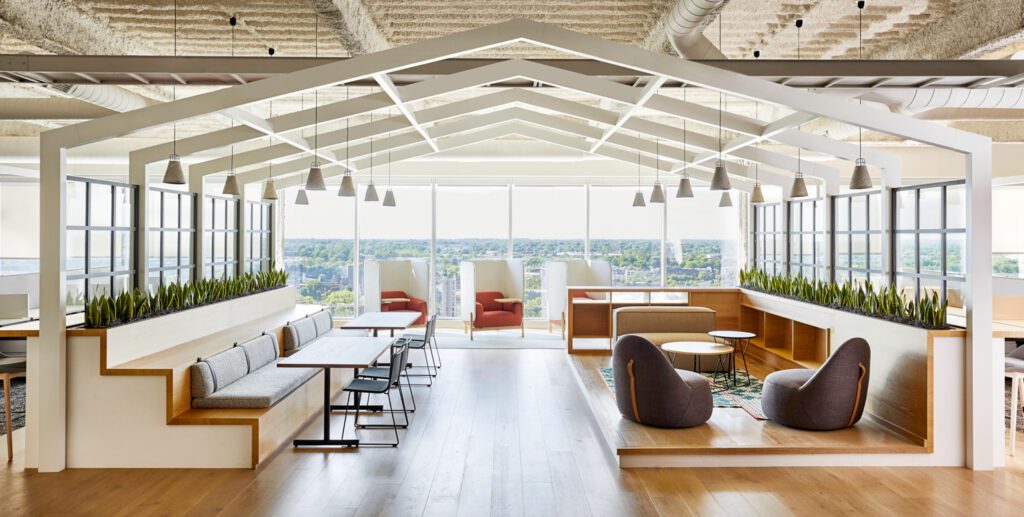 Redline Design Group and Kelley Vieregg Design Envision a Playful Office for LendingTree in Charlotte
When it comes to amenities, the new LendingTree office in Charlotte, North Carolina, goes above and beyond—quite literally considering its "treehouse" areas with expansive views. From a music room complete with instruments (and a karaoke machine) to four libraries featuring cozy fireplaces, the 176,000-square-foot office can easily be mistaken for a boutique hotel. Conceived of by Redline Design Group with interiors by the firm in collaboration with Kelley Vieregg Design, the space reflects the creative, laid-back vibe LendingTree fosters. "We quickly understood and absorbed their culture, translating these characteristics throughout the design across all six floors of the headquarters," share Amy Taylor and Rebecca Holthoff of Redline Design Group. The duo worked on the project along with colleagues Brooks Runkle, Graham Rabon, and Ryne Hawkins. "Every part of the space embodies the LendingTree brand and its southern roots visually," they add.
But "stitching together" a wide array of amenity spaces within a work environment also posed some design challenges, leading the team to reference the room-to-room aesthetic of a home to create a cohesive whole. "There was a conscious thought process to make this office feel like a 'whole environment,'" Taylor and Holthoff say. "The confluence of work and home was at the forefront of our design drive. Creation of many 'third spaces' that welcome each and every person—areas that feel like coffee shops, parks, and local pubs, all encourage people to 'hang out' at work." To further this concept, the workplace features personal touches throughout. "It is a visually curated space with over 300 pieces of art, 900 books for the four libraries, and one of a kind accessories—all to create an environment that takes its cues from the comforts of home," offers Kelley Vieregg. Such an inviting environment will no doubt ease the work from home-to-office transition for employees and clients alike.