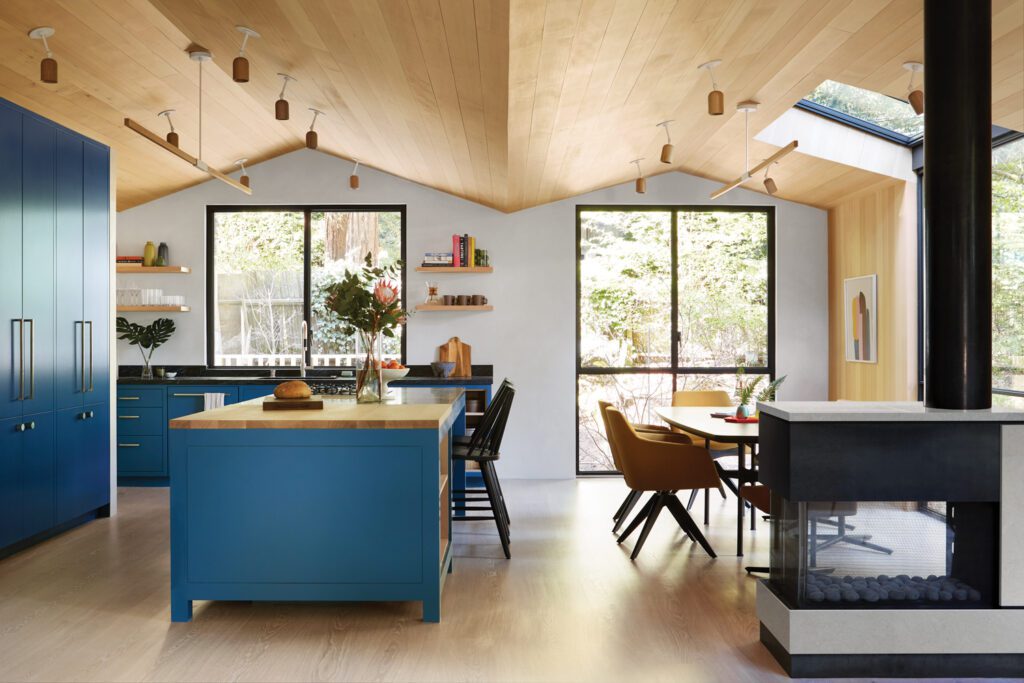 Richardson Pribuss Architects Designs an Artists' Residence in Mill Valley, California
When a New York–based artist couple decided they needed an exurban getaway, they opted out of the usual suspects. No Hamptons, Hudson Valley, or Berkshires. Instead, they cast their net some 3,000 miles away and landed in Mill Valley, California, where they purchased a diminutive cottage, one of four built almost a century ago along Corte Madera Creek. Considering that the wife is originally from Carmel Valley, the destination wasn't such a stretch. What might have been, though, was their choice of Richardson Pribuss Architects. The owners came upon the local firm simply through Googling. "The clients' executive assistant called, set up an interview and site meeting, and we were hired the next day," principal Heidi Richardson recalls.
At that initial encounter, Richardson and principal Andrew Pribuss mentioned original drawings would be helpful. The couple pulled them from a closet, and Richardson discovered a prior owner to have been erstwhile clients for whom they'd rehabbed a nearby property. Kismet aside, initial plans for mere renovation morphed into a full-on rebuilding effort—COVID-challenged, at that. Along with preserving the locale's giant redwoods and optimizing views of them, the overarching intent was to remain true to the cabin vernacular while "boiling down the essence of domesticity to just 1,600 square feet," Richardson notes.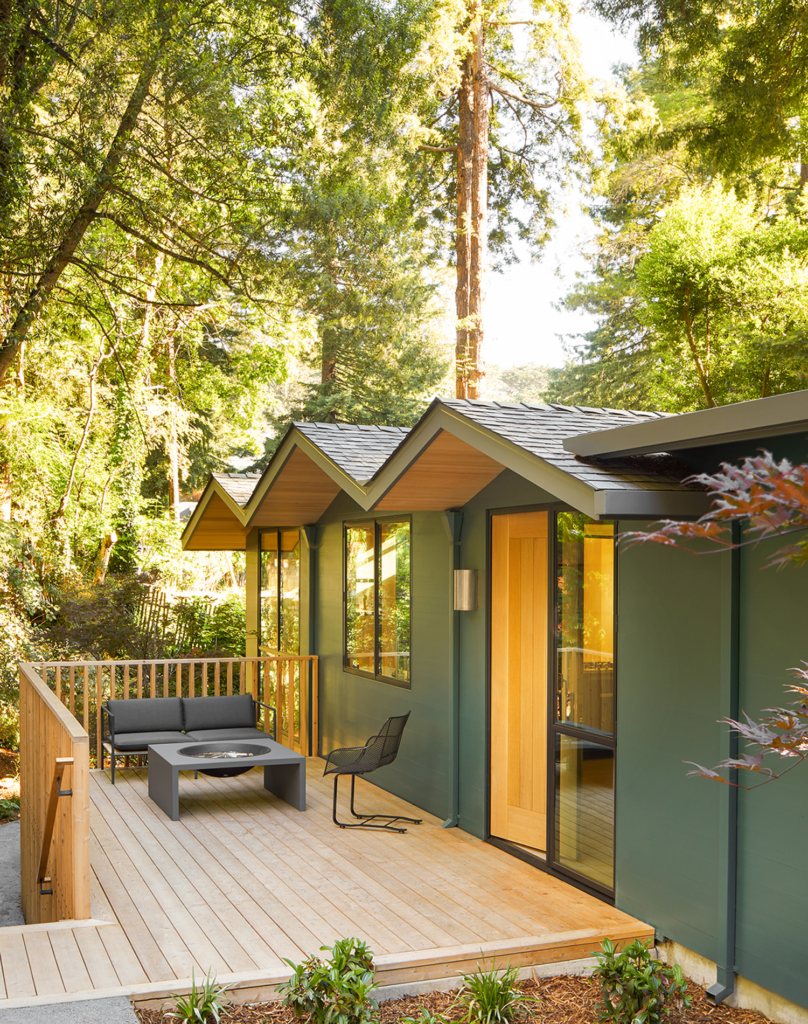 A gamechanger was easing up the entry sequence from the carport, bedeviled by clunky staircases and changes in grade. "We took a ton of dirt and back-filled a corner of the property at the far side of the porch to level things and create a meandering path," Pribuss explains. Another big move entailed restoring and enhancing the dwelling's standout architectural element: its gables, which had been subjected to an awkward addition and framing-over during previous renovations.
Everything else is new. That means butt-joined cedar siding, its verdant color appropriately selected by the artists. Cedar, too, are porch railings and decking; the custom front door is hemlock. Blackened steel surrounds enlarged openings and a quartet of new skylights situated "to nail views of those trees," Pribuss continues.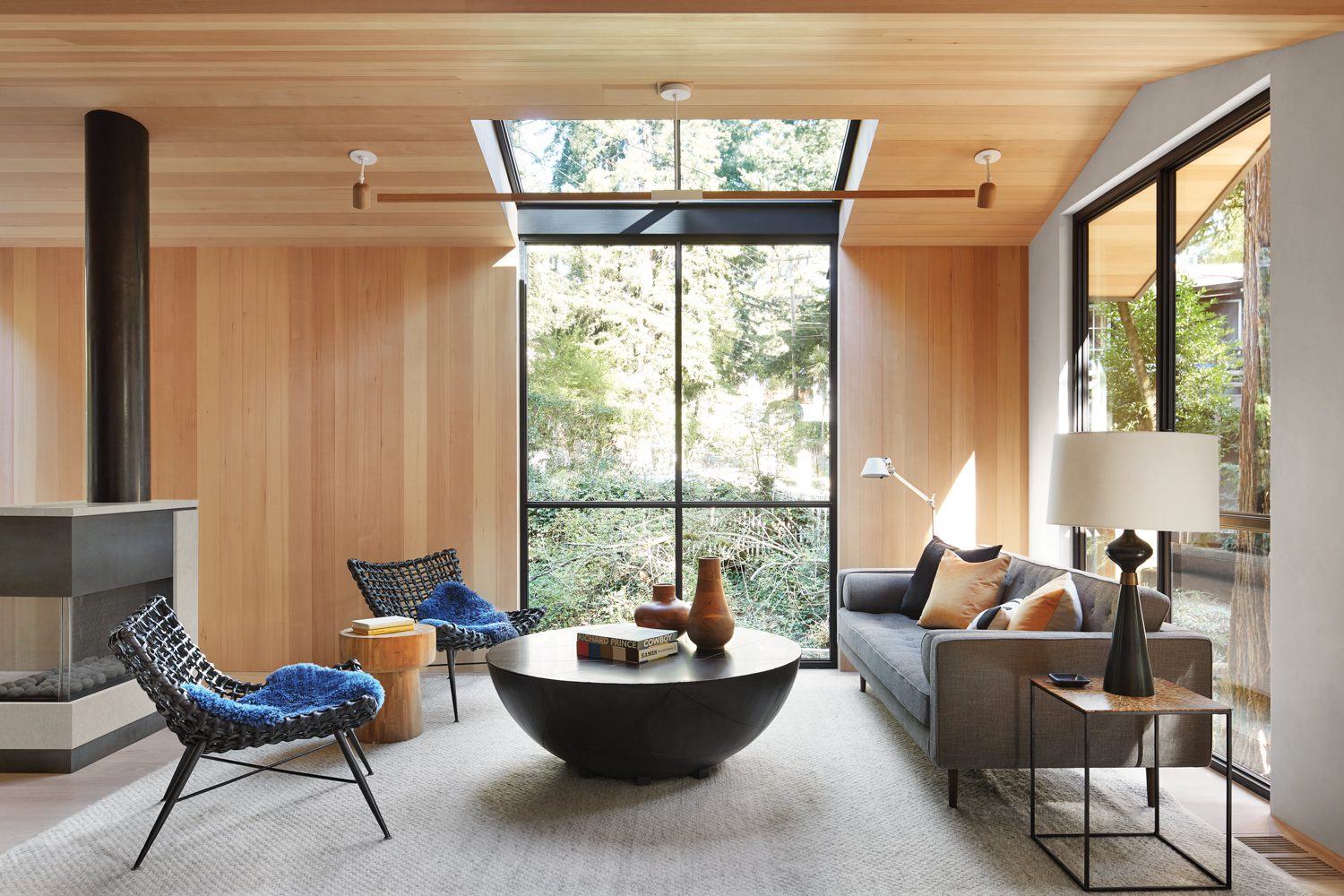 The architects reconfigured the floor plan, providing new walls and finishes throughout. Three bedrooms became two, resulting in an expanded living-dining-kitchen area plus an entry-adjacent mudroom zone. Client requests included wide-plank European white oak flooring and a wood-burning fireplace to replace the chunky river-rock original. As for the kitchen, the wife had photos to back up her mind's-eye vision of the island: part butcher block, part Brazilian soapstone, its plywood cabinetry painted a blue-green shade whose appearance changes according to the light. (Speaking of lighting, the couple wanted it low tech, ergo the white-oak pendants and spots.) The minimal palette is simplified to the max. Walls are limestone plaster that is slightly reflective. The primary bath is predominantly Fontainebleau limestone. Main sleeping quarters have a hemlock bed niche.
With the advent of COVID, the owners were constrained to just one more job-site visit, which occurred during framing. That was it for in-person communication. "But they had so much trust in us," Richardson says. "In turn, we had to fall back on our instincts and drill down on the details." Only at the end of the year-and-a-half process did the owners come to see results. They discovered the firm had gone beyond its architecture purview to stage furnishings—including Lievore Altherr Molina's Alya chairs in the dining area and the Sunbrella-covered two-seater on the front porch—meant as suggestions for future purchases.
Project Sources