Rina Lovko Studio Makes a Red-Hot Kyiv Apartment Look Cool
Hired to redesign an apartment that featured an unconventional floor plan, its shape akin to a flipped-open hand fan, Ukranian architect Rina Lovko delivered an equally unconventional scheme. "The layout of the space, with its complex geometry, created certain difficulties; standard techniques did not work here," Lovko admits. "But at the same time it excited us professionally"—and liberated her to go in a progressive
direction. Most notably, she took advantage of the daylight flooding in through the curved window wall, and the clients' yen for flowing lines, by reconfiguring the space into an open, airy, and artful milieu.
Located on the ninth floor of a circular tower in Kyiv's Pecherskyi district, the 2,200-square-foot apartment was originally divided into five enclosed rooms. Lovko combined three of them into a single kitchen/dining/living space that better suited the lifestyle of the clients, a young couple who work in the culinary field. The uber-functional new kitchen, set up for communal cooking and entertaining, centers on a generous
island topped with what appears to be terra-cotta tile but is actually glazed porcelain. "The slightly irregular edges give the impression of
a handmade product," Lovko notes. Base cabinetry and a bar-height
custom table, both painted MDF, offer colorful counterpoints to the
architecture's exposed concrete.
Establishing a galleryish vibe in the living area are minimalist furnishings arrayed like freestanding sculptures, plus abundant built-ins to
contain clutter. "We organized several hidden areas to relieve the main space from cupboards and household items," Lovko says. Strategic storage also defines the commodious dressing room that's tucked between the main and guest bedrooms: In the middle of this space stands a see-through custom wardrobe, a sartorial showcase. Also glass—this time frosted—is the wall separating the sanctum from the apartment's main circulation route, allowing light to penetrate all the way into the landlocked main bathroom on its opposite side.
Despite the rigorous architecture, strict forms, and the minimum of furnishings, says Lovko, "the space turned out to be quite cozy." A repose in the soaking tub would indicate as much.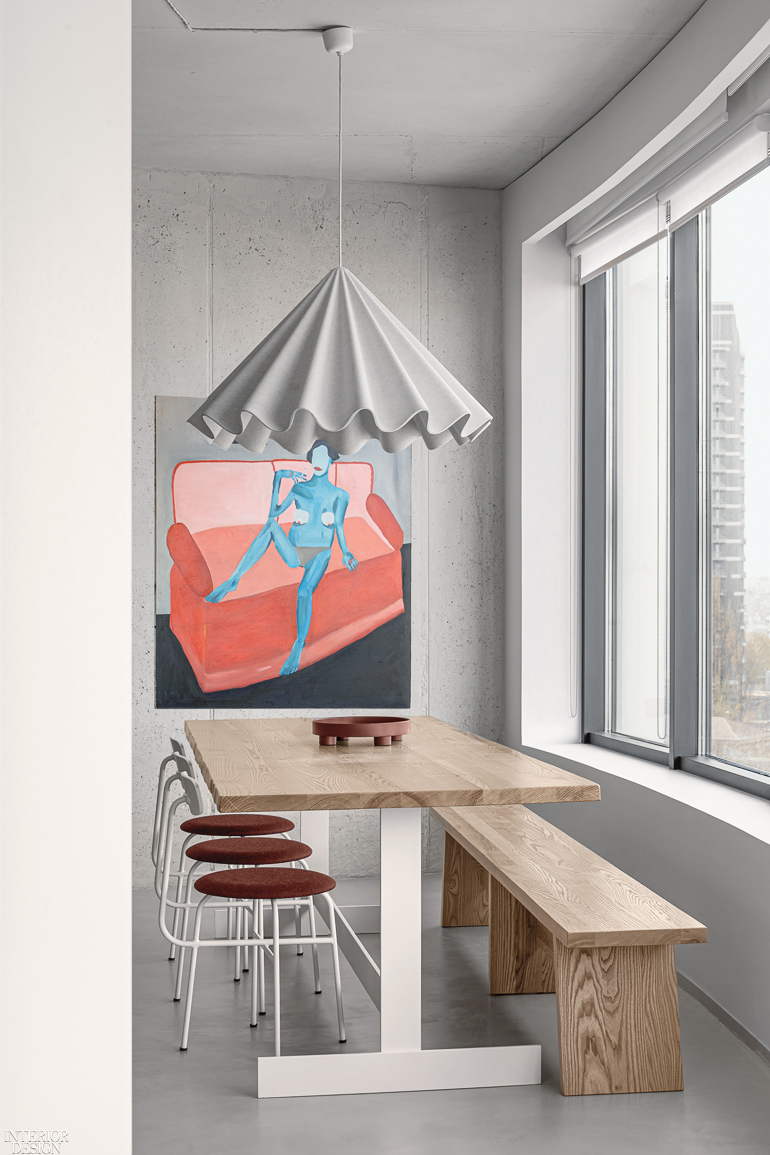 Product Sources: Mutina: Tile (Kitchen). B&B Italia: Lounge (Living Area). Vandra Rugs: Rug. Hay: Side Table (Living Area), Mirror (Bathroom). Art Nova: Sofa (Living Area). Menu: Pendant Fixture, Chairs (Dining Area); Pendant Fixture (Bedroom); Sconce (Bathroom). Bruma: Mixer (Bathroom). iStone: Sink. Throughout: Benjamin Moore & Co.: Paint. Schneider Electric: Outlets. Bassa: Custom Furniture Fabrication, Glasswork. Davis Casa, Svetoria: Local Distributors.