Rob Paulus Architects Designs Portal into the World of Craft Cocktails in Tucson, Arizona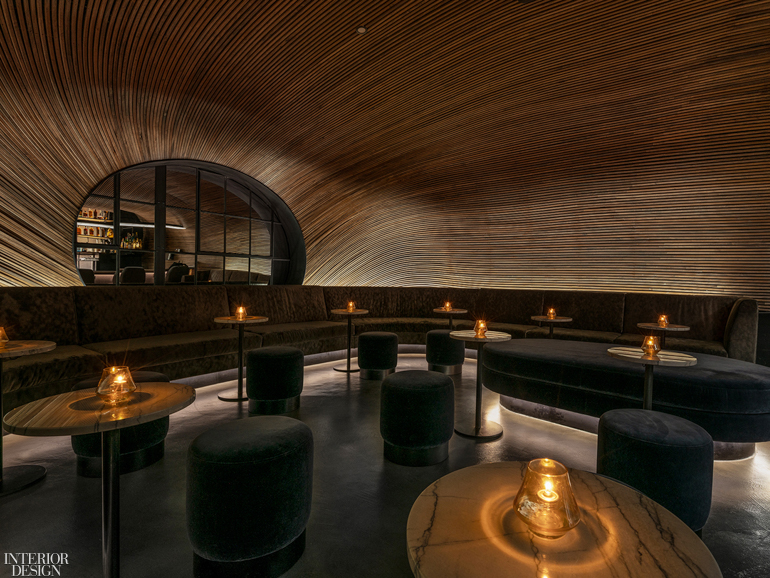 By definition, a portal is a gateway—often an otherworldly one—and Rob Paulus Architects took this concept to heart when designing a cavernous cocktail lounge in Downtown Tucson, Arizona. Rob Paulus, principal, and his team worked closely with the bar owners to transform the space, initially used as a meeting room within an existing restaurant, into a hip locale with its own distinct identity. "The concept centered on creating an intimate escape to celebrate human connection," says Paulus, noting that the team referenced a geode's unassuming exterior that, when cracked open, yields an energy-filled crystalline environment.
The extended stone archways and corridors of Oaxaca, Mexico—a locale beloved by the bar owners, who happen to be brothers—also served as inspiration, and in early-stage conversations the notion of designing a portal to another place "blossomed," Paulus recalls. The resulting lounge offers a dramatic entry given its angled geometry, creating a cocoonlike environment in which to sample a range of artisanal spirits. Indirect LED lighting, which shifts to reflect different colors and intensities, illuminates the curved walls and ceiling while adding warmth to the wood and concrete materials throughout.
Though Portal Cocktails initially opened in February 2020 and quickly shuttered due to the pandemic, it welcomed patrons back late last year with health and safety protocols in place. "People can shed some of their complacency and become childlike when entering such a unique and intriguing space," adds Paulus, pointing out that visitors can enjoy a unique cocktail in an equally unique environment.