Robert McKinley's Montrose Cheese & Wine and Rosie Cannonball Bring 1960s Europe to Houston
Studio Robert McKinley might be best known for modern classics such as GoldBar, The Surf Lodge, and Ruschmeyer's, but lately the New York-based designer has been making a mark in Houston, where his two new spaces reinterpret 1960s Europe for 21st-century Texas.
For Goodnight Hospitality's 800-square-foot Montrose Cheese & Wine, McKinley looked to traditional salumerias. "We brought the space to modernity with stylistic elements such as custom streamlined metal work," he says. And while McKinley calls the spiral staircase connecting the wine cellar and bar a "showstopper," his favorite part is the covered courtyard. "The canopies layered with overgrown ivy create an oasis," he says, "which is a rare find in Houston!"
Another oasis: Rosie Cannonball, a 26-seat tasting-menu restaurant located just next door. "It's inspired by Italian bars and cafeterias of the '60s and '70s," McKinley says. Travertine slabs and crimson tiles line the walls, joined by selections from the restaurant's forward-thinking art collection, which includes works from the photographer Tony Vaccaro and commissioned pieces by painter and illustrator Donald Robertson. Salute!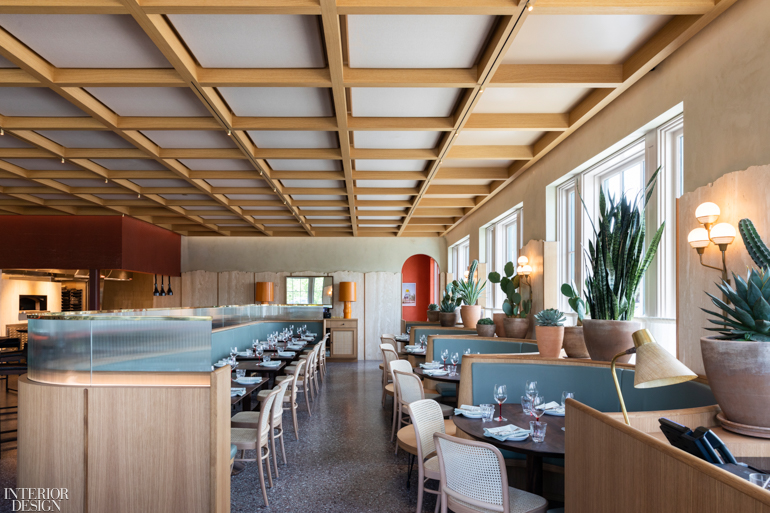 Read more: Jamie Bush Gives a Houston Midcentury House His Signature "Organic Modernist" Makeover