Rooftop Bars: Lounge Poolside at the Just-Opened TWA Hotel's Observation Deck
Eero Saarinen's Terminal 5 at John F. Kennedy International Airport reopened today, this time as the lobby of the TWA Hotel. Beyer Blinder Belle was tasked with preservation and kept the restored terminal true to its retro-futuristic roots. Stonehill Taylor created luxurious midcentury-modern guest rooms in the two newly-constructed wings that flank the terminal. But Lubrano Ciavarra, the design consultant and the design architect on record, was tasked with one of the best amenities timed to the hotel's springtime opening: the rooftop pool, bar, and observation deck.
Read more: Eero Saarinen's TWA Flight Center at JFK Prepares for a New Beginning
The observation deck sits atop one of the newly-constructed guest room wings. It boasts 10,000 square-feet of space and features an infinity pool along with a bar operated by Gerber Group. The 63-foot by 20-foot infinity-edge pool overlooks one of JFK's largest runways, providing an endlessly-fascinating backdrop to the rooftop experience. The deck will be open year-round, with the pool's ability to reach temperatures of 100 degrees serving as a pleasant complement to brisk New York City winters.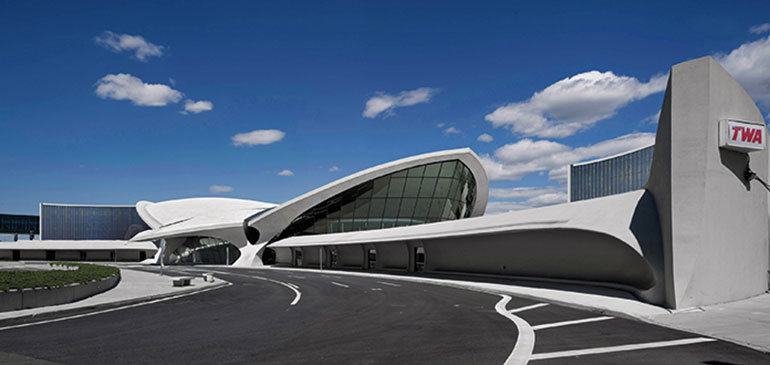 The pool is an amenity open to guests of the hotel, but anyone is free to make a reservation at the observation deck bar. Gerber Group, which operates icons of New York city nightlife and hospitality such as The Campbell at Grand Central Terminal, has opened with a summer-ready menu. Guests can try the Mile High Spritz (vodka, St. Germain elderflower liqueur, fresh lime juice and prosecco) or the Watermelon Collins (Aviation gin, watermelon and lemon juices, agave and club soda, and more options from the menu. The observation deck also operates a full rooftop kitchen.
Wherever your final destination is, there's surely no more stylish way to unwind at JFK.
Read more: Rooftop Bars: Yabu Pushelberg and Ian Schrager Bring Style to Times Square with The Terrace
Read more: Rooftop Bars: Take in the Glamour of Old Manhattan at Ophelia Lounge