Roy Kim Embraces a Yin/Yang Philosophy in Designing Both of His New York Homes
When Roy Kim moved from San Francisco to New York in 2016, he could not comprehend the phenomenon of weekending away. "I remember thinking, Why would you ever want to leave the best city on the planet?!" the architect recalls. "But after living in Manhattan for a while, you realize you need to escape it." So, a few years after purchasing and renovating a Financial District three-bedroom, Kim and his partner, Clayton Crawley, bought a farmhouse upstate in Ancramdale. "It's nice to have a home for the busyness of work life, and a home that's a refuge from all that," Kim says.
No wonder Kim needs a refuge: He is a former SVP of Design for Extell Development, where his projects included One57 and the Lucida, and he has held similar titles at Corcoran Sunshine Marketing Group and Douglas Elliman. He also sits on the governing board of Open House New York, an organization he helped elevate during his tenure as president. Now Kim is spearheading a development of his own—a spec house upstate—and acts as a strategic matchmaker among his Rolodex of top developers, suppliers, and designers. Naturally, many of the latter figure in both his abodes, despite the homes' contrasting personalities.
Your homes have the same vibe, but different characters.
It's a story of opposites. The Financial District apartment, despite having a lot of natural light, reads dark and edgy, whereas the country house is light, white, and airy—very Scandinavian and cozy/casual, with views of rolling hills and old oaks. When I designed the city place, in 2012, I was SVP of design for Extell, working on the highest-end urban condos, so I was really immersed in that world. Four years later, when my partner, Clayton, and I bought the house upstate, my mind was on refuge.
The layouts are polar opposites, too.
The city apartment is open plan while the Ancramdale house, called Southfield Farm, is a collection of rooms. I've found that I like both layouts, but for different reasons. Working in the real-estate industry, one thing I always found hilarious was hearing things like, "open kitchens are the hottest new trend!" And then, "closed kitchens are in." In reality, those things are not "trends" in the same sense that neon sneakers are a trend; they are lifestyle preferences.
How did your own lifestyle preferences inform the design?
I wanted the country house to be easy to take care of, with low-maintenance finishes. For instance, the dining table in New York is waxed rolled steel, which is prone to marks from skin oils, while its country counterpart is ebonized red oak with a waxy finish that repels water and can be wiped down. And our living room sofa in Ancramdale is slipcovered and very deep: 43 inches. We climb inside and eat popcorn and watch movies. The city sofa, in contrast, features a special leather whose color seems to change with the light—from gray to purple to blue to black. The first few years it was a rule to not drink red wine on it. Also, our city kitchen is a bit more pristine, with a Calacatta Gold marble countertop and cabinets that have finger reveals instead of pulls—which I love the aesthetic of, but now that I cook, I prefer handles.
The baths are all quite spalike.
Talking to luxury homebuyers all day, you really learn how people live, and I've found that bathrooms are especially personal and idiosyncratic. For instance, I like having medicine cabinets to the side, so you don't have to reach over the sink. And Clayton and I prefer bathrooms with an enclosed space for the toilet…but then you need to have a door on the shower for visual balance. In the city I used ribbed glass doors, which admit light while allowing privacy, and have the added benefit of obscuring hard-water splotches. The very first project in which I used ribbed glass was One57—after which I saw it everywhere!
Did you approach both renovations similarly?
We lived in the Ancramdale house for a while first and then renovated incrementally. Whereas the apartment we renovated completely prior to moving in. Working in the high-end development world, in which each square foot costs so much money, I became really good at scrutinizing floor plans, squeezing every possible square inch of usability out of a space. The apartment layout was a hodgepodge; the primary move was to create more streamlined circulation and to double the size of the living room by converting the oversized third bedroom into a study.
There are pros and cons to both scenarios—live there first or renovate first—but there's something to be said for giving yourself a deadline and just getting it done. The heartwood pine floors were the last thing we redid in the country; I didn't love the golden-orange color, and was thrilled to learn that it could be stained a light hue akin to white oak. But that meant we had to move all the furniture out, which was a pain!
Your homes are a who's-who of top artists and designers.
I try to champion and commission up-and-coming talents. We also really love collaborating with our friends in the industry and giving them exposure. We have plasterwork by Yolande Batteau of Callidus Guild, lighting from David Weeks and Omer Arbel, pieces by BassamFellows, and seating by Niels Bendtsen, whom I met during my first year of architecture school. In the country we have furniture by Neri&Hu; I love how their work bridges Shaker and Asian.
Your residences have a real soul.
We live in a very dark time; there's a lot of pain and chaos in the world. Having a city home and a country home provides places to harness both yin and yang energies. As designers, it's our job to balance both the darkness and the light.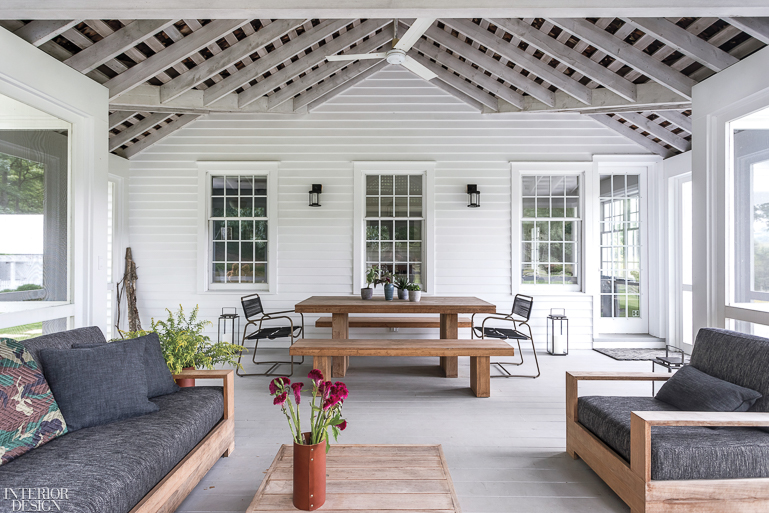 Project Sources: Ciot: Alexis Azul Stone; Nemo: Wall Tiles; Italkraft: Cabinetry; Kaldewei: Soaking Tub.
> See more from the Winter 2019 issue of Interior Design Homes