Royal Studs: Jouin Manku Renovates Former Louis XV Farm
"Why are we even here?" That's the question Interior Design Hall of Fame member Patrick Jouin and architect Sanjit Manku had to ask themselves when first confronted with Louis XV's stud farm in Strasbourg, France. "The original architecture was so beautiful," Jouin explains. Manku adds, "It was entirely unexpected—to walk in from the street and see the whole central courtyard at once, so austere yet elaborate." A jolt of pure pleasure.
What could their firm, Jouin Manku, possibly add? Quite a lot, it turns out. Though undeniably stately, the building was disused and dilapidated. They'd been enlisted to renovate the pink sandstone royal stables and the wing on the opposite side of the courtyard. (Living quarters for officers and grooms, a blacksmith's forge, and indoor and outdoor riding rings made up the rest of the facility.)

Closed and reopened several times under royal and revolutionary regimes, it remained a part of the Haras National, a state-supported network of breeding farms, for most of the 20th century before closing permanently in 2005. In 2009, a cancer-research organization, IRCAD, signed a lease with the intention to convert the property into Les Haras Strasbourg, a "bio cluster" housing offices and labs for medical start-ups. It would also include Jouin Manku's two interiors, a restaurant and a hotel both principally aimed at IRCAD's many visiting surgeons. Brasserie les Haras occupies the royal stables; the Hôtel les Haras is opposite.
Related:
Jouin Manku Designs Sensory Annex for Hôtel des Berges in France
Van Cleef & Arpels by Jouin Manku: 2016 Best of Year Winner for Exhibition
The design challenge was not just to preserve the rigorous beauty of the period architecture and the royal equestrian spirit but also to bring safety up to contemporary standards, the former being the purview of France's historic-monuments authority and the latter conforming to the exigencies of the country's strict restaurant hygiene regulations. Simplicity was the key. Jouin Manku used predominantly natural materials and only a handful of them at that: oak, beech, quartzite, brick, zinc, blackened steel, brass, saddle leather. Colors are natural and neutral: brown, caramel, beige, gray, black, white. Virtually all the principal furnishings are clean-lined custom pieces. "Made by unbelievably wonderful French craftsmen," Manku notes—he's a Canadian.

While the equestrian theme is present throughout, it's never aggressive. "We aimed for elegance and grace that's not too refined, not too perfect. Not Disneyland," Manku says. In the Hôtel les Haras lobby, a mural collages horses and riders with royal crowns and fleurs-de-lis, anatomical drawings, a stethoscope, and Alsace's mascot storks.
Related:
The Curtain Rises: Jouin Manku Redesigns Dining at Plaza Athénée Hotel
Place Vendôme Inspires the Grandeur of Van Cleef & Arpels's Newest Paris Boutique
Brasserie les Haras is run by Marc Haeberlin, whose family's nearby Michelin three-star Auberge de l'Ill was also designed by Jouin. The brasserie's freestanding circular kitchen and eat-in bar lounge share the royal stables' ground level. To comply with sanitation regulations, its original flagstones had to be temporarily removed, the earth directly beneath them hauled away, and fresh earth laid. The stones were washed and disinfected, then put back in place and covered with oak planks.

The main dining room is in the former hayloft, under a magnificent framework of massive oak roof beams. "It was an audacious construction at the time," Manku says. Nevertheless, he admits, "Many diners don't like the idea of being sent upstairs." Jouin adds, "The staircase had to be an invitation, an enticement." Unquestionably the renovation's stunning focal point, drawing visitors up, this visual vortex is a shattered swirl of beech strips—or, in Manku's description, "a natural phenomenon, a little bit chaotic, a little bit?wild."
Related:
10 Questions With… Patrick Jouin and Sanjit Manku
Van Cleef & Arpels by Jouin Manku: 2016 Best of Year Winner for Jewelry Retail
Much calmer are the hotel's 55 guest rooms and suites. Each is different, but all rely on the same elements. Leather covers headboards in varying forms and sizes. Desks are oak and lacquered sheet metal. Oak doors slide open, with leather handles, to reveal all-white bathrooms that are "super-simple, almost utilitarian," Manku says. However, a brushed finish gives the brass fittings a surprising golden gleam.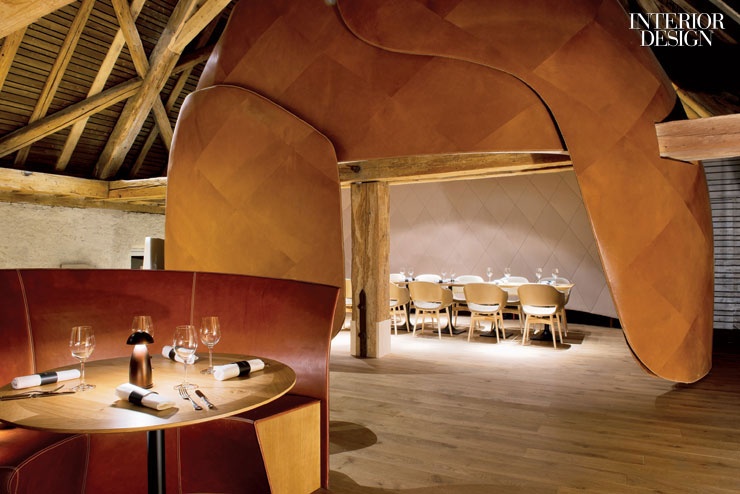 "Wood will age. Steel will rust," Manku says. "The project will look even better in 10 years. In 20 years, it will be fantastic." Like the original building, the renovation is meant to endure.
Project Team:
Denu & Paradon: Architect Of Record. L'Observatoire International: Lighting Consultant. ADD; Arche Du Bois; Chanzy Pardou; Es Parquet; Millet; Wiedemann: Woodwork. Morreale: Tilework. L. Scherberich; Werey Stenger: Plasterwork. Stroh: Metalwork. Corler; Créagenceur; Le Floch: Upholstery Workshops. CMA Agencement: Kitchen Contractor. KS Construction: General Contractor.