Sabine Marcelis and Paul Cournet's Artful Loft Brings Glamour to Rotterdam's Coolhaven
If Coolhaven—the name of a waterfront district in Rotterdam, the Netherlands—suggests an oasis of cutting-edge chic, a tour of designer Sabine Marcelis's elegantly restrained neighborhood loft only reinforces the impression. But the Dutch moniker translates to Coal Harbor, which gives a truer sense of the area's character: "It used to be quite rough but has changed massively in the three years since we moved here," Marcelis says. Even so, her 2,800-square-foot apartment, housed on the second floor of a four-story building, overlooks the heavily trafficked Schie river. The cool quotient is mostly inside.
"The place was originally a paper warehouse, built in the 1920s, and then bank offices before being completely abandoned in recent years," Marcelis continues. "It was in 'take it or leave it' condition when we came along." But the floor-through offered Marcelis and her boyfriend, Paul Cournet (@paul_cournet), an architect at Office for Metropolitan Architecture, the opportunity to design their own home from scratch. "The renovation was supposed to take three months, but ended up lasting more than a year," she adds, ruefully.
Read more: 8 Resin, Glass, and Neon Works by Sabine Marcelis
First, the couple split the floor in half lengthwise, creating two rental units on one side while reserving the other side for themselves. They broke through the rear ceiling, bringing in lots of natural light and turning what had been interior square footage into a new back terrace. Apart from a narrow row of enclosed spaces—a guest room, bathroom, powder room, spare room, closet, and storage—they eschewed building any internal walls, leaving the rest of loft entirely open and, except for a couple of rows of slender columns, unencumbered. "We use floor-to-ceiling curtains when necessary to create different zones for sleeping, living, and dining—there's even a 'cinema,' a specific area where we project movies on the wall," Marcelis reports. "But when all the curtains are drawn back, the zones revert to one continuous space."
This flexible arrangement allows Marcelis and Cournet to conjure a variety of moods in the loft. A new, poured-concrete floor and exposed-brick walls keep the original building's light-industrial vibe. But the all-white palette gives the bright-and-airy interior the look of a contemporary art gallery, though that was not the couple's intention: "The aim was to create a clean, uncluttered, and inspiring environment, not a gallery or museum," Marcelis explains. "We'd rather think of it as an 'anti-home,' a setting where our daily life is mixed with design and art pieces by our friends. Keeping the space neutral allows us to fill it with different objects that retain their distinct identities."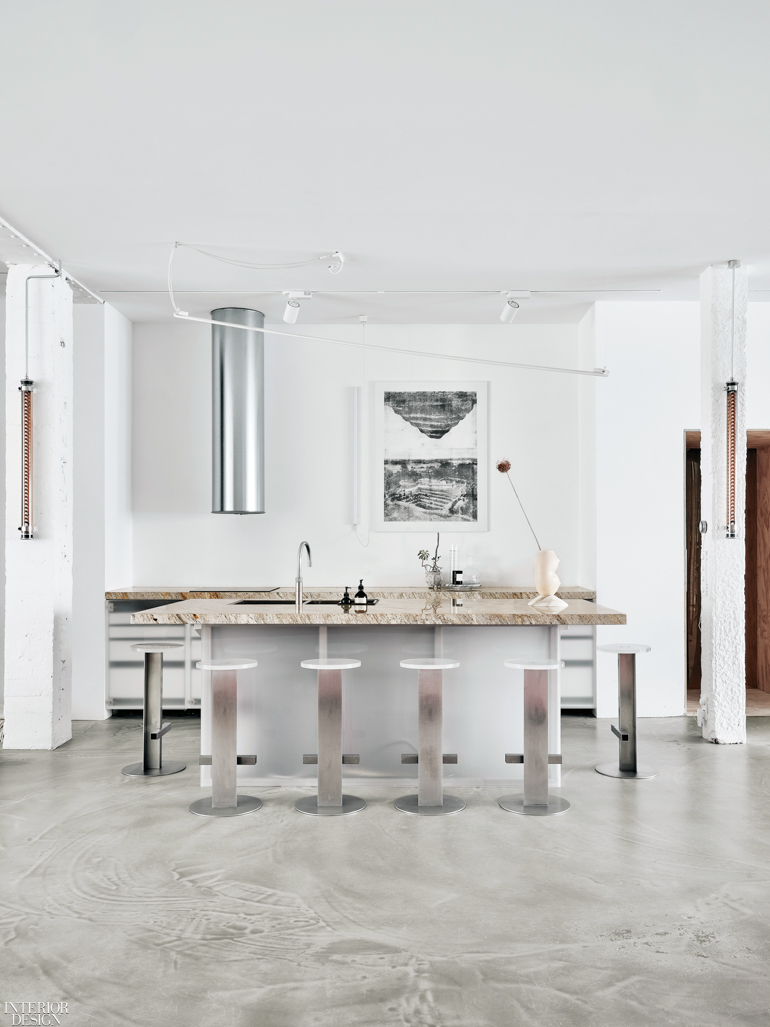 Although the loft includes a handful of Marcelis-designed production items—"There's a mirror of mine," she notes, "and some cast-resin cube prototypes, one of which has been repurposed as a planter"—she has been careful not to turn it into a showroom of her eponymous studio's output. Born in the Netherlands but raised in New Zealand, she returned to her native country to study at Design Academy Eindhoven, graduating in 2011. Since then, her work on products, interiors, and installations for a broad swath of clients—Céline, Opening Ceremony, and Isabel Marant among them—has garnered favorable attention, as have her various collaborations with OMA, including a dazzling Paris flagship for the Italian jeweler Repossi.
Marcelis's collaborative, curatorial, and improvisatory skills are evident throughout the apartment: She turned a leftover slab of tinted glass into an ethereal dining table supported on a trio of glass cylinders; she and Courant designed the stools—sculptural stacks of foam-and-resin slabs—that surround it. The couple also co-designed the kitchen, a simple wall-counter and opposing-island arrangement made distinctive by sleek materials (polished stainless steel, glossy acrylic, River Gold granite) and bold forms (cylindrical range hood, trumpet-valve bar stools, floating-slab countertops). It's their favorite part of the loft: "Everything happens in the kitchen—we seem to spend all our time there," Marcelis reports. "Even when we have dinner parties, we often don't make it to the dining table but just hang around the kitchen island."
Much of the loft's furniture and art was acquired through trades with the couples' artist and designer friends. Most spectacular is a pink-upholstered Pierre Paulin sofa—the Osaka, a serpentine marvel named after the site of Expo 70, where it was first exhibited—an exchange with the designer's son Benjamin. Almost as arresting is a double chaise made of stainless-steel wire, a low-lying ghostly presence by the Belgian design duo Muller Van Severen. The nearby sculpture, a totem-like assemblage of pigmented concrete blocks, is the work of Norwegian designer Magnus Pettersen, although the blank square of plaster on the wall behind it, which looks like a piece of white-on-white Suprematist art, is actually the "cinema" screen.
If the art and furnishings provide color and texture in the main space, it's the walls themselves that have aesthetic impact in some of the enclosed rooms: The large storage closet, which is sheathed floor-to-ceiling in plywood, has the glow of an Olafur Eliasson light installation; clad in large concrete tiles, the bath in one of the rental apartments channels the quiet power of Brutalist architecture; and, most audaciously, the powder room is lined with Finnish designer Jonas Lutz's handmade ceramic tiles, whose salmon-pink embossed surface looks startlingly like cerebral matter. "Our friends do call it 'the brain room,'" Cournet admits. But that descriptive could be applied just as well to the engagingly thoughtful apartment as a whole.
Keep scrolling to view more images from the project >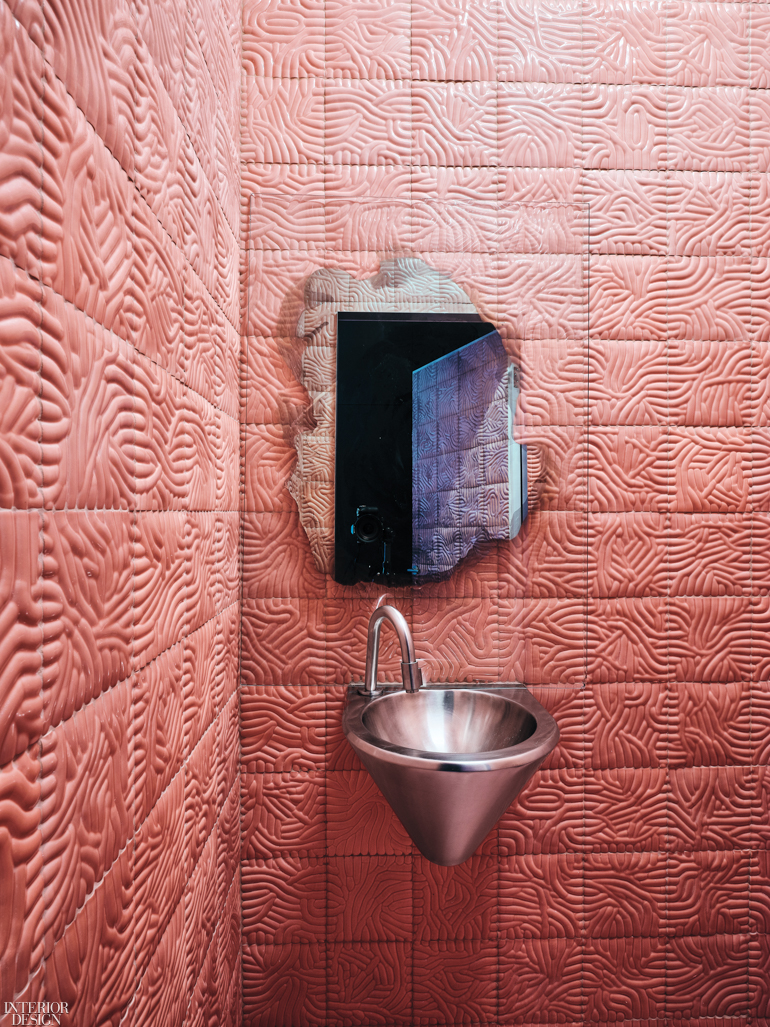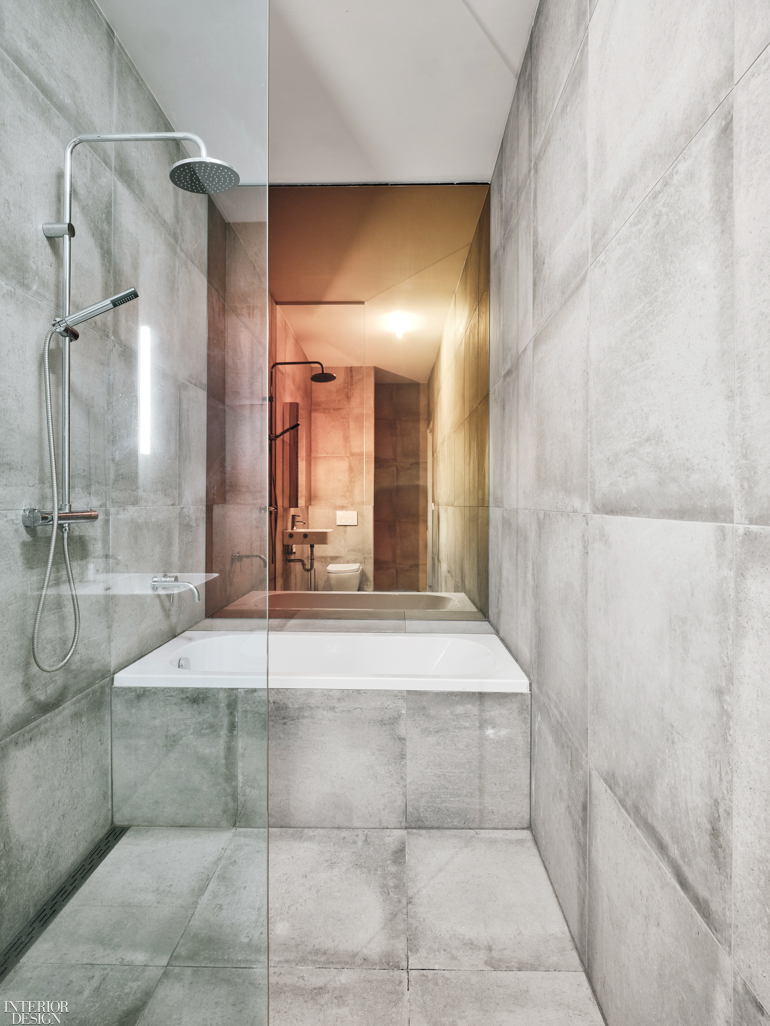 Product Sources:
From Top: La Cividina: Sofa (Living Area). Through Etage Projects: Steel and Concrete Table, Mirror, Carafe and Glasses (Dining Area), Wood Stool (Guest Room). Muller Van Severen: Stainless-Steel Chaise (Living Area). Phil Procter: Custom Shelving (Formal Sitting Area). Handmade Industrials: Saddle Seat. Spectrum: Daybed. Rens: Rug. Sammode: Sconces (Sleeping Area, Terrace). Studio Jonas Lutz: Custom Tile (Powder Room). Jenny Nordberg: Silver Mirror.
> See more from the Fall 2019 issue of Interior Design Homes