Sam Robin Design Blends Beachy Cool With Low-Key Luxe in a Penthouse on Fisher Island, Florida
When real estate brokers extol the virtues of location, location, location, they're rarely lucky enough to be referencing a locale as postcard-perfect as Florida's Fisher Island. The islet, a seven-minute ferry ride off Miami's South Beach, is reportedly home to the highest per capita income in America. And no wonder: Once the property of William Kissam Vanderbilt II, it offers a treasure trove of competing eye candy from pristine gardens to beaches made of imported Bahamian sand—fresh combed each morning—to the glimmer of Biscayne Bay and the majestic Atlantic beyond. In short, Fisher Island is no place to gild the lily—which was exactly designer Sam Robin's approach to a recent project there.
"The views are so spectacular I wanted them to be the drama," Robin says of the $19.7 million, 7,630-square-foot model unit she designed for Palazzo del Sol, a new residential tower on Fisher Island's northeastern shore. "When there's too much fabric, too much color, too much stuff going on, you get tired of the layering," she continues. "Especially in Miami, where it's hot, you want a fresh feeling. In South Florida, we favor casual elegance."
Elegance is the key word for the Sam Robin Design principal, who has designed 15 Versace stores in the U.S. and Latin America. Imagining an art-collector client for the unit, she populated the space with bespoke pieces you won't find anywhere else. "I am really into custom tailoring, so some of my design is a little schizophrenic," she admits. Among the myriad installations are the sitting area's black-painted folding screen, inspired by one Robin saw in her friend Chahan Minassian's booth at PAD London; and, above the dining table, a Billy Cotton lighting fixture that looks, as Robin puts it, "like somebody threw sticks and they locked in midair." Next to the great room's wall of windows, she installed a 40-foot-long custom banquette fabricated in her Italian studio. "You could read a book there at night or have cocktails with a friend at sunset," she says. "It's built in—almost an architectural feature—so it doesn't become just another piece of furniture; too much of that can make a space look like a showroom."
Designing the model unit wasn't without its challenges, chief among them: the size of the rooms. The main living area alone is an elephantine 42 by 35 feet. "They're so huge, you need to create a human scale, to set up areas where people can have a conversation," Robin explains. "I imagined the sofas by the window providing people with an intimate setting even within such a vast space. The dining room table can seat 12 for dinner but it still feels comfortable for two people to sit in the corner to check out the view."
A cosseting feeling was exactly what the developers ordered. "We were looking for someone to do clean-lined modern but at the same time beach-house chic, if that makes any sense," says Dora Puig, Palazzo Del Sol's director of sales and marketing. "This is an island—everyone's here on vacation, hanging around in cargo shorts and Havaianas, being totally relaxed—so we can't do super-urban design. Some designers forget to keep colors light and materials organic, which can read as too slick. Sam Robin nailed the concept perfectly."
The kitchens and baths were designed by Boffi, though Robin was able to add her fingerprints in small ways, like the photo diptych that hangs over the soaking tub or the bronze-frame Kelly Wearstler stools at the kitchen island's counter. The finishes are as luxe as can be—rift-cut European oak paneling, Starphire ultra-clear glass, book-matched Carrara marble—which is rare in multiunit projects. "We decided with the developers to go aesthetically rich," says Boffi CEO Roberto Gavazzi. "But tempered with a sober elegance."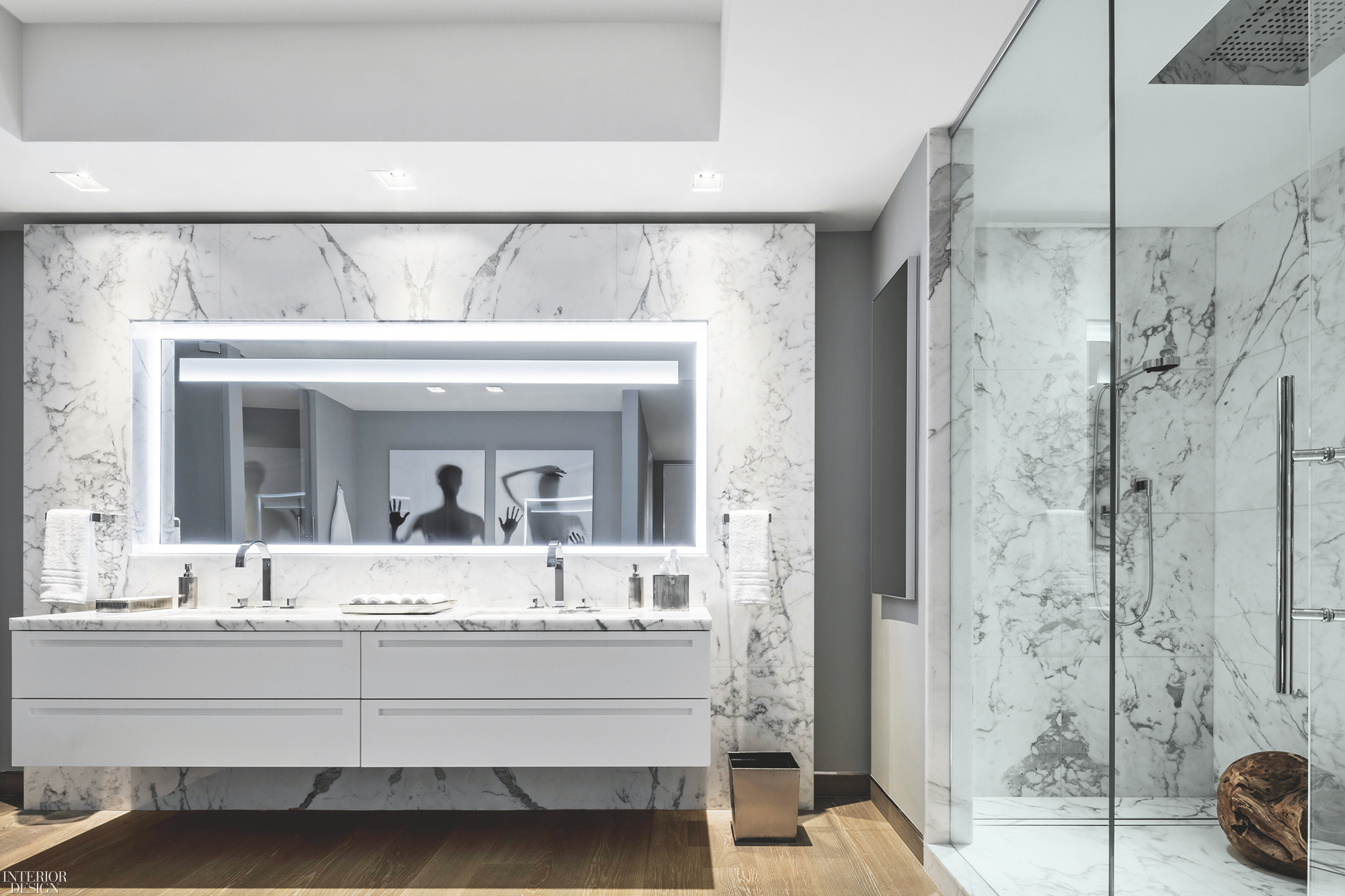 Despite its expansive interiors, the five-bedroom apartment is highly livable—even homey. Robin created that feeling by fairy-dusting it throughout with the hallmarks of her imaginary art-collector's real life. "I like intellectual clutter," she says. "You need great books, a cute little maquette of a sculpture, beautiful boxes, intriguing things. As they say, God is in the details." Many of Robin's industrial and streamlined design influences stem from her upbringing in Chicago, the land of Frank Lloyd Wright, Eero Saarinen, and Mies van der Rohe. "My aesthetic is very Bauhaus," she says. Call it North Shore modernism by way of South Beach cool.
Project Team: Kobi Karp Architecture & Interior Design: Architect Of Record. Majestic Gardens: Plant Consultant. AHT Global: Audiovisual.