Scotland's Rustic Bothies Receive a Contemporary Update
In Scotland, which is blessed with exceptionally picturesque and unpopulated landscapes, it is common for backpackers to head to the hills to relax. The more ambitious and experienced among them may choose to break up longer hikes with an overnight stay in basic bunkhouses called bothies. There are more than 90 bothies dotted across the country's most scenic spots and their remote locations—some can only be reached by hiking for several hours—mean isolation is almost guaranteed.
Recently, some landowners and accommodation providers have begun developing their own small buildings influenced by the bothy experience. These huts and cabins are designed to promote slow living and the joys of reconnecting with nature. Some stick to the principle of providing only the most basic amenities—think composting toilets, wood burners for heating and cooking, and don't even ask about Wi-Fi—while others adopt a "rough luxury" approach, with guests able to access wood-fired hot tubs, paddle boards, and pizza ovens.
The trend for slow living and escapism also has heightened interest in architecture that transforms back-to-basics living into a five-star experience. Here are some of the finest examples of modern bothies and cabins that offer a soothing take on the experience of self-isolating.
Sweeney's Bothy, Isle of Eigg
The Bothy Project is an initiative set up by artist Bobby Niven and architect Iain MacLeod to provide basic accommodation for artist residencies in remote locations. Sweeney's Bothy on the Isle of Eigg off Scotland's west coast is used by artists for half the year and rented out for the remaining months to help fund the non-profit organization. The cleverly designed cabin features a mezzanine bed suspended above a compact kitchen and reading nook. The rest of the space is for living and working and is fronted by full-height windows. Without doubt, the main draw is the epic view of the Atlantic Ocean and the nearby Isle of Rùm.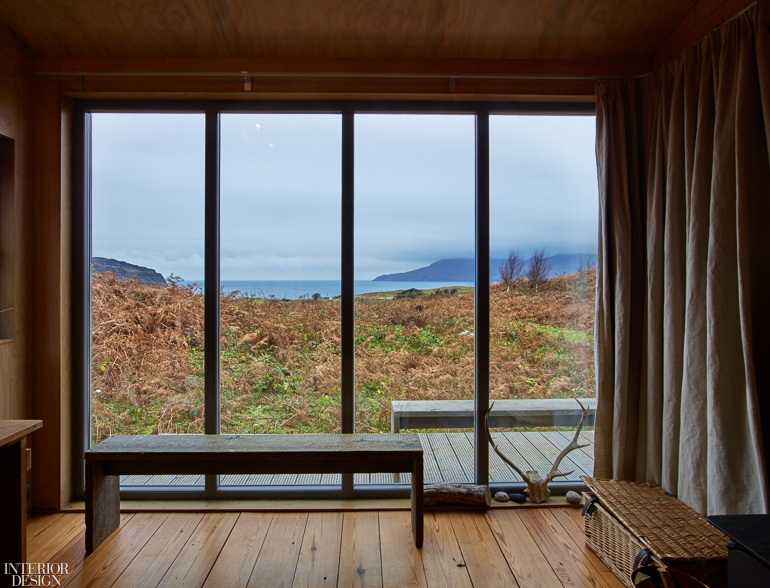 Inverlonan
Visitors to Inverlonan's two loch-side bothies can expect an experience centered around "rough luxury" and "slow living." The simple, gabled buildings (designed by the Bothy Project's Niven and MacLeod) reference the shapes and material palette of vernacular buildings found throughout Scotland. Their pared-back interiors feature natural furnishings, fabrics, and a wood-burning stove for cooking and heating the space. The bothies nestle between ancient oak trees and open onto private decks overlooking the tranquil waters of Loch Nell. Guests can swim, paddle board, or kayak on the loch before warming up by their own fire pit and cooking their meals using a selection of locally sourced produce.
The Woodman's Hut goes for an all-out rustic aesthetic to match its peaceful forest setting in the Cairngorms National Park. Entirely off-grid and nestled in a clearing surrounded by Scots pine trees, the cabin features a Hebridean-style box bed, wood burner and vintage furniture. A composting toilet, rainwater shower and the absence of electricity contribute to the back-to-basics experience. Luxury extras are available, however, in the form of a wood-fired hot tub and infra-red sauna. Perhaps the greatest luxury, though, is being reminded of your seclusion whilst lying in bed by staring up at the stars through a carefully placed skylight.
Wildland Bothies by GRAS
Edinburgh architecture firm GRAS is working with conservation and hospitality organization Wildland on a proposal for a group of remote, off-grid bothies dotted across an area near Loch Hope in the far north of Scotland. The idea is to allow guests to spend several days exploring the surrounding scenery, using their individual bothy as a base. The monolithic structures are designed to complement the rugged landscape by evoking giant boulders. Inside, a rich and warm palette of locally sourced materials will create a hygge vibe, helping weary walkers to unwind after a hard day in the hills.