Shiseido Americas by HOK: 2020 Best of Year Winner for Creative Office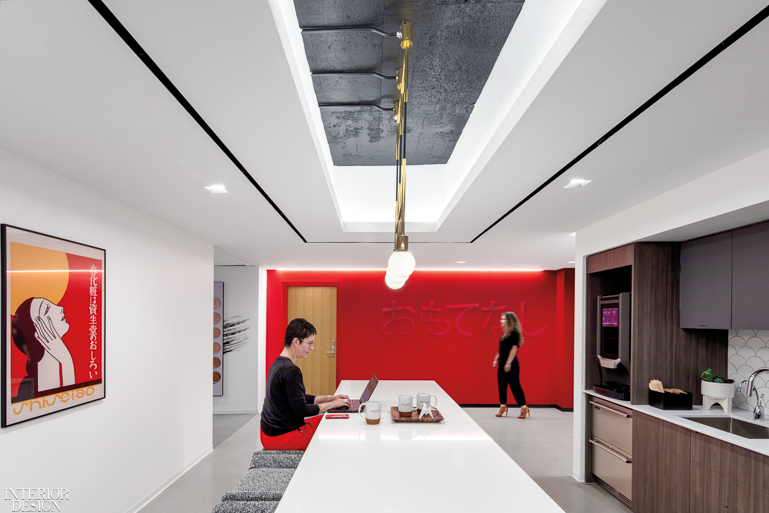 Evolving over the last century-plus from a local Japanese cosmetics company to a global personal-care giant, transformation is key to what Shiseido is. This 220,000-square-foot, eight-floor headquarters by HOK, which houses employees for 11 makeup, fragrance, and skincare brands who had been previously spread across two buildings, centers on the idea of transformation as well as cohesion—a place of community where beauty and leadership can shine. Since the act of putting on makeup creates a change, the design scheme features rounded, curved forms, colors similar to those in blush and eyeshadow palettes, and moments of surprise. In the company-wide shared lounge, for instance, a lighting installation formed from hundreds of lipstick-esque white cylinders is arranged in the outline of an S. To avoid a sense of hierarchy, executive offices are located on the lowest floor but defined by such elevated details as a felt ceiling treatment and oak paneling.
Project Team: Tom Polucci; Anthony Spagnolo; Bill Bouchey; Erika Reuter; Yelena Mokritsky; Elizabeth Marr; Kallie Ingersoll; Kenneth Secco; Tiffany Espinoza; Vanessa Felix; Bobby Bouzinekis; Adam Chernick; Yoko Matsuno; Erin Ezell; Andie Moeder; Jennifer Samel; Jessica Benz; Christine Weber; Daniel Meeker; Danny Shervington; Claire Pellettiere; Patrick Schmidt.
> See the full list of winners and honorees from Best of Year 2020