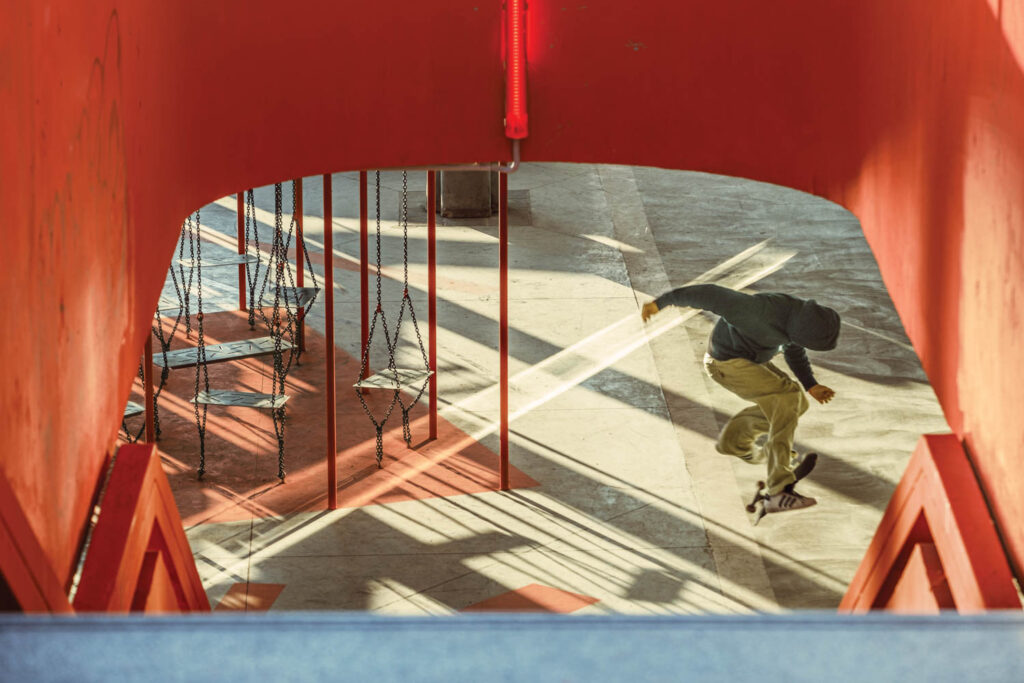 3 Skatepark Designs in the Czech Republic That Wow
Three skateparks in the Czech Republic by U/U Studio offer pole dancing, art viewing, clever repurposing, and more unexpected amusements alongside freestyle sports
These Skatepark Designs Offer More Than Meets The Eye
Skatepark Řeporyje in Prague
U/U Studio, cofounded in 2020 by principals Martin Hrouda and Jiří Kotal, comprises a small team of architects and engineers, all of whom participate in some type of freestyle sport—hence the Czech firm's specialization in skatepark design (15 completed so far). "But in every project, we discuss the plan with locals," Hrouda says. "That way we can be sure the park will be used, and the users will have a strong bond with it." Merging sport with urban planning, the result is public spaces that are as visually exciting and contextually appropriate as they are fun for kickflips and caballerials.
For this ½-acre site in the city's Řeporyje district, a pair of large-scale works by leading Czech sculptors—Čestmir Suška's Cor-Ten Ball of Circles and Lukáš Rais's stainless-steel Kick Flip—are juxtaposed with its rails and ramps. The dialogue between aesthetics and kinetics is a natural one considering that the park occupies reclaimed brownfield land next to the Bubec Art Center—a gallery and studio workshop, founded by Suška, where both sculptures were made—which was previously the main draw of this rural neighborhood on the outskirts of the city. "Big concrete areas can often scare locals, therefore we try to use all the architectural weapons to make the surface blend with the surroundings," Kotal explains. Among the features are a poured-concrete bowl and pump track for skateboards and scooters and a parkour area festooned with sanctioned graffiti by local artists.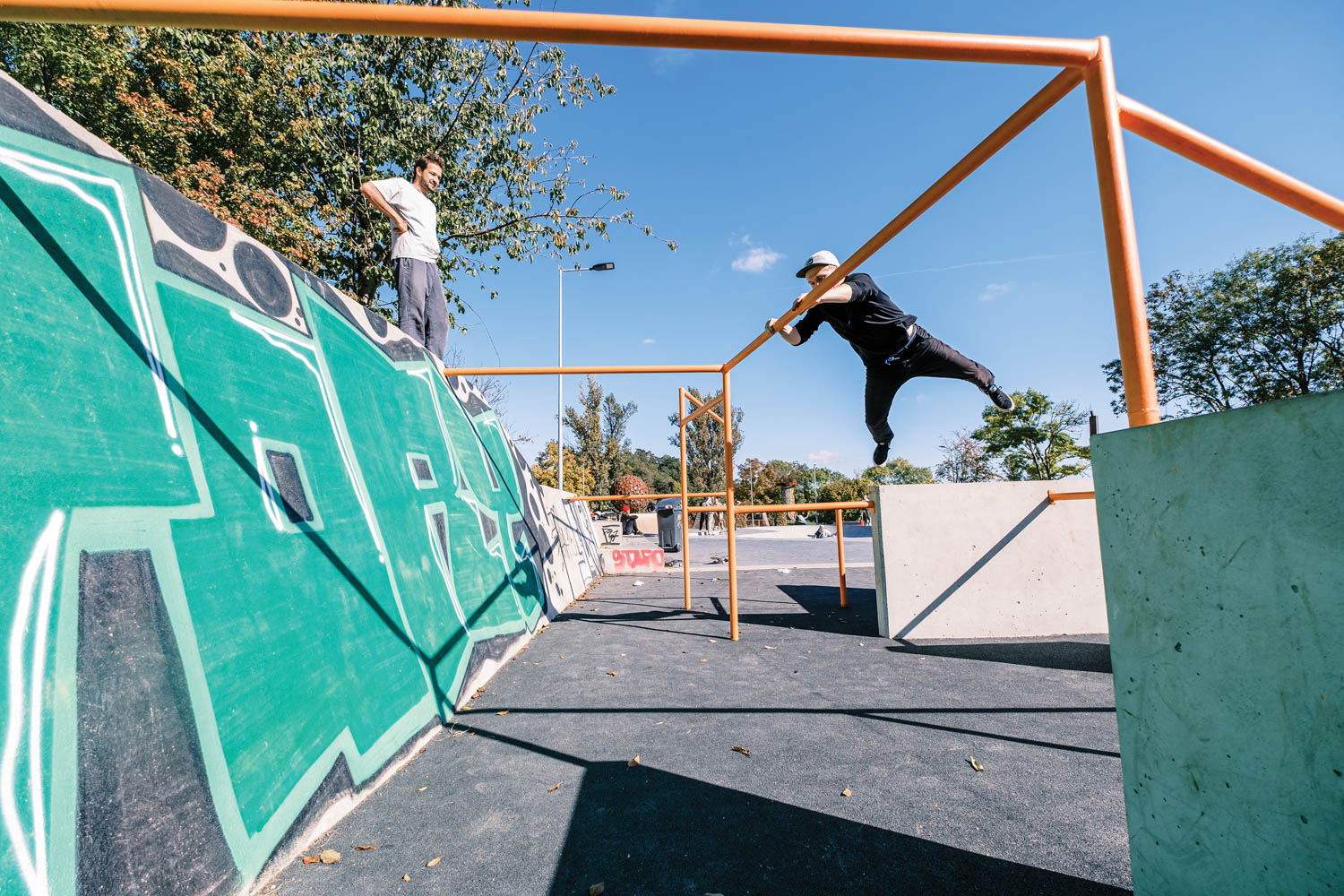 project team
Martin Hrouda; Jiří Kotal; Jan Maleček.
2500 Crates in Krnov
The Coke vs. Pepsi rivalry is legendary, but in Czechia a cola called Kofola is king. It's made in Krnov, where U/U won a design competition for a temporary installation in a ½-acre skatepark, part of the city's 2021 Landscape Festival, an annual event promoting public spaces and green areas. The competition's only directive was that the project be as sustainable as possible. So, on learning that Kofola had 2,500 obsolete plastic beverage crates to get rid of, the studio looked to repurpose them. Using nylon-cable ties and varnished plywood, plus a little ingenuity, the architects turned the blue containers into a modular building system for seating, a picnic table, mini ramp, and other park furnishings. The firm also tapped neighborhood youngsters as consultants. "The best part was working with the kids," Hrouda reports. "At the beginning, they were just helping us with our proposals, but, by the end, they came up with one of their own: a fort around a tree that they built themselves."
project team
Martin Hrouda; Jiří Kotal; Jan Maleček; Andrea Nováková.
Vltavská Underground in Prague
A Soviet-era highway pedestrian underpass had become so dark and uninviting that most Praguers refused to use the concrete tunnel, so the city built an overpass option. In collaboration with Re_place, a conceptual consultancy focused on reclaiming unused urban spaces, U/U overhauled the dank, 20,000-square-foot bunker, starting with a deep cleaning and installing multiple LED fixtures to make it safer and more welcoming. Some lights are wrapped in a red plastic film that, along with the extensive use of crimson paint, creates a nightclub ambiance. "The color was the best solution to support this sort of electronic-music, underground vibe," Kotal says. The team then outfitted the would-be hot spot with leisure amenities: There's a skatepark zone with jumps, rails, and wallrides—one side dedicated to boarders and bikers, the other for scooters—dancing poles, swings, and loungers. Open to the public, it's all maintained by the city, and, though graffiti isn't officially permitted, it adds to the dance-party atmosphere.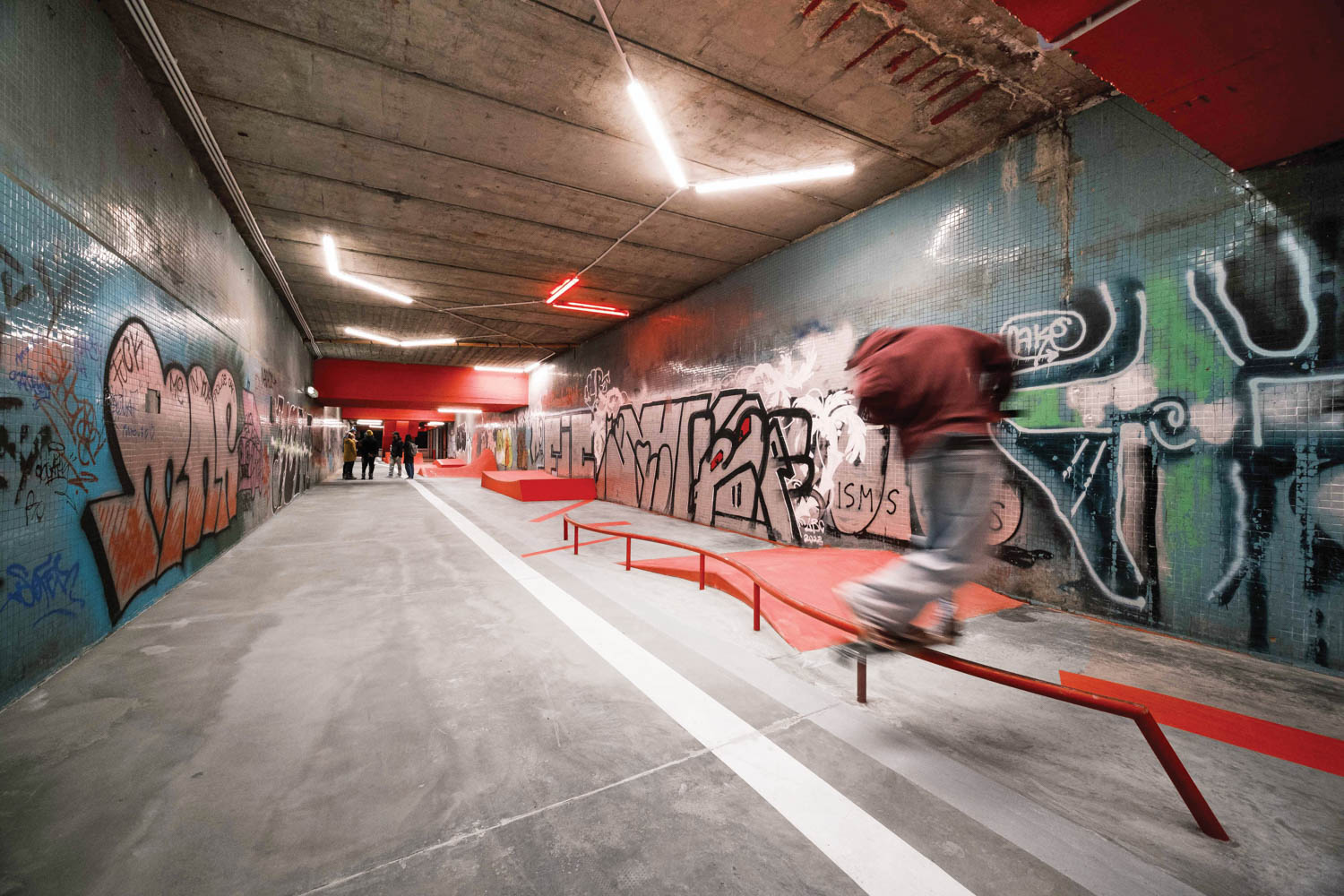 project team
Martin Hrouda; Jiří Kotal; Jan Maleček; Andrea Nováková; Marek Peřík; Lukáš Kalivoda.