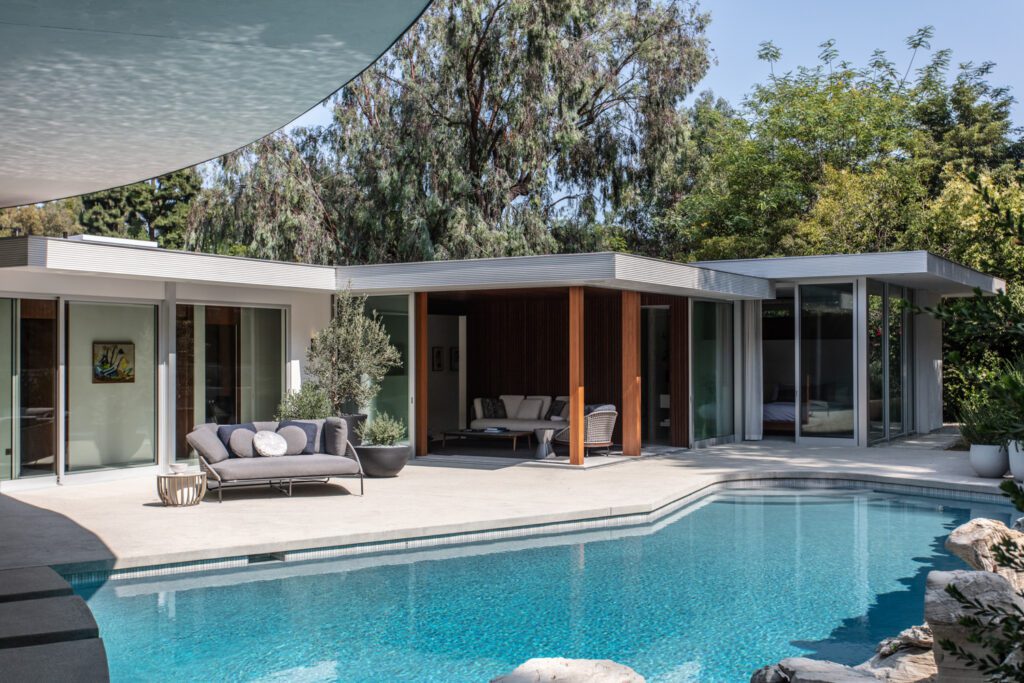 Sophie Goineau and Enclosures Architects Update a Beverly Hills Classic
It's a known fact of Los Angeles life: Residences boast enviable pedigrees or intriguing back stories. Just query any realtor or buyer about the tales. This Beverly Hills property has both. A prime example of Mid-Century Modernism, it was built in 1957 and designed by Alfred T. Wilkes. Not as well known, of course, as the marquee architects Rudolph Schindler and Richard Neutra, but a proponent of the movement's tenets just the same. When purchased by a prominent film producer, the 4,500-square-foot house was in decent shape, but in need of upgrades both aesthetic and pragmatic. All walking the fine line between the owner's wants and the house's heritage.
"Addressing the project, we had to take a step back and understand the intention of the original architecture yet do the work in light of the client's program." Thus, Scott Strumwasser of Enclosures Architects presents the overarching theme. His partner Tash Rahbar addresses the firm's bona fides. "We've been in business for 35 years and have notoriety for historic renovation work." Thanks go to their long-time contractor for making the client introduction. Sophie Goineau, a Montreal-born interior designer, was leasing space for her studio within Enclosures Architects's building. Needing a pro with her skill sets, they invited her on board. Ergo the team, which collaboratively conceived the parti. 
The owner wanted a high-design party-cum-guest house since she lived close by. Mid-way through the construction process, she opted to sell, yet allowed the project to proceed as planned regardless.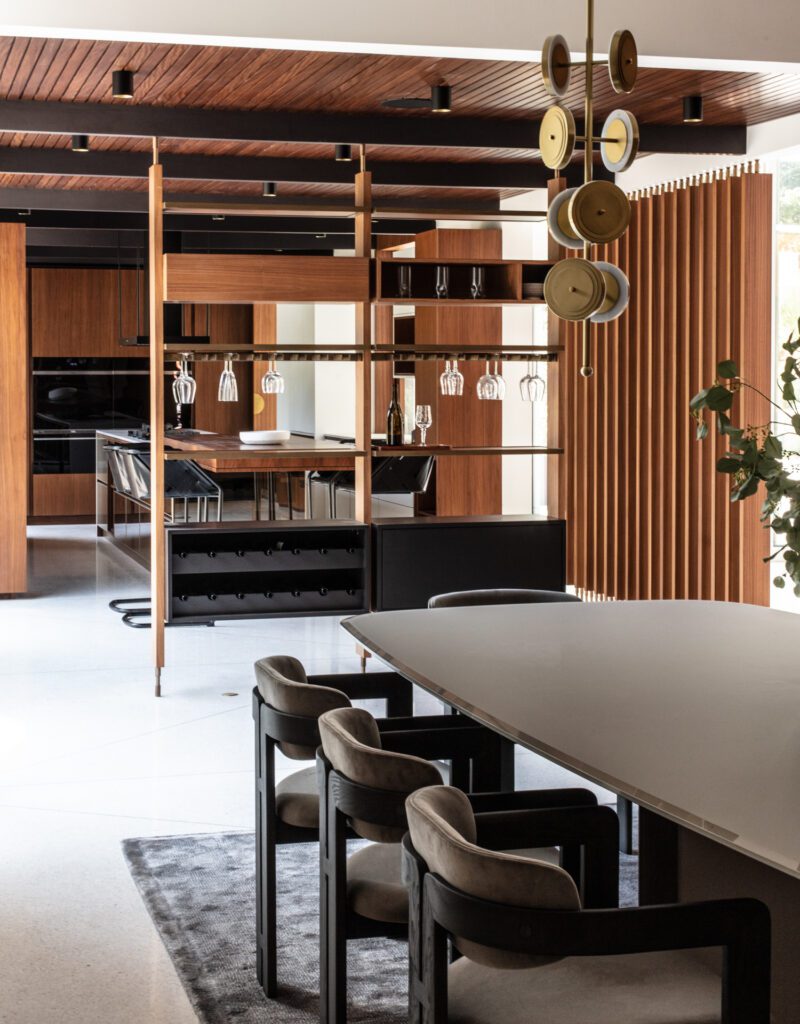 "It was basic, all white walls and beige carpet," Goineau says of the existing scenario. It included, too, a cramped, dark dining room closed off from a segmented kitchen. Both were closed to the sweeping curve of the bright, glass-walled living room overlooking the pool. "We had the sense that it had never really been finished with love." So, the main interior intervention was obvious: reconfiguring the plan to one contiguous living area in keeping with the spirit of modernism. An open space, however, did not mean an unarticulated one. Turning to another trope, the team designed architectural screens and extensive millwork in walnut to define function areas. Meticulous finishes are all new including plaster to replace wall paint and slatted Afrormosia wood for the lower of two ceiling heights.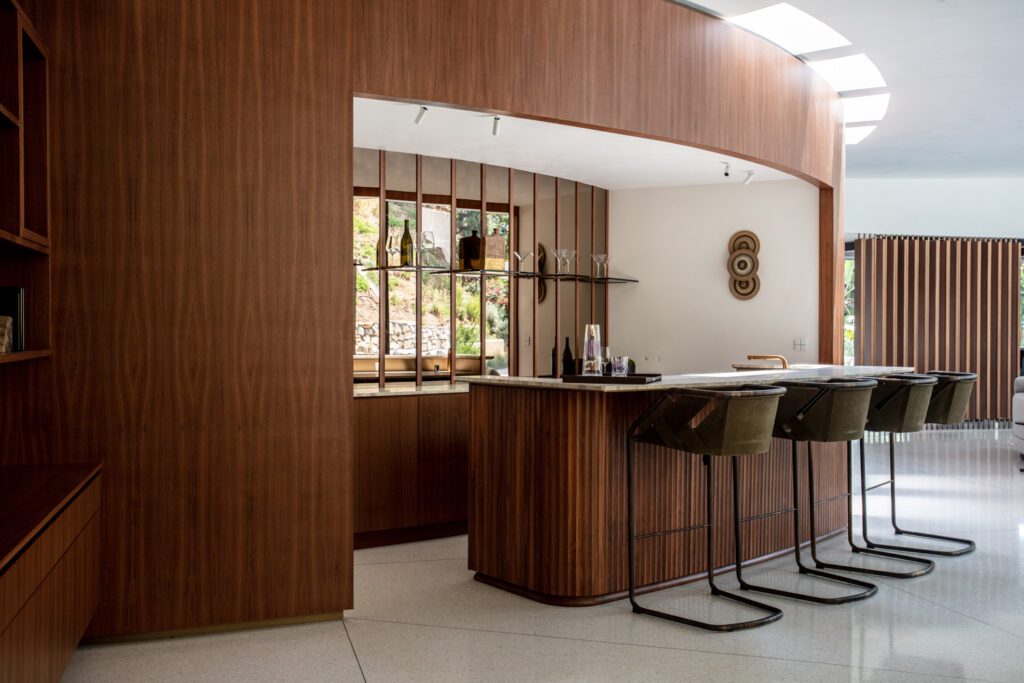 Entering via a turquoise-lacquered portal with an impressive brass, half-moon handle, one confronts the circulation spine, a new terrazzo floor with brass inlays forming a subtle graphic inspired, appropriately enough, by those of Alexander Girard. To the left, a run of walnut panels and slatted screens set off the corridor from the dining and kitchen areas, which are subtly separated by a full-height floating shelving unit for wine and glass storage. Meanwhile, to the right of entry, more walnut, now in curved form, semi-encloses a bar with powder room. Peek inside the latter to discover one of Goineau's period-right finds—teak tiles from Brazil sourced from an online vintage shop. Beyond, three bedrooms, baths, plus the main suite unfold as an L. At the configuration's juncture is the solarium, newly endowed with stacked sliders allowing two faces to open completely to the outdoors.
For the sunlit salon, Goineau relied mostly on Minotti, choosing Rodolfo Dordoni's Alexander sectional, pair of Reeves chairs, cocktail and side tables, plus GamFratesi's burgundy leather Shelley chairs. For the double-sided fireplace, she turned to another design super star, Peter Zumthor for his flat clay bricks handmade in Denmark. 
The kitchen is quite a piece of work. With walnut-trimmed, lacquered cabinetry it spans almost 18 feet long and includes a cement quartz-topped island that transitions to a walnut counter for casual meals. More formal repasts occur in the adjacent dining area, newly daylit thanks to a slot window put in place by the Enclosures Architects team. Here, both table and chairs are from Gallotti&Radice, the former designed by Oscar and Gabriel Buratti. The brass pendant was designed by Goineau's Quebecois colleagues. Speaking of Enclosures Architects, the partners took charge of installing new HVAC, double glazing for sliders, and a new entry procession created of board-formed concrete and vertical steel framing. Though designed pre-pandemic in 2019, the project's construction took place during the last two years; its epilogue, though, is current. It sold and closed just weeks ago.