Spa des Saules by Jouin Manku: 2017 Best of Year Winner for Beauty/Spa
Take the form of an old timber barn traditional in Alsace. Add a trace of the region's ancient Roman baths, a soupçon of American Shaker style, an aura of Zen, the savoir faire of local artisans, some high-tech spice, and tons of contemporary zest. Mix well. That's the design recipe concocted by Interior Design Hall of Fame member Patrick Jouin and his partner, Sanjit Manku, for the Hôtel des Berges's annex, housing a spa on the ground level.
Jouin and Manku have renovated the family-owned hotel's Michelin-starred restaurant twice, so client-designer trust is well established. "With the spa, the family had a really profound desire to do more for their guests, to give them serenity and calm," Jouin says. The design, Manku adds, needed to be both "sensory and spiritual."
Materials for the 10,500 square feet are pared down to the essentials: wood, stone, concrete. Pouring the concrete was the biggest challenge. "It leaves no margin for error," Jouin notes. "You cannot correct a mistake." On some concrete wall panels, a willow-leaf motif pays tribute to the weeping willows that gave the spa its name. A sauna, a steam bath, and two plunge pools sup- plement the four rooms for treatments. One option is a willow-bark oil massage.
Project Team: Yann Brossier; Daphna Glaubert; Mickaël Gouret; Henry Gagnaire.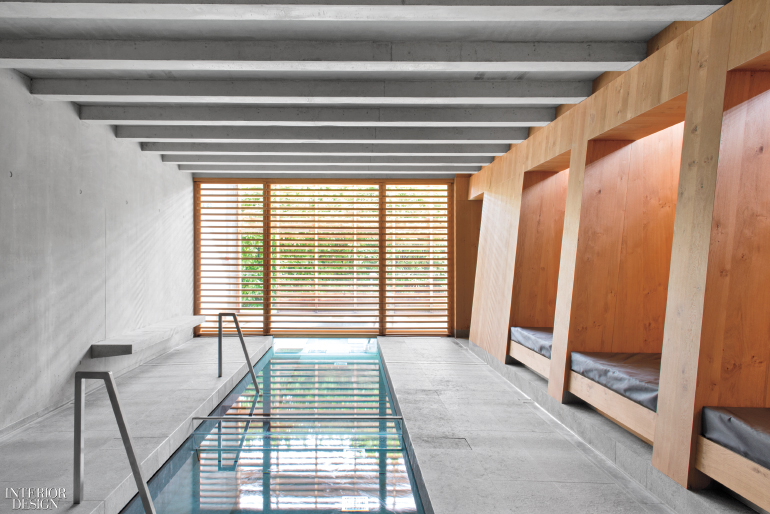 > See more from the December 2017 issue of Interior Design
> See all 2017 Best of Year winners and honorees