Spacemen Creates Edgy Shanghai Store for Online Retailer By
Millennials may prefer online shopping. "With the rise of giants like Alibaba, Taobao, and WeChat, a lot of retailers in China are converting to e-commerce," architect Edward Tan concedes. But there's a concurrent movement toward brick-and-mortar establishments, he adds: "Some online retailers are doing the exact opposite by building large experience stores. Customers go off-line to explore activation spaces that are fun, further boosting brand awareness."
When a mutual friend introduced Tan to fashion aficionado Warren Wang, an engineer turned private investor, Wang already had a good thing going. His online store, By, was well-known as a pioneer for bringing avant-garde labels that include Neil Barrett and Rick Owens to China's booming e-commerce arena. To seal the deal, Wang hired Spacemen, Tan's firm, to design a Shanghai store for By that would also carry the handbags and watches sold online at sister site Moore.
"As an in-store visual merchandizer, Warren is eccentric—I think that also shows in the way he runs the brand," Tan says. "He never actually gave us an official brief. We had to scribble down notes and bits of his ideas during every meeting. One day, it would be an exhibition platform with limited-edition furniture pieces. The next meeting, he would want to collaborate with independent labels for a private fashion show. Part of our job was to help him narrow things down while coming up with a concept that worked for all scenarios."
Another challenge was By's location, an underground space at Soho Fuxing, a dining-oriented shopping mall. "A pair of escalators completely hides the entrance to By. If you don't go looking for it, you won't be able to spot it—which, in fact, attracted our client, as he didn't see By as a conventional retail store," Tan notes. "Also, a lot of the mall's mechanicals run through the space. The exposed pipes and ductwork near the back left just 7-plus feet for headroom, and we found water leakage. Then there's a massive 4-foot-high concrete block that runs the length of the back. We converted that into tiered seating that doubles as display."
Despite all the negatives, both Tan and Wang saw the potential for a retail experiment. "We felt that the height change and the oddly shaped layout could be something fun," Tan says. With almost 8,800 square feet to play with, he programmed the front of the sales floor as a cluster of triangular display islands, each surrounding a structural column.
The angled sides of these islands are mirror polished. "Customers glimpse the products reflected and are curious to meander deeper in to get a closer look," he explains. The islands have triangle-patterned flooring in six different types of marble, while overhead light filters through a stretched ceiling system, likewise triangular.
"As the products on display don't always have a correlation to the products offered at By and Moore online, we designed the front of the shop to be inviting to anyone walking by," Tan says. "The islands are meant to display anything and everything—not just fashion but also furniture, sculpture, and collectible toys." So you might find Japanese toy figures called Be@rbricks positioned like bowling pins on the marble triangles, greeting customers as they enter.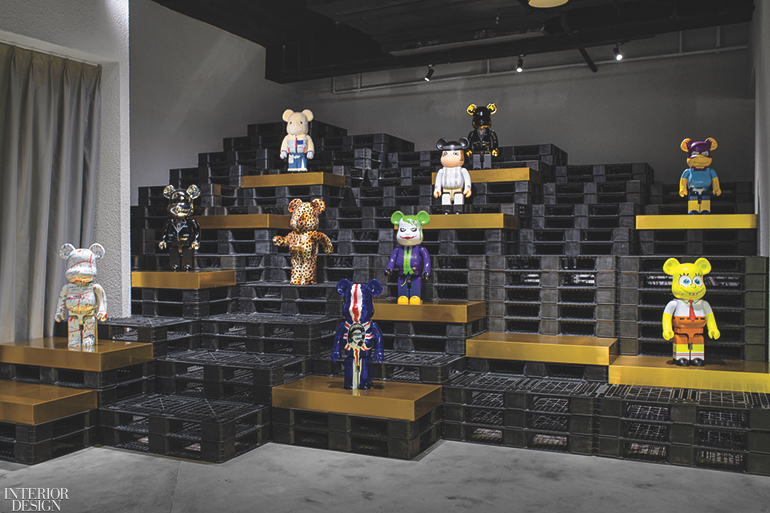 With the premium quality of the goods in mind, Tan kept the materials palette rich and sleek. A terrazzo counter, lined with spiky black stools, reads more like a swanky bar than a cash-wrap desk, and terrazzo flooring in the rear half of the sales floor is accented with brass strips. Gray full-height drapery softens and contrasts with the textured gray-tinted plaster of the walls while hiding unsightly fire exits and other services.
At the corner where the front and rear zones meet, hundreds of plastic shipping pallets, some rimmed with LED battens, offer maximum flexibility. "The pallets can be reconfigured like Legos," Tan explains. "They can be stacked one way to display sneakers or another to seat 100 people for a fashion launch."
Special consideration went to the Instagram phenomenon Outfit Of The Day. "Social media–savvy shoppers are so infatuated with #OOTD—we realized that everyone takes a photo of themselves in the fitting rooms as they try on clothes," Tan observes. "We celebrated this culture by giving each of the three rooms a unique light installation, encouraging customers to discover a different effect even with the same outfit." The trendy street-wear kids snapping selfies can't get enough.
Project Team: Edward Tan; Raymond Tang; Ed Chan; Simon Liu; Hoiyee Lim: Spacemen. SWJSW Metal: Metalwork. TWH Construction & Engineering: General Contractor.
Read next: 5 Retail Wonderlands Subvert Reality