Spacemen Duo Goes Bold and Experiential with Landmarked Shanghai Eatery Icha Chateau
When deciding on a name for the firm they were founding in 2014, designers Edward Tan, now 31, and Foo Chit Kyan, 40, went with Spacemen. They are always thinking about space, after all. But the futuristic reference also links to the firm's aesthetic: bold and experiential, particularly apparent in the studio's hos­pitality projects. One such is Icha Chateau, a Western fusion restaurant and teahouse in Shanghai. Spacemen was challenged to create an eye-catching exterior but without adding so much as a nail to the brick facade—the 19th-century former villa is landmarked.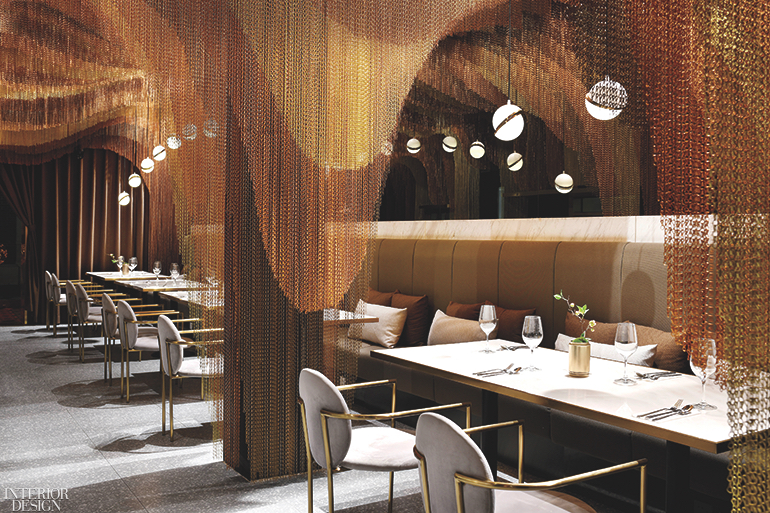 Tan and Foo's solution came in the form of brushed anondized brass. Inserted into one of the building's colonial-era arches fronted by an existing window are strips of the metal molded into a cagelike form and lined with LEDs. It serves to draw passersby into the bar inside. Additional brass panels frame the building's other archways and windows.
Inside, the duo wasn't burdened by preservation re­quirements for the 1,800 square feet. In fact, the main intervention was so unique, "Even our contractors weren't sure what the final result would look like," Tan recalls. Hanging from the ceiling at varied lengths are more than 20 miles of aluminum chain that's been finished in three shades of gold. Although glamorous, almost other-worldly, Tan and Foo cite the rolling tea fields that dot the Chinese countryside as inspiration.