Steelcase by Shimoda Design Group: 2018 Best of Year Winner for Showroom Project
All work and no play. Who says that's how a showroom has to be? Certainly not Steelcase, with which Joey Shimoda of Shimoda Design Group has been collaborating for 15 years.
Unveiled at the latest NeoCon trade fair, the revamped showroom at theMART in Chicago represents an evolution from Shimoda's previous design, presenting a digitally fabricated sculptural element as the centerpiece for zones dedicated to different brands. That underlying concept remains the same, as the showroom sprawls over 32,500 square feet. Once again, he worked with Steelcase's Global Design Studio to explore culture, behavior, and wellness in addition to more typical workplace concerns. At the outset, he says, "Design conversations spanned more than six months, often with the assistance of behavioral experts, in­dustrial designers, and engineers."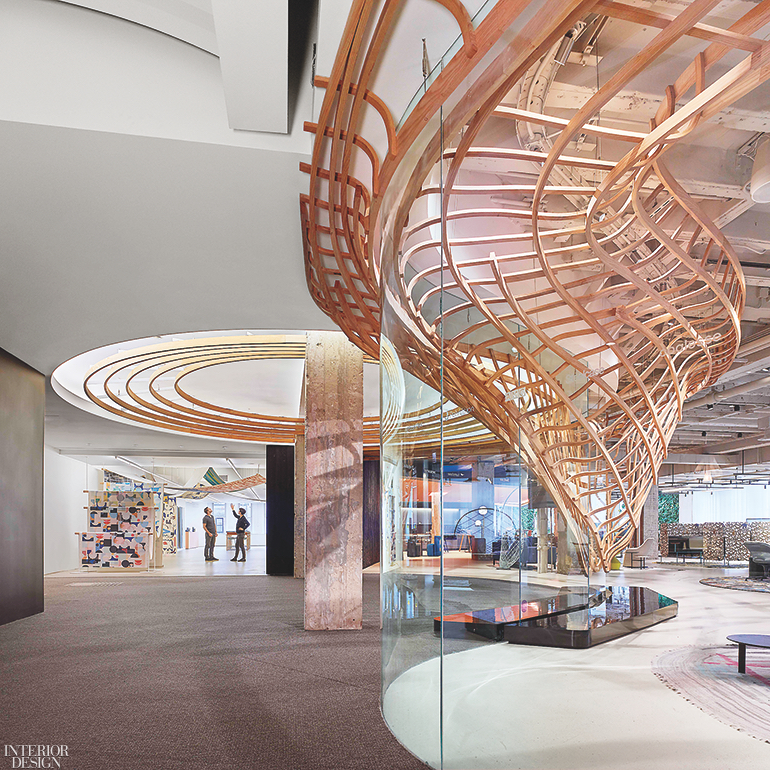 Products from Steelcase itself, its Coalesse and Turnstone brands, and 10 partner manufacturers now appear in two complementary environments, each with a place to eat. WorkLife, Shimoda notes, "feels futuristic" in its dedication to technology applications and the interconnectivity they create. WorkCafé is a more relaxed, slightly rustic setting where people can gather to collaborate or just socialize. Again, the separate zones are visually unified by a sculpture. The new one is digitally designed, as before, but this time it was completely handmade in ash. He and his staffers have affectionately nicknamed it Woody.
Project Team: Susan Chang; Garine Gabrielian; Gabriel Santos; Di Huang; Yingtao Tao; Humpty Calderon.
> See more Best of Year Project Winners from the December 2018 issue of Interior Design