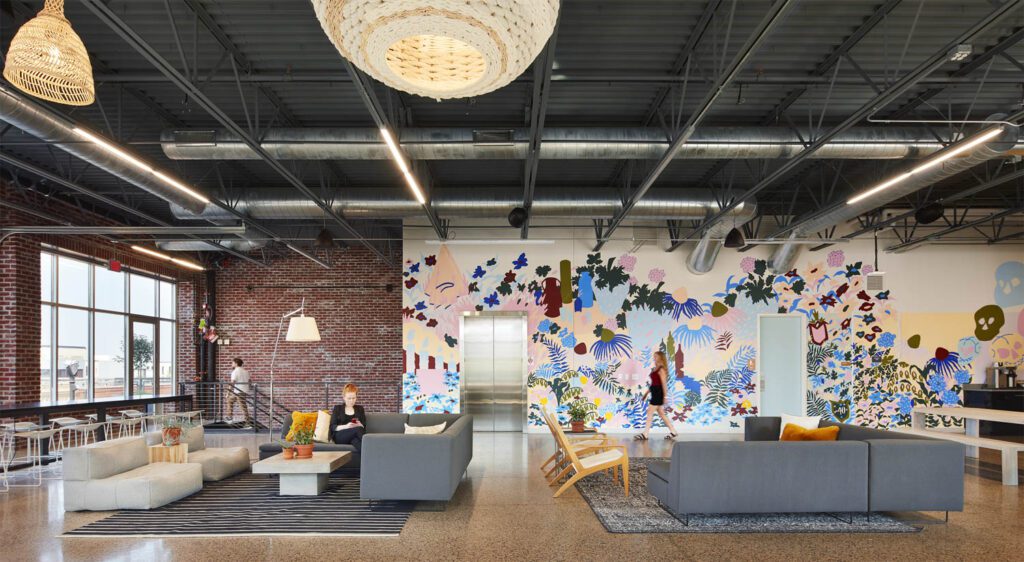 Studio BV Creates A Colorful New Headquarters for Advertising Powerhouse Fallon
The global advertising agency Fallon resided in Minneapolis's distinctive AT&T Building, with its canted windows and expanses of vision and spandrel glass, for more than 25 years. But the team needed a change of scenery. First, the company and its sister agency Publicis Sapient looked to the hip North Loop neighborhood for a space, settling on a four-floor expanse in a former Western Container building. Then leadership turned to Studio BV to turn its 36,000 square feet into a home.
"We wanted to create a cozy and flexible space that was focused on coming together and making ideas," says Studio BV CEO Betsy Vohs. "This meant shifting the space allocation from the past office, which had 50 percent of the space dedicated to private offices." The change allowed for public spaces including a salon, dining and game rooms, and a library, placed across the various floors to inspire the 200 employees to utilize the entirety of their new headquarters.
The crowning touch is the inviting conservatory and living space on the top floor, connected to ample outdoor space. "This is the space that really reflects the shift away from the old Fallon corporate offices," Vohs says. "It's a space that supports a casual and soft lifestyle, and is confident and comfortable." It's the new definition of working at home.