Studio Perspektiv Designs Sport-betting Company Fortuna's Prague Headquarters
In 2015, Ján Antal and Martin Stára founded Studio Perspektiv with a bold pitch. Aged 24 and 31, respec­tively, they had no track record or references to speak of when they landed a contract to design the Prague headquarters of the software company STRV. But they did have an idea. "We said, Let's do a big office like a small city," Stára recalls, "with a town square of sorts, where people meet and 'roads' all around lead to experiences." Having spent two years as an urban planning strategist for the City of Prague, Stára saw a parallel between offices and public spaces. Both have to accommodate different personalities and consider how people walk, talk, and interact. "They are places for people, but one has a roof," Stára says. He and Antal employed that same approach for the Prague headquarters of fixed-odds sports-betting operator Fortuna Entertainment Group, Perspektiv's largest project to date.
The architects, who met when Stára supervised Antal's undergraduate thesis at the Czech Technical University, found a niche in workplace design at a time when Czech businesses were just starting to invest in it. As the capital became a burgeoning IT hub, there was a new market for well-designed, collaborative offices. After completing several tech and co-working spaces, Perspektiv was hired for the 78,500-square-foot project for Fortuna, the largest Central European off- and online betting operator that had been headquartered in the Netherlands and operates in Slovakia, Poland, Romania, and Croatia. The Prague headquarters consolidates three separate offices throughout the city into four floors of an eight-story building by Jakub Cigler Architekti near the Prague train station. The client charged Antal and Stára with creating an agile and youthful
environment that encourages connection between the staffers, of which there are 700 of 28 nationalities. Returning to urbanistic principles, they conceived of what Stára calls a "vertical city" and unified it with a graphic sports theme, which ties into Fortuna's business.
They began with space-planning, centering the headquarters around a new oak-and-painted-steel staircase that functions like an urban square. Shared desks ring the perimeter because Czech workplace guidelines require permanent workstations to have daylight and be within 15 feet of windows. Lockers for staff belongings, meeting rooms, and phone booths occupy the interior. The plan forces people to take the stairs: Reception is on the top floor and amenities—café, gym, help desk, terrace, game room—are located on the levels below. Employees can get water at any of eight kitchenettes peppered throughout the floors, but coffee is only in the café on the third level, exerting a gravitational pull.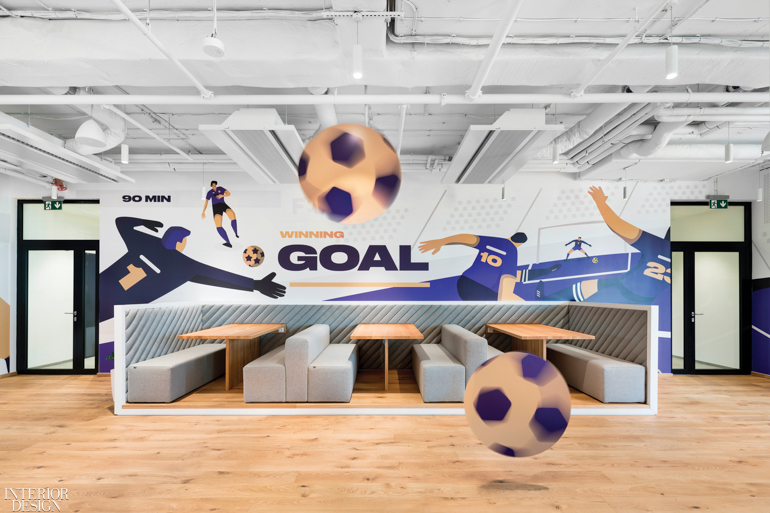 Like a walkable city, the layout facilitates chance encounters. Since employees were coming from three different locations, it was important that they get to know each other, to feel part of the team. "We think accidental meetings can create huge value for a company," Stára says. "So we tried to bring a mix of people to the staircase." Its switchback construction is asymmetrical: Going down, it's narrow at first, but then widens as it approaches each landing, resembling stadium seating. Fortuna colleagues can perch on the wide treads to watch a soccer game on TV, like neighbors gathering on a stoop.
Lounges cluster around the staircase, ready to host impromptu catchups. Colorful armchairs by Jeannette Altherr and Alberto Lievore, Hella Jongerius, and Antonio Citterio brighten these common areas, while Konstantin Grcic's chunky red stools bring a bit of fun to a training room. Focused on sustainability, the client invested in durable furnishings that will withstand years of use. The architects selected items made from recycled materials whenever possible, like nylon carpet tiles, acoustic PET felt paneling, and recycled-steel chairs by Laurens van Wieringen. Sensors activate lights and HVAC
systems to reduce energy use.
"The trouble with creating a responsible, sustainable workplace is that it's a quick business," Antal notes. "The lease is usually for only five or 10 years. But we try to design offices that encourage the client to stay longer, by employing flexible plans and quality ma­terials." Mindful of waste, he and Stára kept the aesthetic simple, avoiding anything too trendy. Much of the interior has the crisp palette of a gymnasium, with oak flooring and white walls, and most ceilings are exposed for a tough, industrial contrast. But the sports theme adds color and team spirit. Wide stripes on walls and carpeting gesture to lines on athletic fields. Oversize graphics, digitally printed on adhesive wall coverings, depict scores and games available on Fortuna's betting platforms, such as soccer, volleyball, and baseball. Perspektiv, which often works with illustrators, collaborated with Brno-based artist Adam Mihalov to create the 20 unique images. "He had a vision for how to make the graphics dynamic," Antal says. "They bring another layer to the design."
Of course, like a city, it takes people to truly animate a workplace. The Fortuna headquarters, which Perspektiv had nearly completed last March before the site shut down because of COVID-19, has yet to re-open. But it seems to anticipate the post-pandemic office, offering the human interaction we crave and the flexibility we need. Antal and Stára, meanwhile, have come full circle: They spent lockdown entering a competition to restore an actual public square, Jiríhoz Lobkovic Square in Prague—and they won.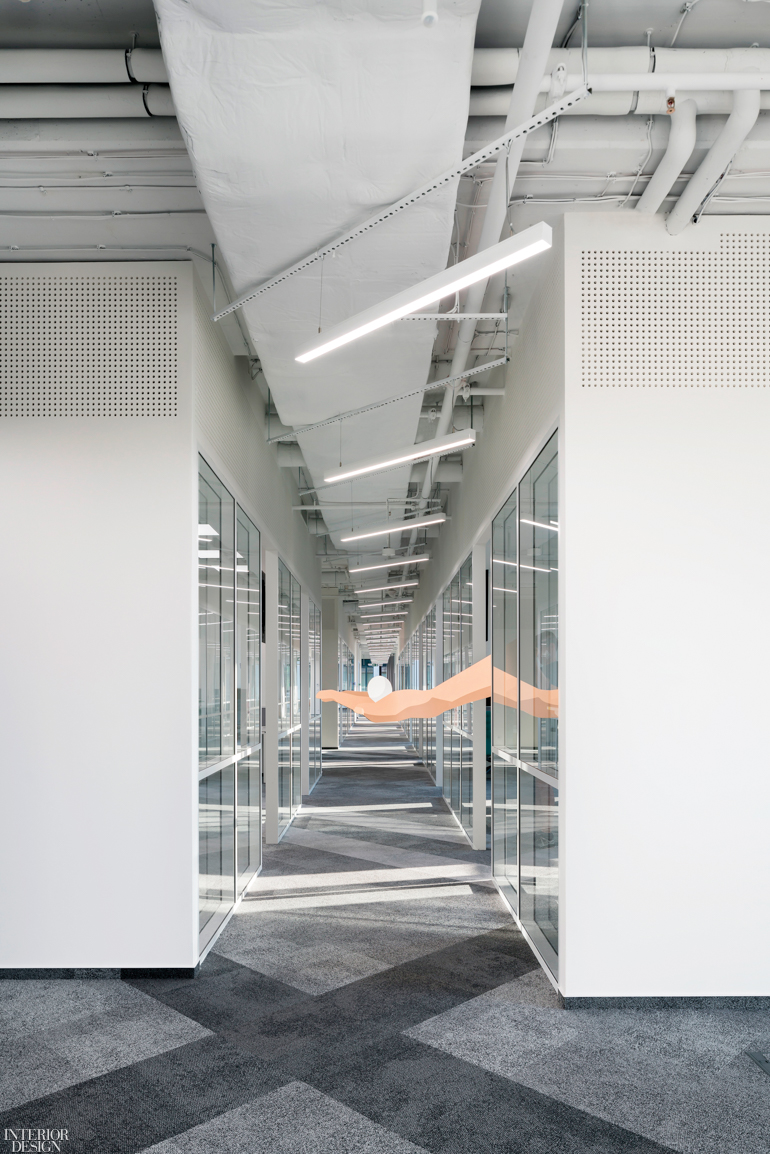 Project Team:
Eva Schilhart Faberová; Barbora Szöllösi Babocká; Barbora Janíková; Lucie Feldová; Petra Malovaná; Anna Dománková: Studio Perspektiv. Atelier Šteflovi: Greenery Consultant. Brick: Woodwork. Stopro: General Engineer.
Product Sources: Lapalma: Black Coffee Table (Lounge). Artek: Stools (Lounge), Tables (Kitchenette). Arper: Yellow Arm­chair (Reception). The Greenest Company: Plant Divider. Pedrali: Black Round Tables (Lounge). Silentlab: Paneling (Meeting Room). 3D Fitness: Equipment (Gym). Offim: Table (Training Room). Franke: Sink, Sink Fittings (Kitchenette). De Vorm: Stools, Chairs. Throughout: Vitra: Furniture Sup­plier. Empate: Custom Stair. Linstram: Storefront Systems. Esco Podlahy: Floor Planks. Interface: Carpet Tile. Hormen: LEDs. Optimal Interior Design: Curtains. Fugu: Wall Stickers.