Studio Seilern Designs Ski-In/Ski-Out Restaurants in the Swiss Alps
The top of a 7,600-foot mountain in the Swiss Alps may not be the first place you'd expect to find a Michelin–starred Japanese restaurant. But it's only the latest in a series of surprising developments that have been taking place over the last few years in a certain Urseren Valley village. The Japanese by the Chedi Andermatt restaurant is one of two eateries in the Gütsch-Express,
a building by Studio Seilern Architects, which also recently completed the nearby Andermatt Concert Hall. Both are part of a new 4-acre, year-round resort centered on the central Swiss village, midway between Lucerne and the Italian border.
Andermatt's remote yet strategic location, at the crossroads between three major transalpine routes—Furka, Gotthard Pass, and Oberalp Pass—has proved both a blessing and a curse. In the Middle Ages, the village thrived as a trading and transport hub, and later as a holiday destination, with grand hotels springing up along its pretty main street. Tourism declined after the Gotthard tunnel was opened in 1881, making the pass largely redundant, then in 1885 the military moved in, transforming Andermatt into a garrison town. The army's departure in the 1990's left a gaping hole in the local economy, and a village in seemingly terminal decline.
In 2005, however, an unlikely savior came along in the person of Egyptian billionaire Samih Sawiris, whose family fortune origi­nated in a construction bus­iness set up by his father. With his own background in holiday resorts, Sawiris proposed a development plan to Andermatt's local government, and, since 2007, has invested millions on ski infrastructure, luxury hotels (including the first Chedi in Switzerland), swish apartment blocks, and the concert hall. Yet this is no vanity project: Andermatt sits at the middle of one of the largest ski areas in central Switzerland, and its height means that, for now at least, good winter snow is pretty much guaranteed.
Though based in London for 20 years, architect Christina Seilern grew up in Switzerland, so you could say that the Alps are in her blood. She recalls, as a child, "being sent up a mountain each morning to fetch the milk" by her father, a one-time Olympic skier. The asymmetrical form of the Gütsch-Express was inspired "by the mountain hamlets I remember from then," she says. "They were tiny clusters of irregularly shaped farm buildings used only in the summer, when the farmer moved up with his flocks, and his wife joined him to make cheese."
Clad in Swiss granite, with cantilevered terraces supported by angled steel support columns, the 10,000-square-foot, two-story Gütsch-Express stands at the point where two ski lifts meet, overhanging a steep slope with wide-open views to the south and west. The lower level is built into the mountain, concealing restrooms, storage, and technical areas, while the upper floor's 4,600 square feet is roughly divided in thirds by a kitchen shared by two gourmet restaurants, the Japanese one and the Swiss-themed Gütsch by Markus Neff.
Both interiors feature classic alpine materials—pine for walls and cross-laminated timber for the beams, ceiling, and frame—but Seilern has given them an almost literal twist, with the floor and beams at an angle to the walls instead of parallel and perpen­dicular to them. "They share the same overall architectural design, but we differentiated them by creating very different bars," she explains. "The Japanese bar is a granite monolith, which suits its Zen aesthetic, while the Gütsch bar is green terrazzo. I first thought it was perhaps too garish but, in situ, it really works."
The restaurants are dis­tinguished by their furnishings, too. The Japanese by the Chedi features mini­malist oak tables by Finnish designer Kari Virtanen, snowflake-blue upholstered chairs by Swiss designer This Weber, and a steel-and-granite fireplace. In the Gütsch, the pale-wood theme carries through to the chairs, a 1953 design by Danish 20th-century carpenter Helge Sibast, and a Swiss pine–lined alcove called a stammtisch, or locals' table, for cozy gatherings. Both restaurants are adjoined by generous outdoor dining terraces.
The finished building looks robust yet effortless, inside and out, but working at such altitude presented major challenges. "The building season is short," Seilern notes, "so we prefabricated as many components as we could. Because of the extreme climate and temperature variations, everything has to be carefully constructed, with no corner-cutting. But of course the Swiss have huge amounts of experience with this. The quality of the work is always high. It has to be."
Neither is there any shortage of ambition. When Studio Seilern's 660-seat concert hall was bowing last June, many developers might have opted for a local band to celebrate its opening. But not Sawiris: He booked the Berlin Philharmonic. One imagines his new mountaintop restaurants will have a similarly starry and international cast.
Keep scrolling to view more images of Gütsch-Express >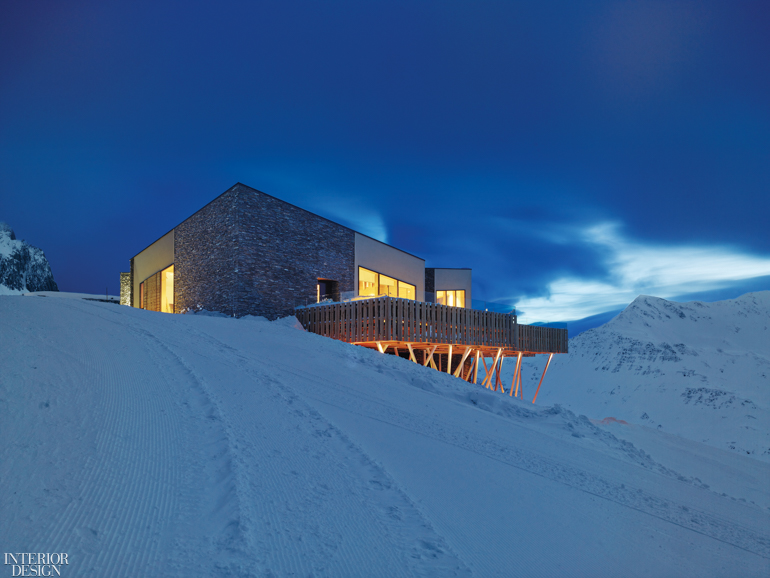 Project Team: Marcos Velasco; Hana Potisk; Portia Malik; Jonathan Wrynne: Studio Seilern Architects. Siebzehn13 Architekten: Architect of Record. Viabizzuno: Lighting Consultant. MEP: Building Physics Consultant. IUB Engineering: Structural Engineer. EWA: Electrical Engineer. Holzprojekt: Woodwork.
Product Sources: Verywood: Barrel Chairs (Chedi). Zeitraum: Round Tables (Chedi), Alcove Table (Gütsch). Sibast Furniture: Spindle Chairs (Chedi), Chairs, Barstools (Gütsch). Cherner: Barstools (Chedi). Davide Groppi: Lamp (Chedi), Pendant Fixtures. CG Swiss: Mirror (Chedi). Kettal: Round Tables (Terrace). Through Muoser: Chair Sheepskin. Kvadrat: Banquette Fabric (Gütsch). Throughout: Nikari: Square Tables, Terrace Chairs.
Read next: Czech Firm OV-A Incorporates Cozy and Modern Elements in Apart-Hotel Svatý Vavrinec