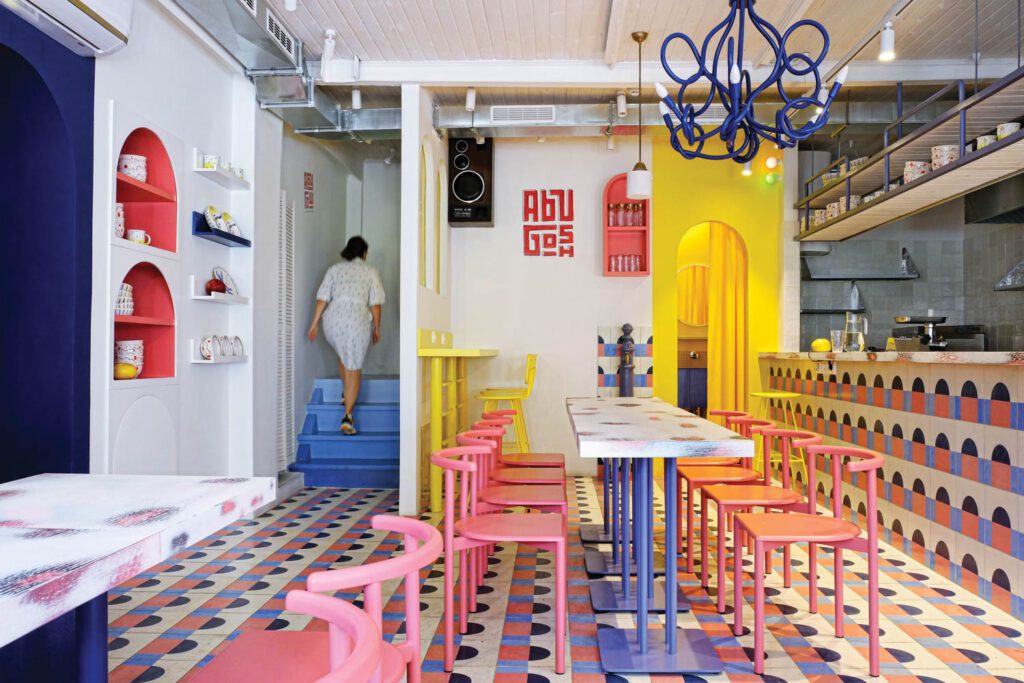 Studio Shoo Transforms a Two-Story House in Moscow into a Second Locale for Israeli Cafe, Abu Gosh
With its pitched roof, the house on a tree-lined street in central Moscow wore its charm on its sleeve. But, as Studio Shoo founder Shushana Khachatrian discovered, it had a trick up its sleeve, as well, making it an ideal second location for Abu Gosh, a café serving Israeli cuisine. Its first outpost, inside a 1911 garden pavilion that had been whitewashed, then enlivened with quirky, blue egg-patterned tile, is also by Khachatrian. "I liked it right away," she says of the house. "The roof looked like an attic with secrets."
Armenian-born, Khachatrian studied art before graduating with an architecture degree from the State University of Land Use Planning in Moscow, where she's now based. A few years working in local firms taught her how to bridge her backgrounds, and, in 2017, she launched Studio Shoo. That art-architecture proficiency is on display at both cafés but particularly in the latest one, Abu Gosh Trubnaya. And it's partly due again to Khachatrian specifying eye-catching tile, this time by Italian designer Elisa Passino, who won a 2020 Interior Design Best of Year Award for her Geometrie Componibili collection. For the café, Khachatrian selected Passino's Capitello tile—a graphic compilation of rectangles capped by a dome—in a custom colorway of bubble-gum pink, periwinkle, navy, and white. The pattern mixes 1960's Op Art dazzle and late '80's Memphis whimsy and set the tone for the 1,400-square-foot project's palette and leitmotifs.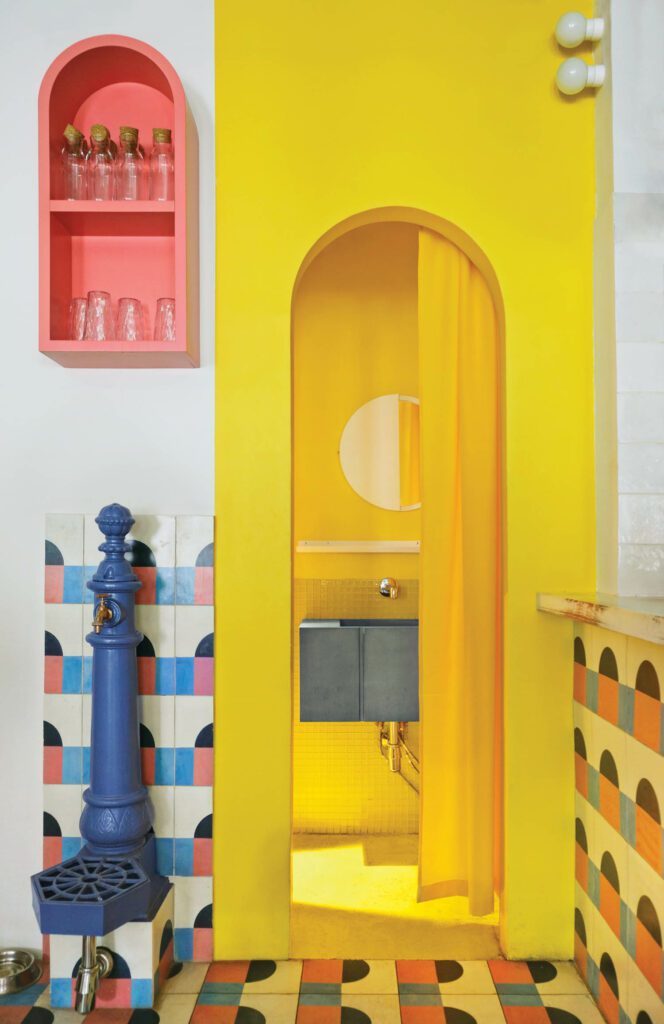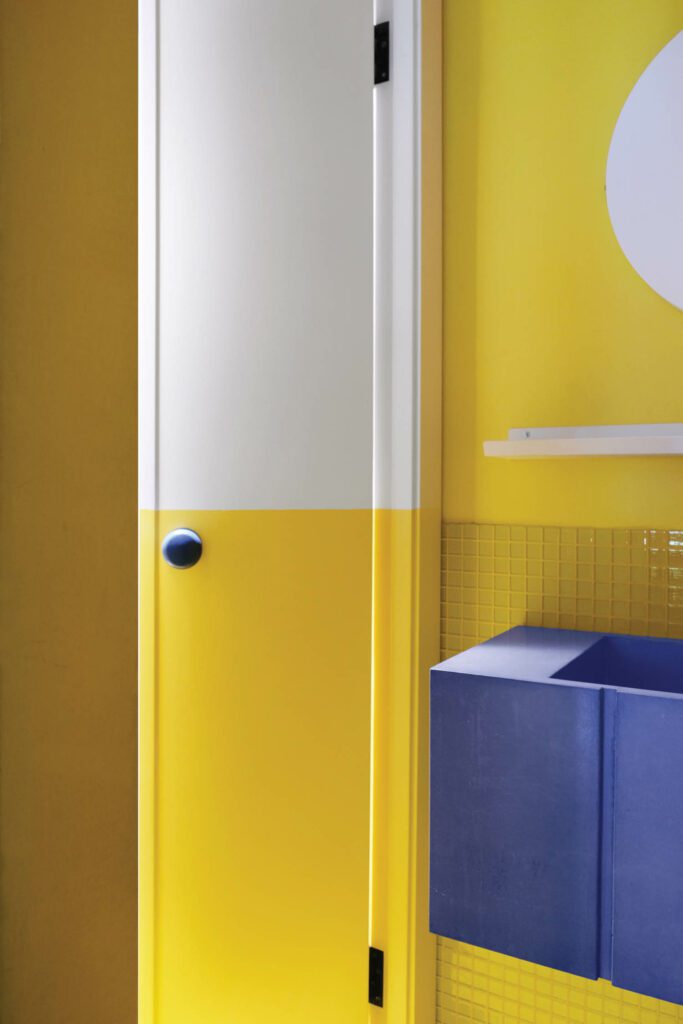 But first the structure needed repair and refreshing. "We dismantled floors and removed the stitched ceiling," Khachatrian explains. She also incorporated the arch, which became a defining element, one that was borrowed from the tile's dome. Arches form the café and restroom entrances, wall-mounted and recessed storage, and, flipped on the axis, the backs of slim-legged pink chairs; they line up at blue-based com­munal tables in the main dining area on the ground floor.
Upstairs is an entirely different environment, both in function and feel. After traversing a low flight of steps, guests encounter a space defined by a folded ceiling plane, due to the house's pitched roof, as well as original wooden beams and new oak flooring. They can lounge or attend lectures seated in mustard-upholstered armchairs or cherry red benches surrounding a circular communal table. Khachatrian brought the blue of downstairs up here by trimming the ceiling and painting stepped seating in various tones of the shade.
But it was also here that during construction Studio Shoo noticed a hole in the floor. "In studying the house's history," Khachatrian says, "we found that it had been used as a chimney." She and her team initially considered plugging it up. "But we came up with a new implementation: a double chandelier that serves as a connection between the two levels." She devised a pair of chandeliers out of coiled blue pipe. One attaches to the pitched roof over the communal table. Then a cable threads through the tabletop, its clear acrylic base, and that existing hole in the floor to link to a second canopy above a table downstairs. What could have been a problem instead became a source of inspiration. That's the secret to good design.