Stylish Pet Salon in Kiev by Yakusha Design Invites Owners to Stay a While
The recent boom in pet adoption and fostering across the U.S. has confirmed two things: that humans are social creatures and—to borrow from the words of French novelist Colette—that "our perfect companions never have fewer than four feet." This special relationship between humans and pets is what drove Kiev-based studio Yakusha Design to develop Groomer, a grooming salon with a large footprint dedicated to pet owners.
"The main challenge of this project was to create not just 'another grooming salon' in our city, but a space for socializing for the pet owners while they are waiting for their furry friends," says Yakusha Design founder, Victoria Yakusha. And at Groomer, socializing comes with style. A warm, sepia color palette is punctuated by a speckled quartzite flooring and a panoply of designer furniture. Rounded sofas and a marble coffee table by Amura contrast with an opal acrylic, Artemide floor lamp. Meanwhile, round mirrors and Apparatus sconces help soften the mood.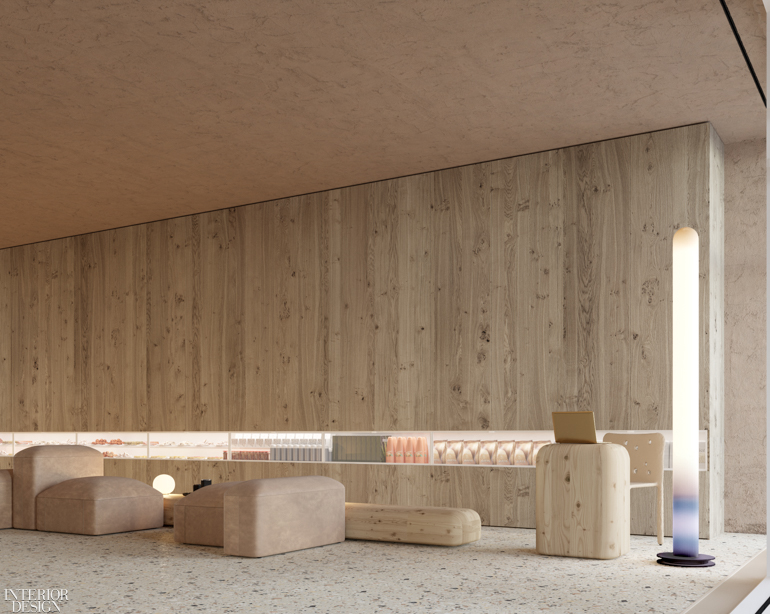 Read next: AKC Museum of the Dog by Gensler: 2019 Best of Year Winner for Environmental Branding/Graphics