Sybarite Designs the First Ferrari Retail Experience in Maranello, Italy
The iconic Prancing Horse logo is no longer just a metallic emblem to be found on luxury cars. Under the creative direction of Rocco Iannone, Ferrari is expanding its brand into the lifestyle segment by offering clothing and accessories, thus creating the need for a series of branded stores that echo the spirit of its high-class Italian ethos. The first and flagship location of such a retail experience has been established in Ferrari's hometown of Maranello, Italy and is designed by English firm Sybarite, which will also oversee the creation of future Ferrari stores in Milan as well as Miami and Los Angeles.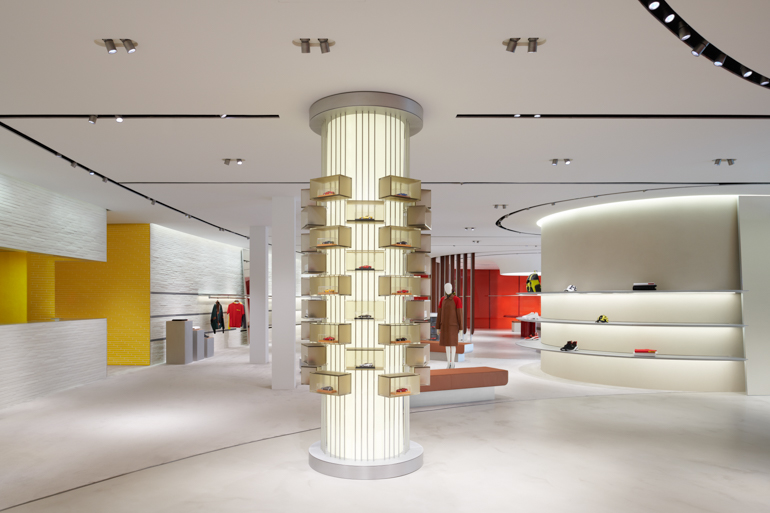 The Maranello flagship highlights a contemporary take on the brand's philosophy and imagery with a high–definition, inspiring and immersive vision that is based on the relationship between man and machine, as well as the subtle and sophisticated balance between craftsmanship and the avant–garde. Along the front façade, a terracotta colonnade outlines and frames the perimeter of the building, echoing the traditional color of the roofs of Modenese houses and the historic domes in Italian architecture. Behind this, a curved glass wall in graduated shades of red shields gives shoppers a glimpse of the interior, recalling the sinuous trajectory of Formula 1 circuits and the perpetual motion of cars on the track. At the back of the boutique, white clay brick walls are implemented as a backdrop for the new collections, acting as a metaphor for the modeling process of Ferrari prototypes wherein the initial form is created in clay and then in metal. A harmonious, fluid, and dynamic structure, full of meanings and timeless stories arrive in the present to bring the Ferrari legend into a broader and renewed lifestyle perspective.