Taniguchi and Associates Revamp Okura Tokyo Hotel
Six years ago, when the management of the Hotel Okura announced plans to demolish and rebuild the iconic 1962 structure in time for the 2020 Tokyo Olympics—now postponed to 2021 due to the outbreak of COVID-19 across the globe—domestic and international fans reacted with outrage. The paean to classic Japanese and mid-century modern design—itself built in antici­pation of the 1964 Tokyo Olympics—must be saved, the petitions and editorials begged. But it was to no avail. Management insisted rooms needed enlarging and facilities updating for today's tourists (with prices increased to match). What the preservationists may have helped achieve, however, was an appreciated compromise: Inside one of the two gleaming glass towers that now form the Okura Tokyo, the original hotel's lobby, recognized as the heart of its hospitality and aesthetic, would be faithfully re-created.
Fittingly, the 12,000-square-foot resurrection was overseen by Yoshio Taniguchi, son of the lobby's original architect, the late Yoshiro Taniguchi, and a highly respected architect in his own right (his firm, Taniguchi and Associates, renovated New York's Museum of Modern Art in 2004). Taniguchi the younger had been involved in lobby repairs over the years and frequently stayed at the hotel himself. He was also responsible for a second lobby at the Okura Tokyo as well as two restaurants and the landscaped setting that links the hotel's interior to the exterior much more powerfully than before.
Guests now approach the hotel through Okura Square, a stone-paved courtyard wrapped around a large water feature that's visible from the mezzanine of the main lobby; a hexa­gonal island serves as the focal point linking the buildings with the courtyard. Taniguchi has suggested that this close interior-exterior connection is one difference between his approach to architecture and his father's. The serene Heritage Wing lobby is also entirely Yoshio Taniguchi's creation, aside from some salvaged decorative elements, such as a mural relocated from a banquet hall in the old building. The space is designed to resemble a tokonoma, the alcove in Japanese homes where seasonal flower arrangements and art are traditionally displayed—although here in abstract form to avoid feeling gimmicky. The remainder of the $1 billion, 508-key project was a joint venture between six additional firms.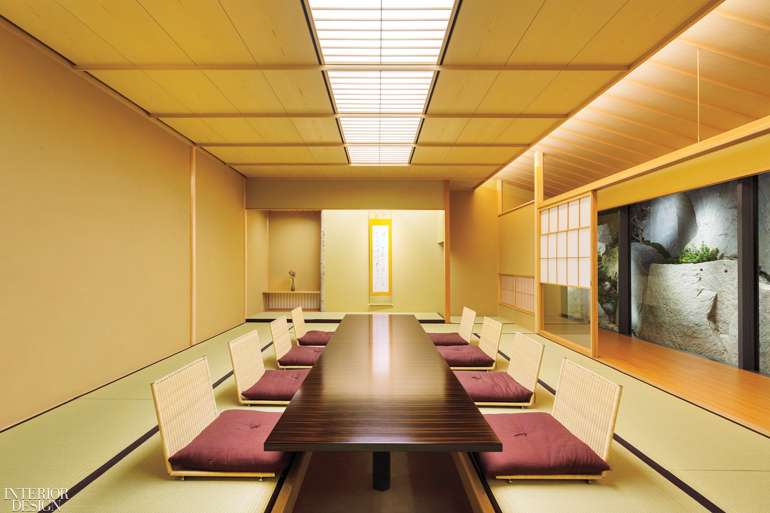 For the main lobby, Taniguchi set about re-creating his father's masterpiece—or rather, the illusion of it. He estimates that about 75 percent is actually comprised of new elements. "What we kept of my father's work were the creative, decorative elements that are so symbolic for people, in order to carry on the memories from that era," he says. Furniture, light fixtures, and wall coverings, for instance, were all either salvaged or meticulously re­produced. But the new space had to be adapted to current fire and seismic codes, and the reception area needed a complete revamping. According to the hotel's public relations manager, Kazuko Oguri, most visitors hardly notice those practicalities. "I knew we'd succeeded when I saw a guest stand in the new lobby teary-eyed and say the memories were all coming back," she says. Nostalgia, it seems, has survived the rebuild unharmed.
Project Team: Taisei Corporation Design Division: Landscaping Consultant. Taisei Design Planners Architects & Engineers; Kanko Kikaku Sekkeisha; Nihon Sekkei; P.T. Morimura & Associates; NTT Facilities: Consulting Architects, Designers, and Engineers.
Product Sources: ILYA: Counter (Heritage Lobby). Fujidairiseki: Flooring (Heritage Lobby, Stair). EPK Corporation: Chandelier (Stair). Asahi Building-Wall Co.: Glass Partition. Yamagiwa Denki: Hanging Lanterns (Prestige Lobby). Takashimaya Space Create Co.: Custom Wall Veneer, Custom Tables, Custom Chairs. Pacific House Textile Co.: Textile Cross.
Up next: DeSallesFlint Infuses Puro Warsaw Hotel With Eclectic, Informal Aesthetic