Tank Shanghai by Open Architecture: 2019 Best of Year Winner for Social Impact
Move over, power stations: Repurposed aviation fuel tanks are the latest place to exhibit contemporary art. In fact, a group of them is the sleek centerpiece of Tank Shanghai, a 12-acre cultural hub and park, part of a massive redevelopment of the former Longhua Airport, which operated from 1922 to 1966 and was once a restricted Chinese military zone.
Open Architecture partners Li Hu and Huang Wenjing saw potential in the five rusted steel cylinders situated along the Huangpu River in the West Bund. "Each had a small, rounded opening in the center of its dome and a Pantheon-like spatial quality," Li says. "Sounds reverberated for a long time." The architects connected three of the tanks with underground ramps and gave all of them terrazzo flooring and painted plasterboard ceilings. The 72- to 92-foot-wide structures now offer a pristine 117,000 square feet that house galleries, a restaurant and bar, and installations; one tank is framed in a steel rectangle, creating an open-air stage.
Outside, undulating lawns weave between the tanks and steam mists over a granite plaza. "We wanted to make a new type of art institution that's as open, generous, and accessible as the great urban parks," Huang adds. Like the best public spaces, it's welcoming and engaging, making something old new again.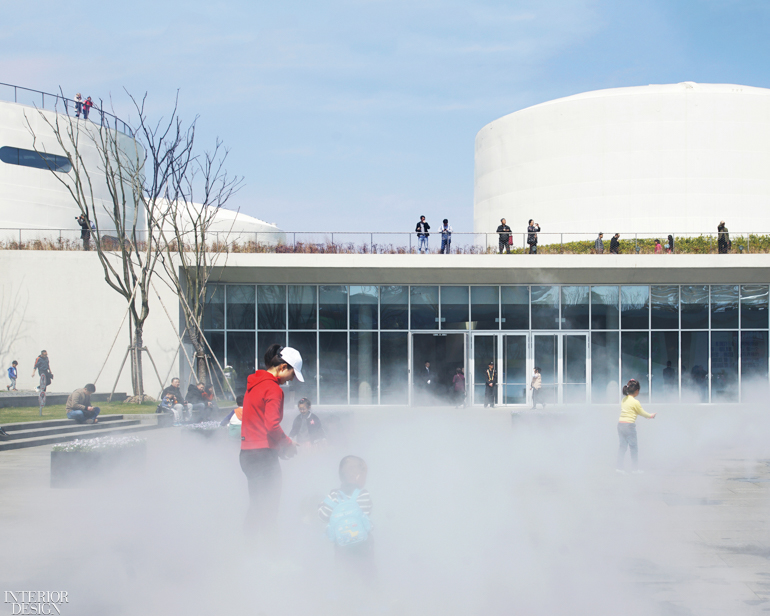 Project Team: Ye Qing; Luo Ren; Victor Quiros; Zhou Tingting; Chen Xiuyuan; Li Zhentao; Zhao Yao; Lu Di; Jia Han; Zhang Yiwen; Steven Shi; Zhou Xiaochen; Huang Zhonghan; Laurence Chan; Cynthia Yurou Cui; Yang Qi; Ge Can; Gao Qi; Stephanie Lee; Jin Boan; Zhang Hao; Wang Mangyuan; Yan Dihua; Zhang Chang; Tomas Kowalsky; Jiang Simin.
> See more from the December/January 2020 issue of Interior Design