This Puglia Hotel is an Invitation to Enjoy La Dolce Vita
Located in a rural setting in the Italian region of Puglia, a hidden gem of a hotel, Tenuta Negroamaro, sits on nearly 10 acres of land but comprises only 10 rooms. Having lived in London since he was 16 years old, the owner decided to start a hospitality project in his native Puglia, and trusted designer Olga Ashby to craft the interiors.
Created as a peaceful home away from home, the boutique hotel favors indoor-outdoor living, offering guests an invitation to slow down.
With its vaulted ceilings, the main house is dedicated to the breakfast area as well as a sitting area for drinks and board games, while a bamboo gazebo provides shade and a stunning view of the pool surrounded by vegetation. Each of the rooms has its own garden or private pool—true sanctuaries for guests. With a mural painted by a local artist and inspired by the local cacti—also used to produce the alcohol which is an ingredient in many on-site cocktails—the pool bar doubles as an Instagrammable spot.
Throughout the hotel, Ashby used natural and traditional materials, including Pietra Leccese stone and travertine for the floors and furniture and jute for rugs and lighting fixtures. Combining rough and smooth textures, the designer wanted to create a "handmade tactile" experience where neutral and earthy colors blend the exteriors and interiors.
Giving guests the feeling of being in a friend's house, Tenuta Negroamaro, which has a vegetable and fruit garden as well as a small farm, features the work of artisans from different parts of the world. Ashby sourced the artwork above the sitting area in the library corner, and the blankets and cushions in the guest rooms, from Morocco. A vintage African bed bench adorns the living area, 19th-century books can be found in several nooks and the tapestry in merino wool above the sofa is bespoke.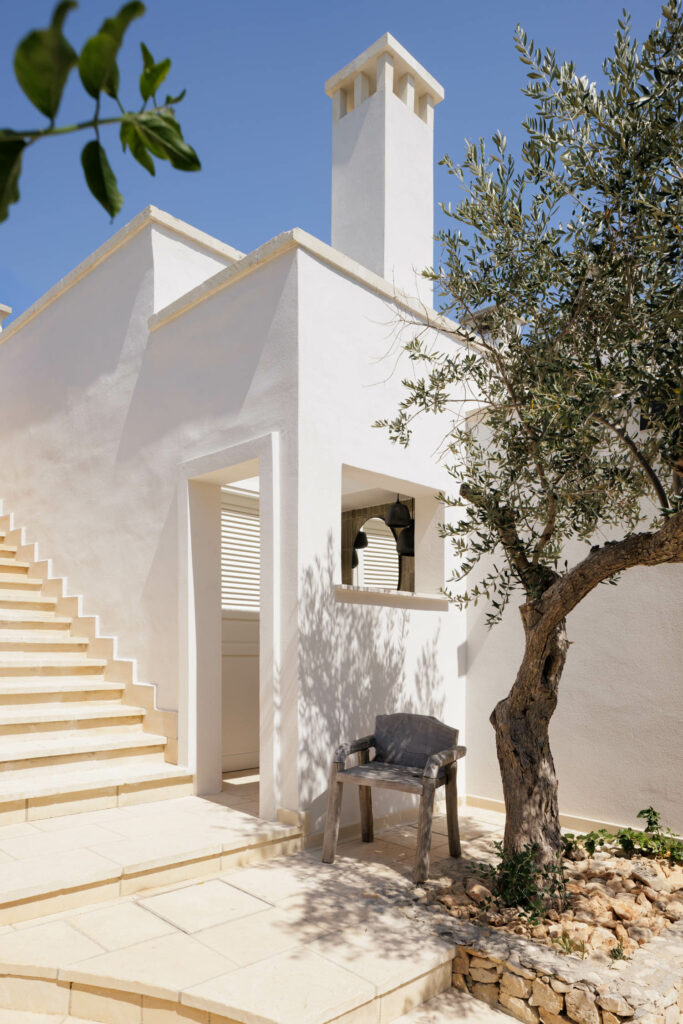 Several projects and programs are already in the works for the hotel's near future: organizing yoga retreats and—in the little round buildings, called "trullo," a traditional Apulian dry stone hut with a conical roof—a meditation space and a private dining space for two are underway.
Inside Tenuta Negroamaro, a 10-Key Boutique Hotel in Puglia, Italy