The Joseph Hotel in Nashville by INC Architecture & Design Exemplifies the Power of Innovation and Art
The art-in-hotels phenomenon has been percolating for a while now. Like all trends, however, it could use an update. At the Joseph, a Luxury Collection Hotel, Nashville, the concept has undergone a savvy refinement by INC Architecture & Design. "Sometimes, an art hotel can be like a gallery with rooms attached," says INC partner and creative director Adam Rolston, who spent nearly five years conceiving the interiors for the Joseph alongside partners Drew Stuart and Gabriel Benroth. "Here, it's intended for guests to feel like they're living with the art. It's a more residential approach." The 297-key property is the second developed by the Pizzuti Companies under the umbrella of Marriott International's Luxury Collection. The Pizzutis, an art-collecting family with a private museum in Columbus, Ohio, opened the first Joseph there, naming the brand after patriarch Joseph Pizzuti, and more may be on the way. "There are three primary forces," Rolston continues, "Nashville, an Italian family, and the art. Those dynamics really came together to define every aspect of the hotel."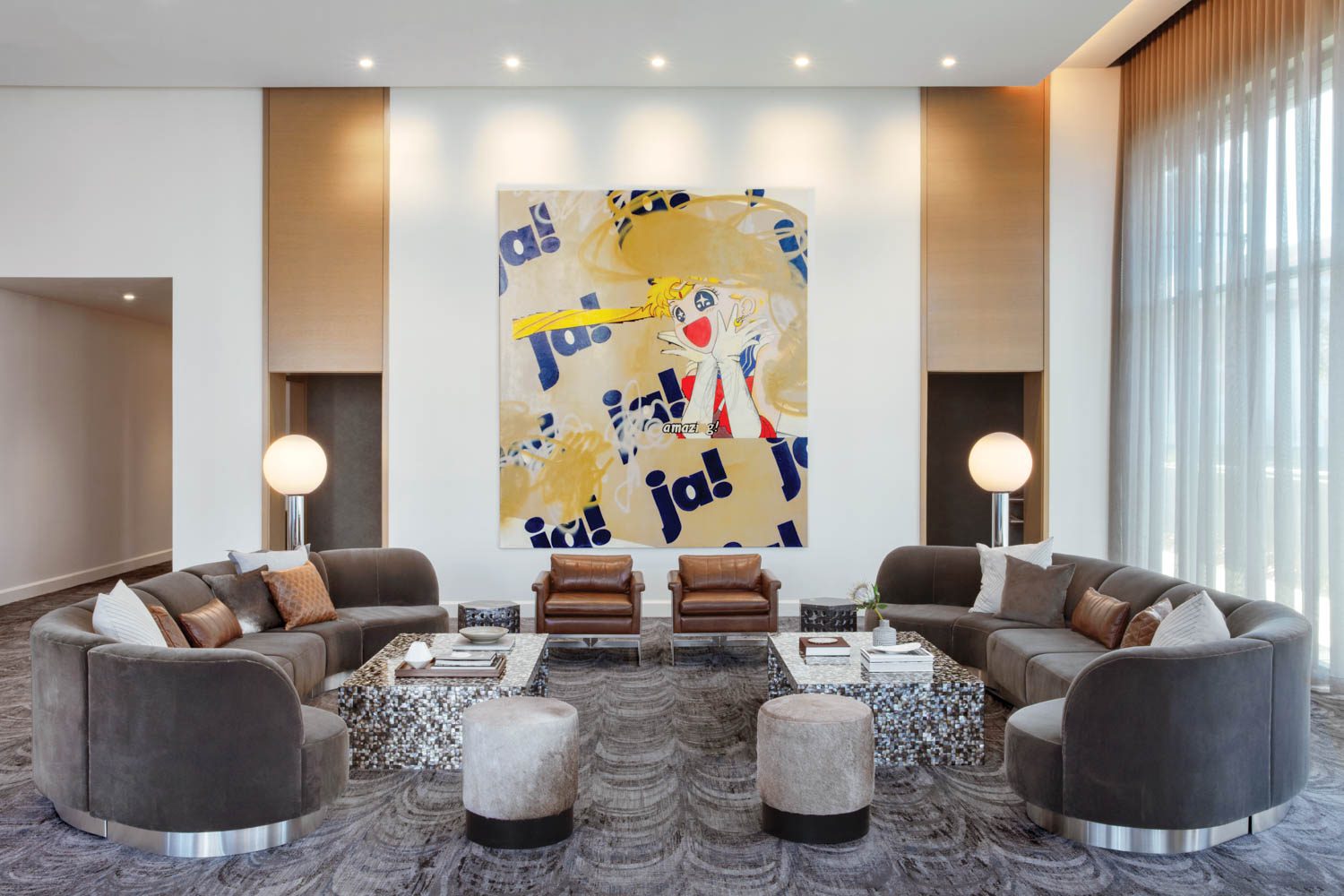 INC's experience with installation design for the Jewish Museum and the Museum of Arts and Design was a plus for a project featuring, right at its entry, a 7-by-9-foot turquoise sculpture by Hank Willis Thomas in the form of a jagged exclamation bubble. "One thing that sealed the deal: We know how to handle art," Rolston says, as well as game-changing hotels; the firm's portfolio includes 1 Hotel Brooklyn Bridge and the club/spa for the forthcoming Six Senses New York.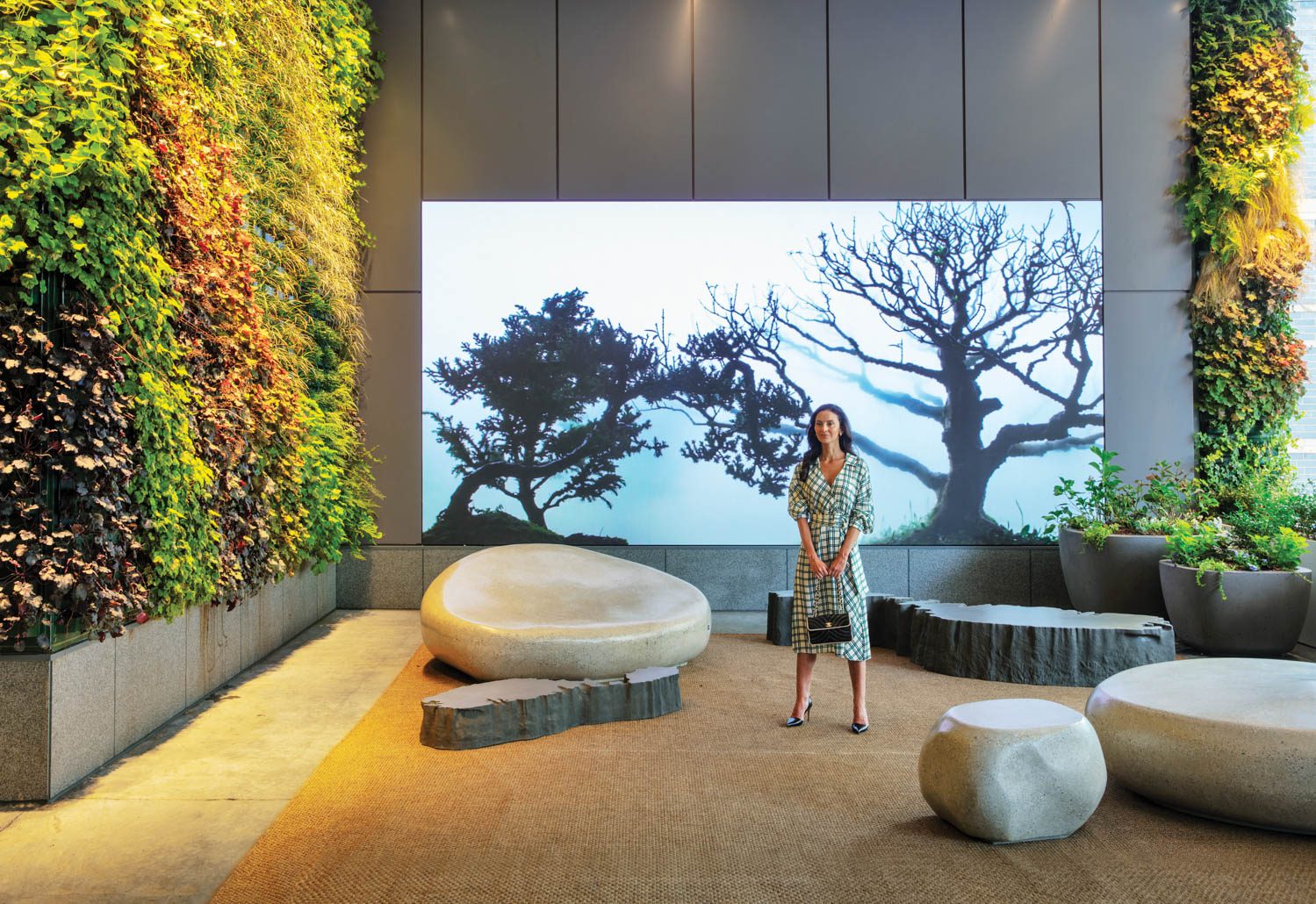 But in the pre-opening phase of the Joseph, when COVID-19 struck, INC had to invent a new strategy to supervise design work. "Virtual walk-throughs, or VWTs, as we call them now, involve a single team member cleared to walk the property or visit a workroom to review on-site placement, quality, or prototypes with an iPhone in hand and the full team participating virtually," Benroth explains. "VWT's have turned out to be a very productive tool because more eyes are involved to catch errors and suggest improvements. We'll be using VWTs long after the pandemic is gone."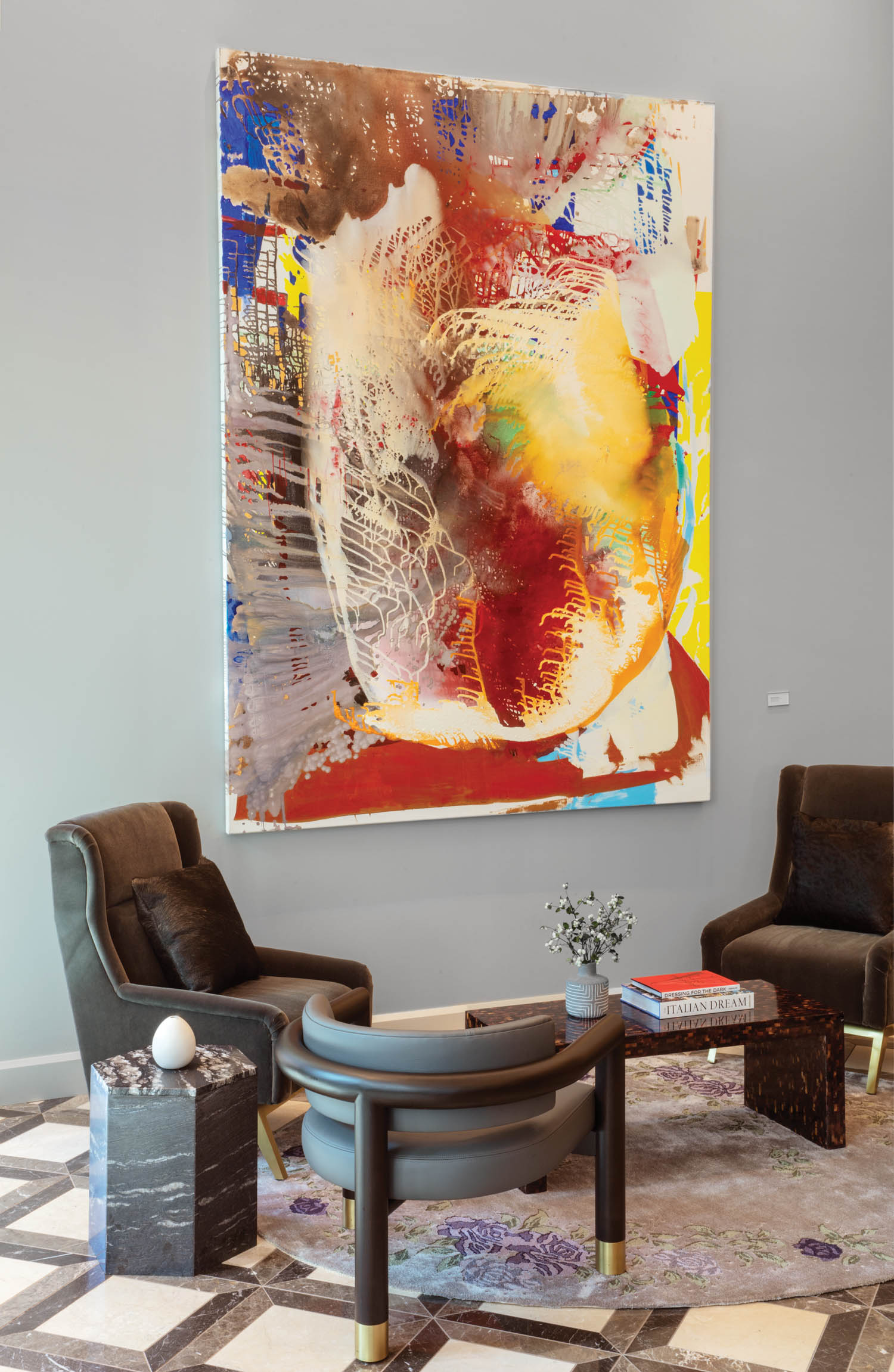 It helped that INC had a strong piece of contemporary architecture to work with. The 21-story, glass-and-steel building is by Arquitectonica, renowned for its trademark strong diagonals. The firm kept true to form here, where a corner of the facade consists of triangular forms folding in on each other. "We hate when the exterior of a project doesn't relate to the interior," Stuart says. "So we used Arquitectonica's language of formal geometry." That strategy is on display in the lobby, where an uplit rectangular coffer in the ceiling glows like a James Turrell artwork and flooring in tri-colored marble is a rhythmic configuration of cream, gray, and black squares and trapezoids. The marble's look also refers to the Italian heritage of the Pizzutis. "We went through a million Italian churches and palazzos to find that specific pattern," Rolston notes.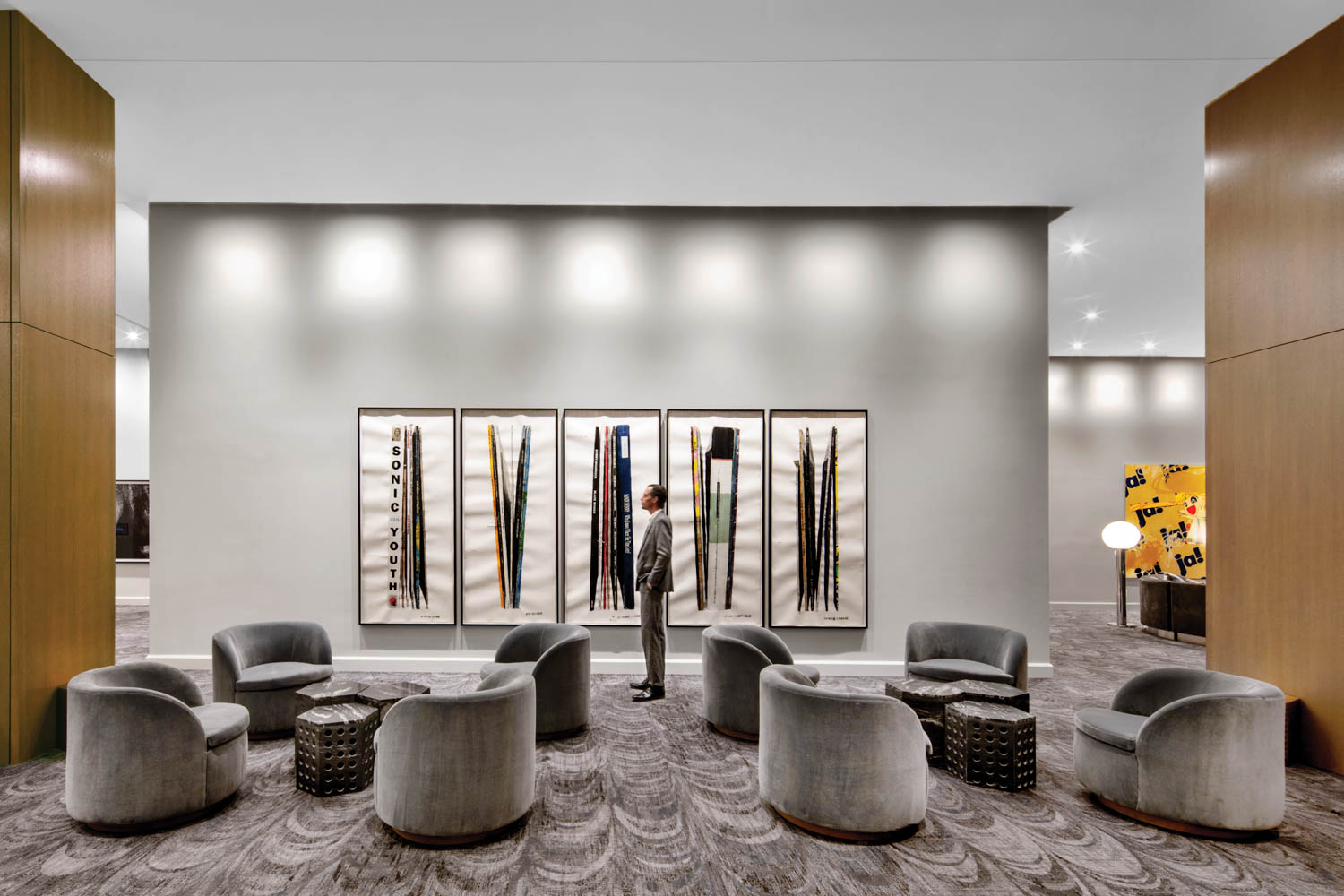 That country's more recent design heritage informed the furniture, fabrics, and finishes for the 430,000-square-foot hotel. "The ghost of Gio Ponti and the Italian mid-century overall is definitely apparent, but brought up to date," Rolston says of the streamlined custom pieces throughout, such as the curving gray-mohair sectionals on chromed pedestals and marble floor lamps topped by large, simple spheres.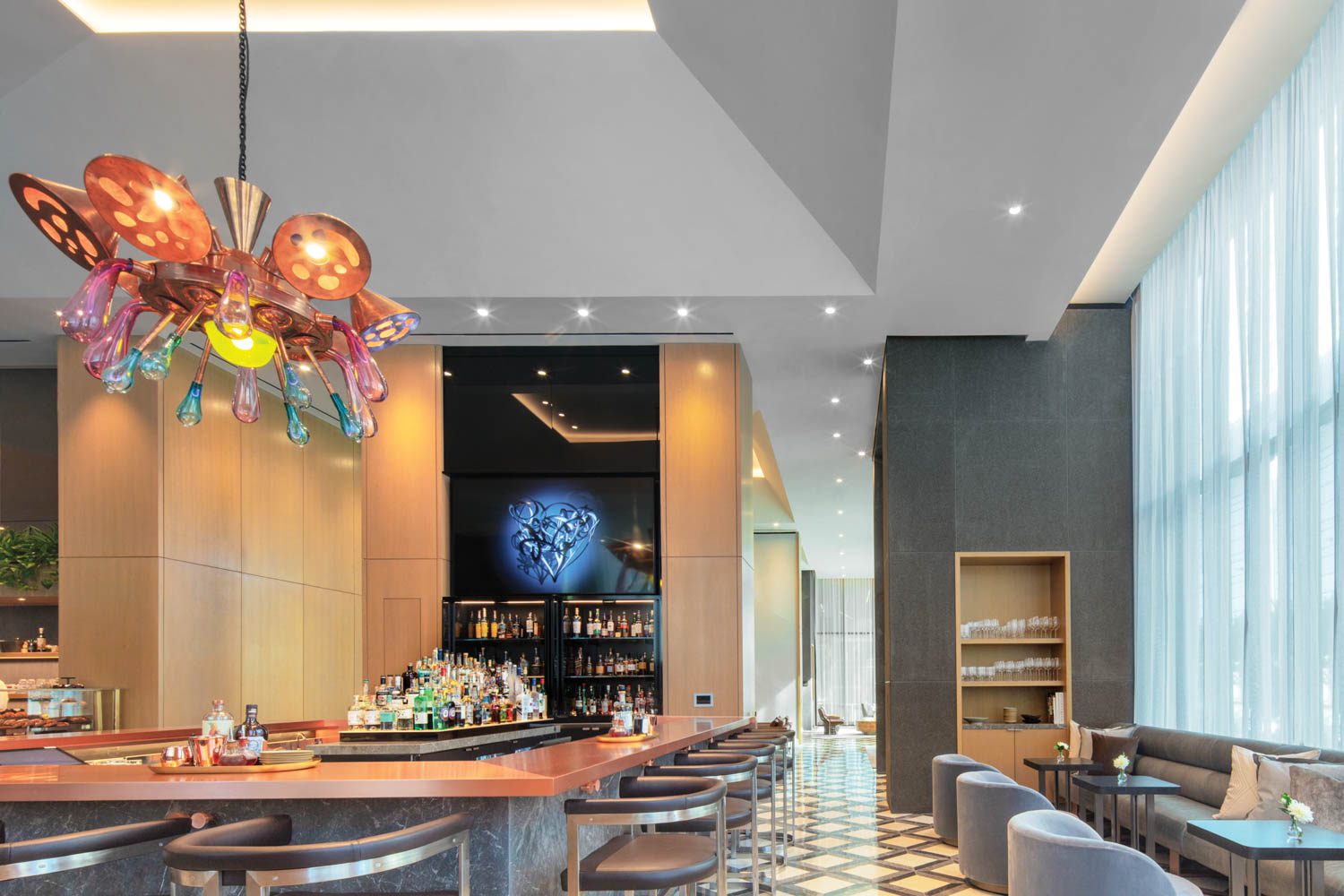 The lounge off the lobby is perhaps the place where the key material choi­ces come together most symphonically. There's the copper bar top itself, but also an ebullient copper-and-glass chandelier by Misha Kahn; it explodes with conical and bulbous shapes, all the better to set off the round-backed swivel armchairs nearby. The stools in satin nickel and brown leather echo the mid-century notes elsewhere in the project.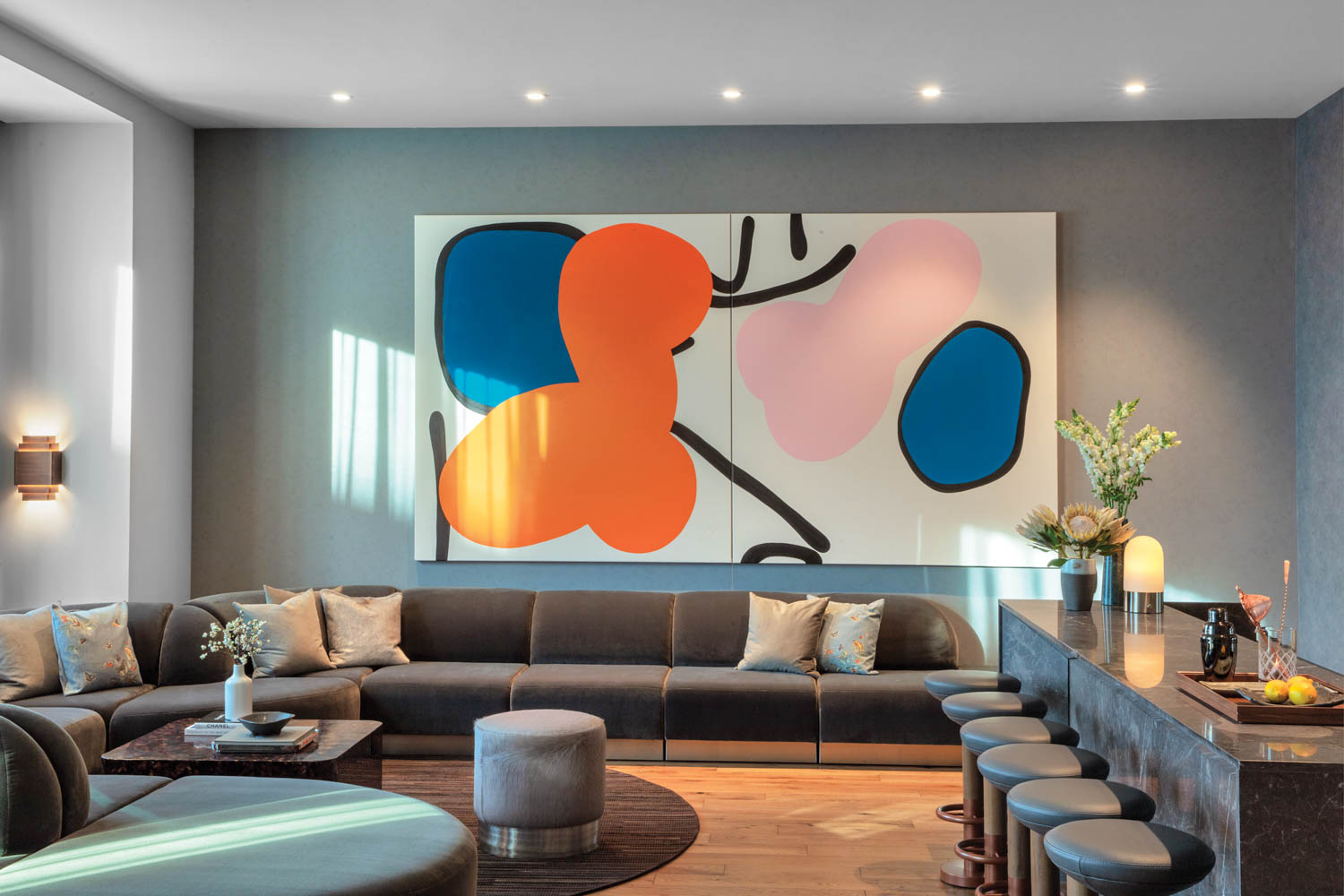 Oak and walnut factor in significantly to the materials palette, too. Flooring in the suites is engineered live-sawn white oak. Headboards in all guest rooms are carved walnut. At Yolan, one of the Joseph's three restaurants, dining tables are also walnut, trimmed with mother-of-pearl inlay.
The complimentary muted color scheme, seemingly incorporating every shade of gray, from elephant's ear to mushroom, imparts a feeling of calm and provides a neutral backdrop for the multitude of stellar, and often colorful, artworks. A pair of vivid large-scale oils by Jackie Saccoccio occupy almost two entire walls in the lobby. A nearly 7-foot-tall mixed media by Marta Vovk titled KLASSENKAMPF I, German for class combat, enlivens a prefunction lounge. A painting by another German artist, Danni Pantel, infuses the penthouse suite with orange, teal, and bubblegum pink.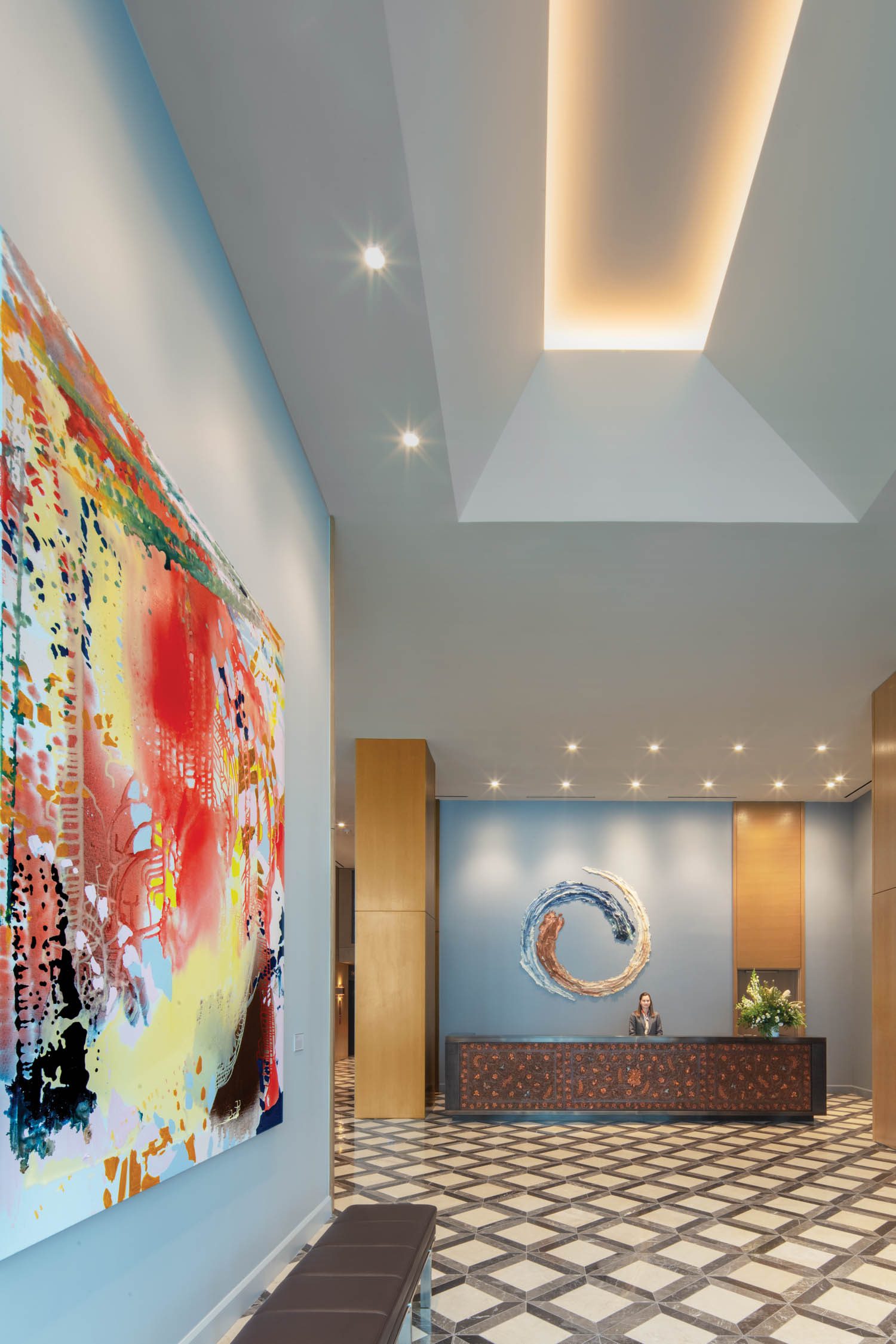 Otherwise, understatement was the watchword for the Joseph's design inspirations. Even though it's located in Music City, "one of the rules was no literal ties to music," Rolston explains. "It's all about abstract material references." But he and his team did want to incorporate local flavor. One instance where they did is in the lobby. The 16-foot-long re­ception desk is fronted by a piece of heavily tooled brown leather hide reminiscent of cowboy boots. In the guest rooms, perforated copper bedside lamps nod to Tennessee's great copper whiskey stills.
INC's storytelling is all the more impactful for being subtle. As Stuart puts it, "Without overt tropes, the Joseph is spiritually and culturally Nashville." It's also miraculous: The hotel opened for business on August 25.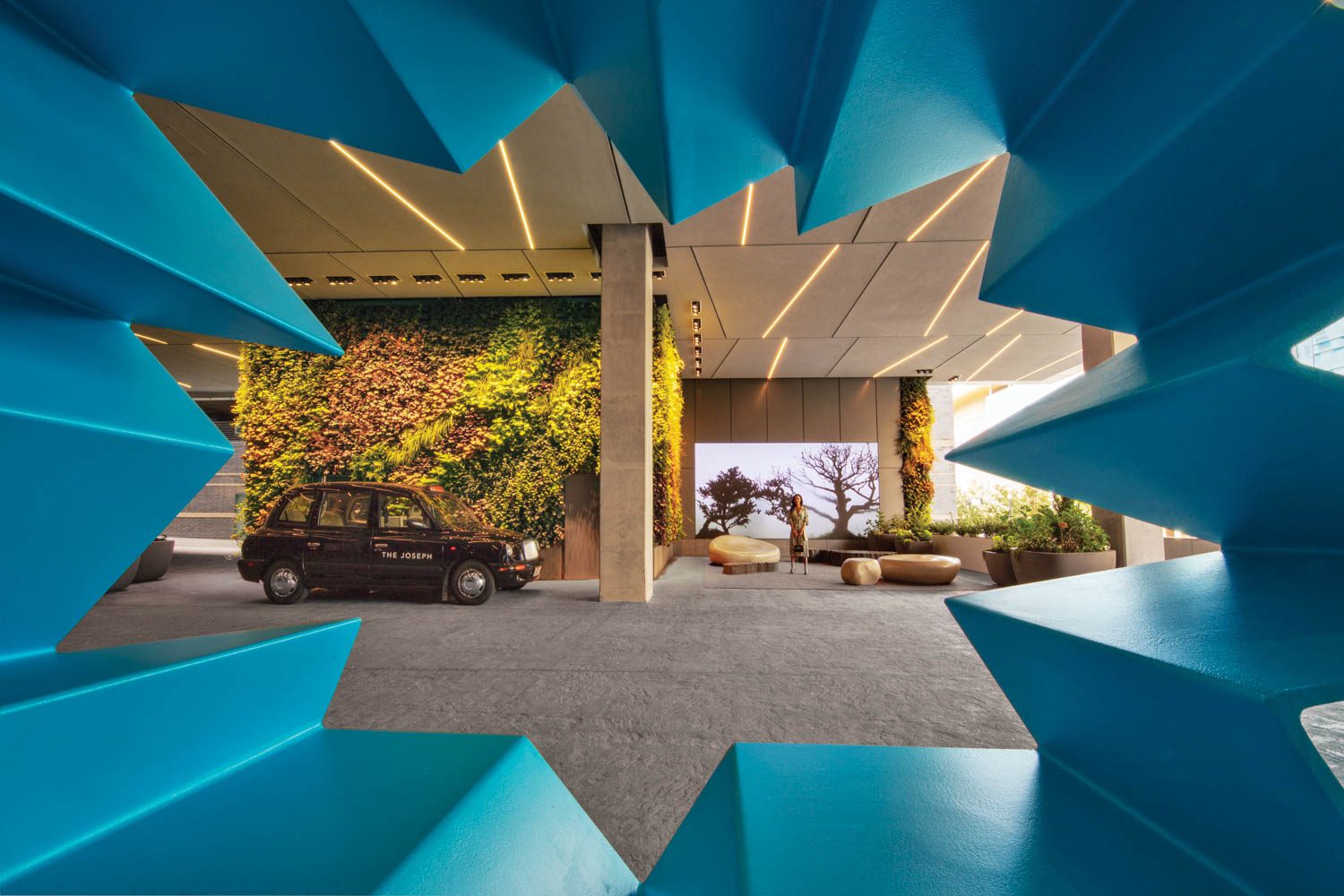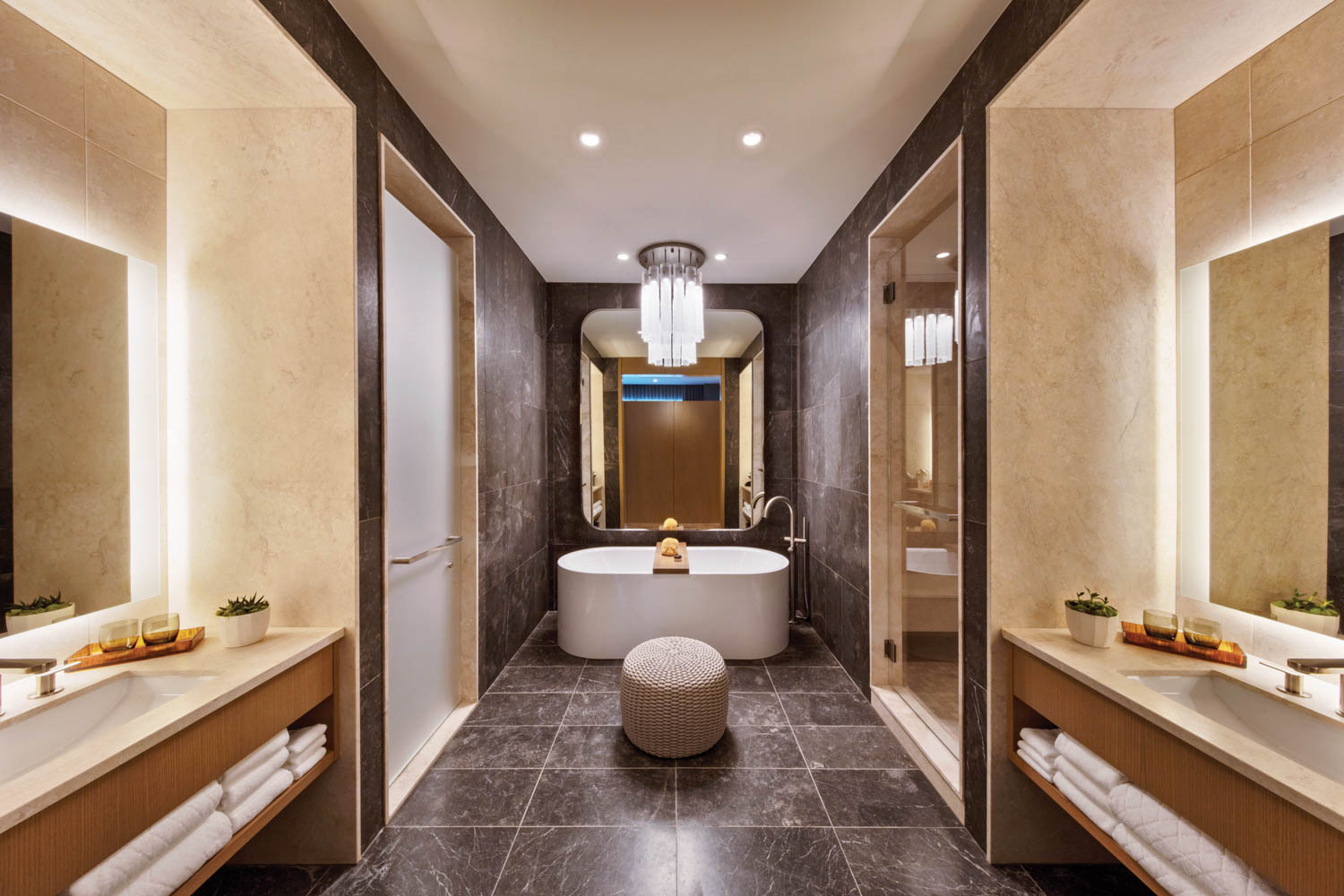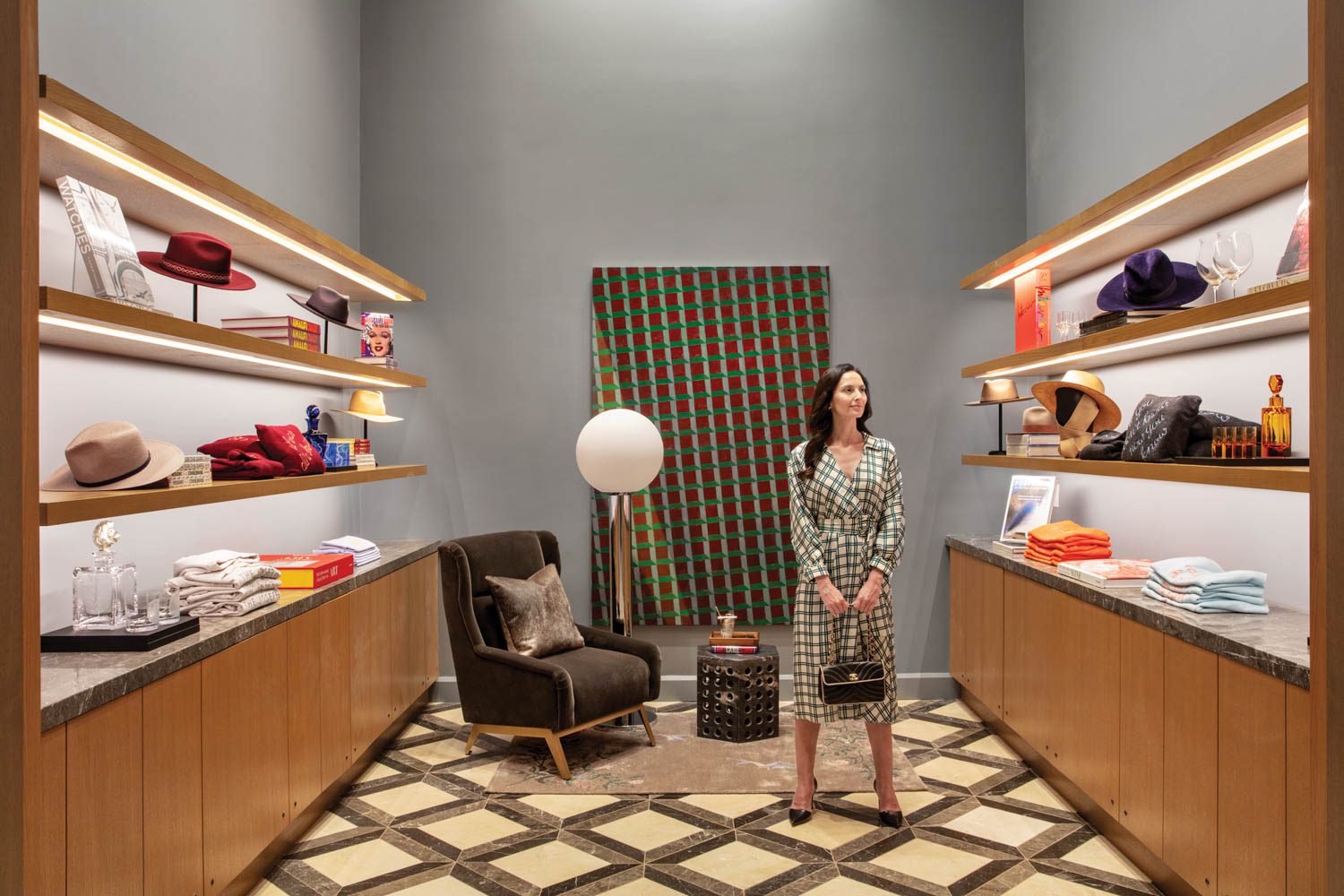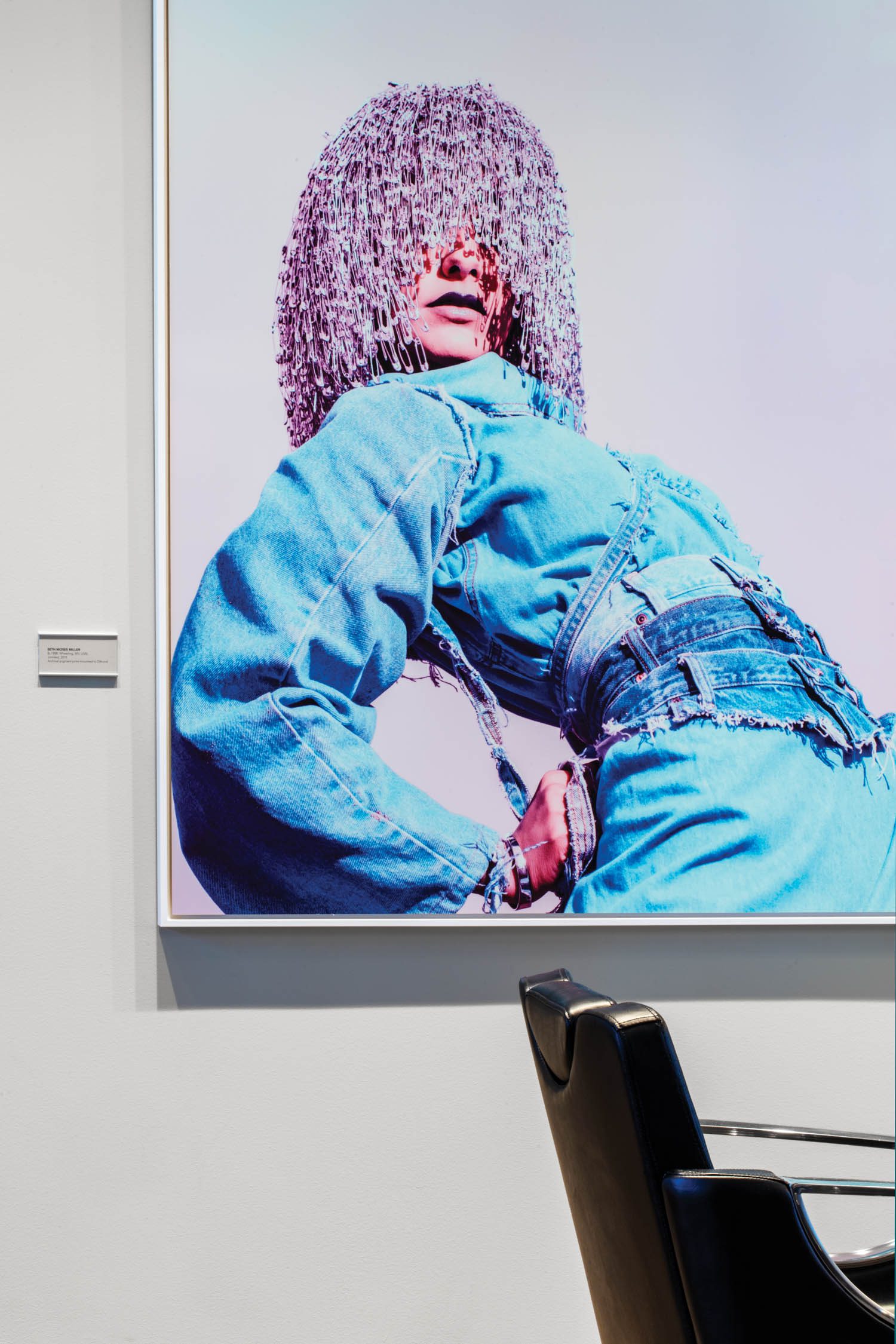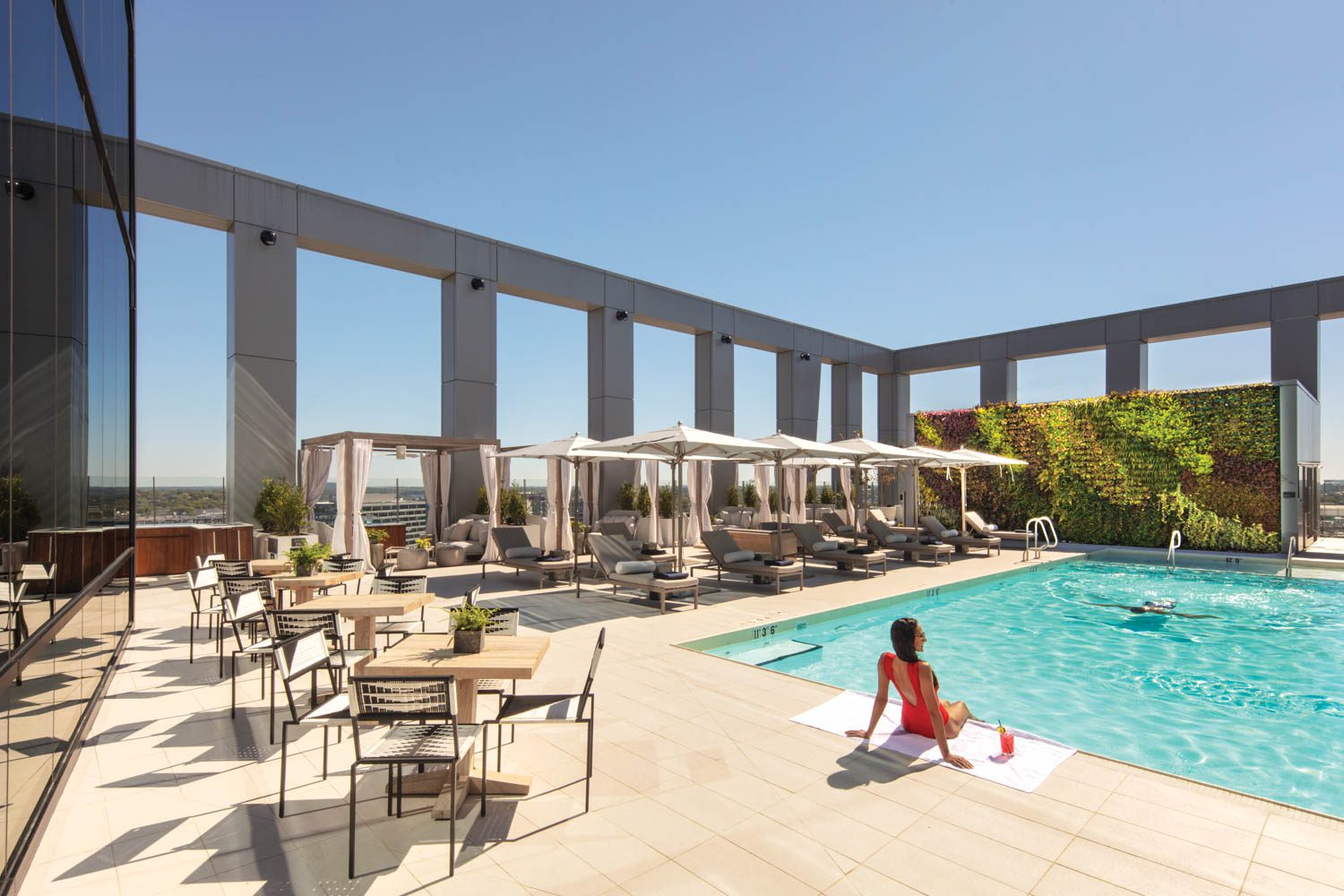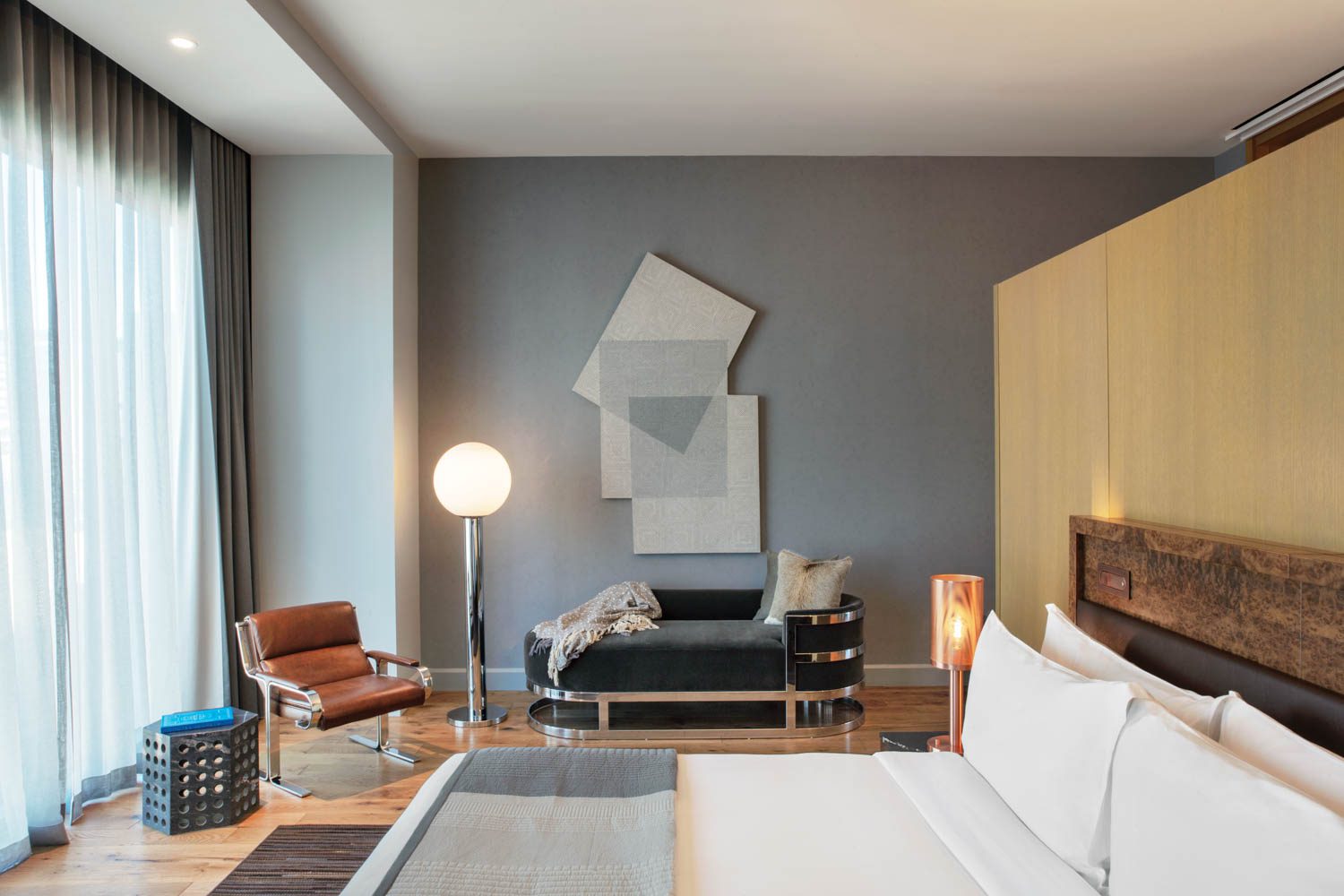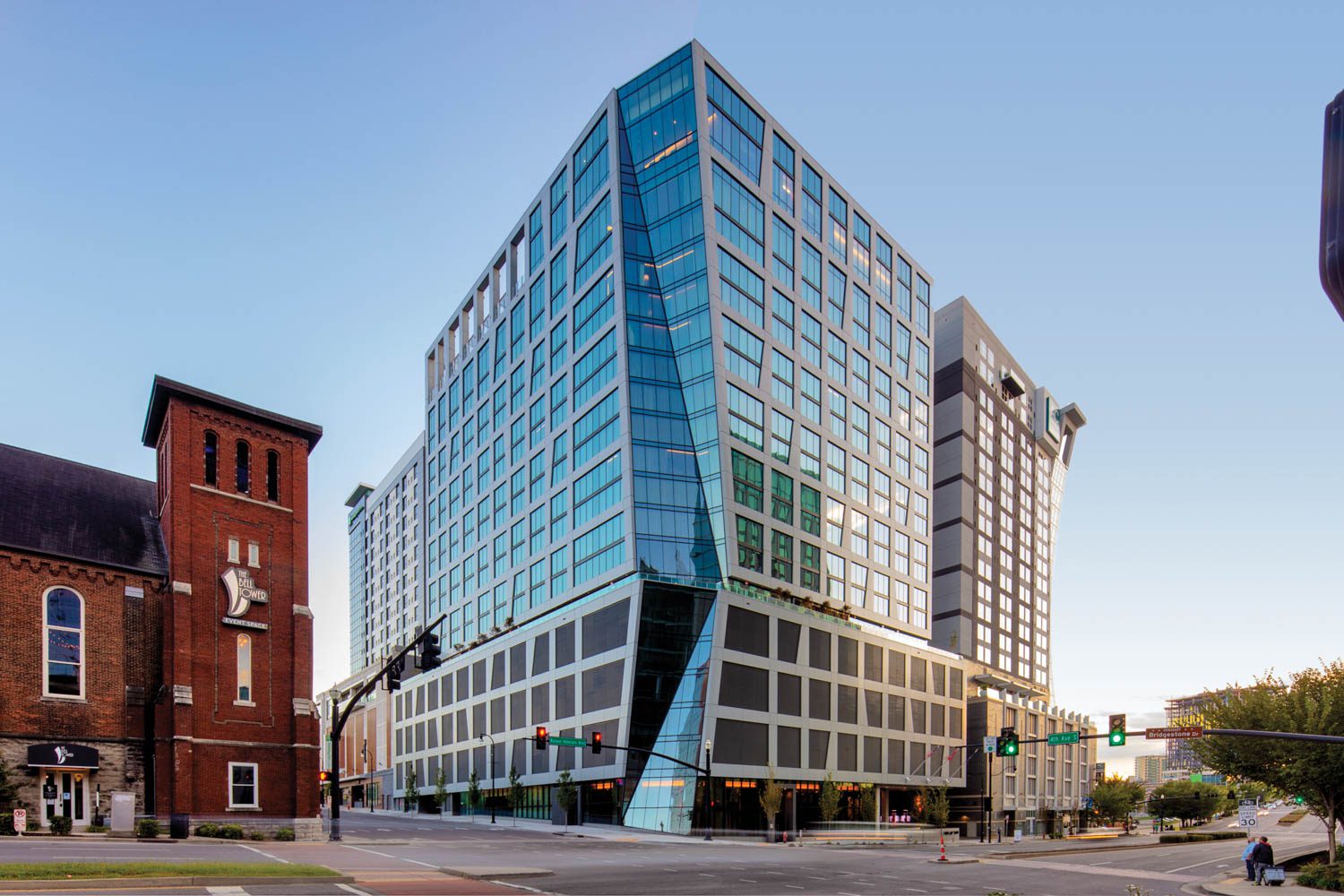 Project Team: Tyler Kleck; Megan Mcging; Louisa Revitte; Michael Nartey; Nathan Mohamedali: INC Architecture & Design. Victor Malerba, Jr.; Seth Salcedo: Arquitectonica. ESG Architecture & Design: Architect of Record. Schuler Shook: Lighting Consultant. SMBH: Structural Engineer. I.C. Thomasson Associates: MEP. Woodbyrne Cabinetry: Millwork. Brasfield & Gorrie: Construction Manager.
Product Sources: Innovative Carpets: Custom Carpet (Prefunction). Coldspring: Stone Cladding (Bar). Galaxy Glass & Stone: Glass, Mirror. Demar Leather: Banquette Upholstery. Project Light: Custom Sconce (Penthouse Living Room). Composition Hospitality: Custom Stools. Kaldewei: Tub (Bathroom). Signature Plumbing Specialties: Sink, Sink Fittings. Alger-Triton: Custom Chandelier. Paola Lenti: Ottoman. Peg Woodworking: Dining Chairs (Deck). Teak Warehouse: Dining Tables. Kettal: Loungers. Tuuci: Cabanas, Umbrellas. Jamie Young Co.: Side Tables. Ego Paris: Sofa. Tri-Kes: Headboard Upholstery (Penthouse). Throughout: J.E. Wood & Metal; Samuel Lawrence Hospitality; Quality & Company: Custom Furniture. Better Designed Lighting: Custom Lighting. Stone Ally: Marble. Opuzen; Tiger Leather: Upholstery. Authentic Reclaimed Flooring: Wood Flooring. Sacco Carpet: Custom Rugs. PPG: Paint.