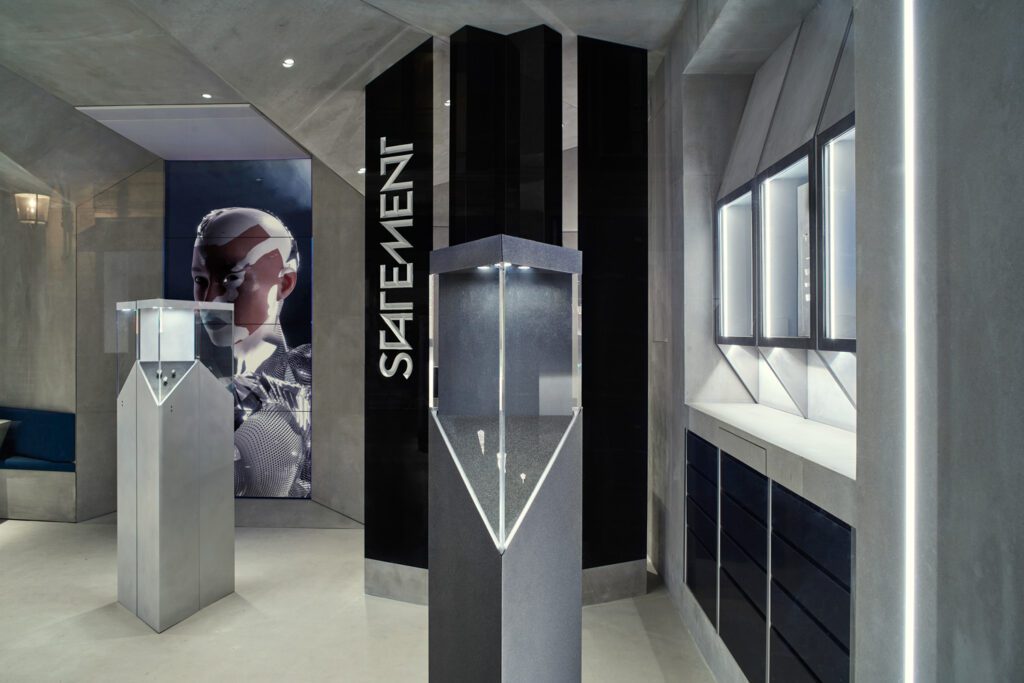 The New Curiosity Shop
Architect Agathe Labaye and artist Florian Sumi first collaborated in 2018 on Le Salon, a small collection of strikingly original stainless-steel, wood, and leather seating, which combines an industrial vocabulary with the aesthetics of artisanal craftsmanship. This led to their collaboration on an architectural project, the 2019 redesign of the Hôtel de Pourtalès where, they note, "furniture and space are one."
Now the pair, who are also partners in life, have teamed up again, this time to create a flagship boutique for the contemporary Parisian jewelry brand, Statement. Company founder Amélie Huynh looks on the jewelry she designs as an extension of the wearer's self, not just decoration but also a sign of freedom, power, and assertiveness. Inspired by art deco, brutalism, decopunk, and other boldly geometric design movements, her diamonds-and-silver pieces are strong and architectural—"jewelry as armor rather than adornment," as she puts it.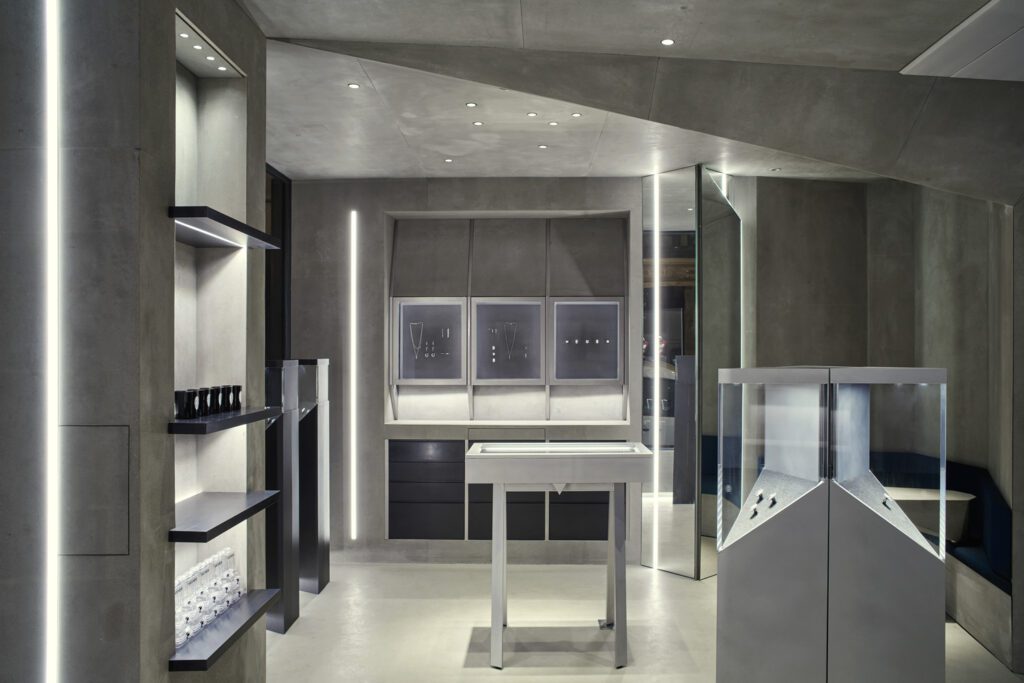 Labaye and Sumi, working with architects Abinal & Ropars, have taken Huynh at her word, giving the 450-square-foot store, which is on the Rue du 29 Juliette just a few steps away from the Jardin des Tuileries, an interior with real architectonic heft. Entirely lined with angled slabs of concrete, the space has the look of a faceted grotto, but one with a brutalist rather than a baroque sensibility. The cement envelope provides an immersive, monolithic setting that is at the same time futuristic and dynamic—a scintillating quality further enhanced by the gemlike precision of the architectural details and the high-tech glamor of the secondary materials: polished stainless steel, aluminum, lacquered wood, mirror, and acrylic glass among them.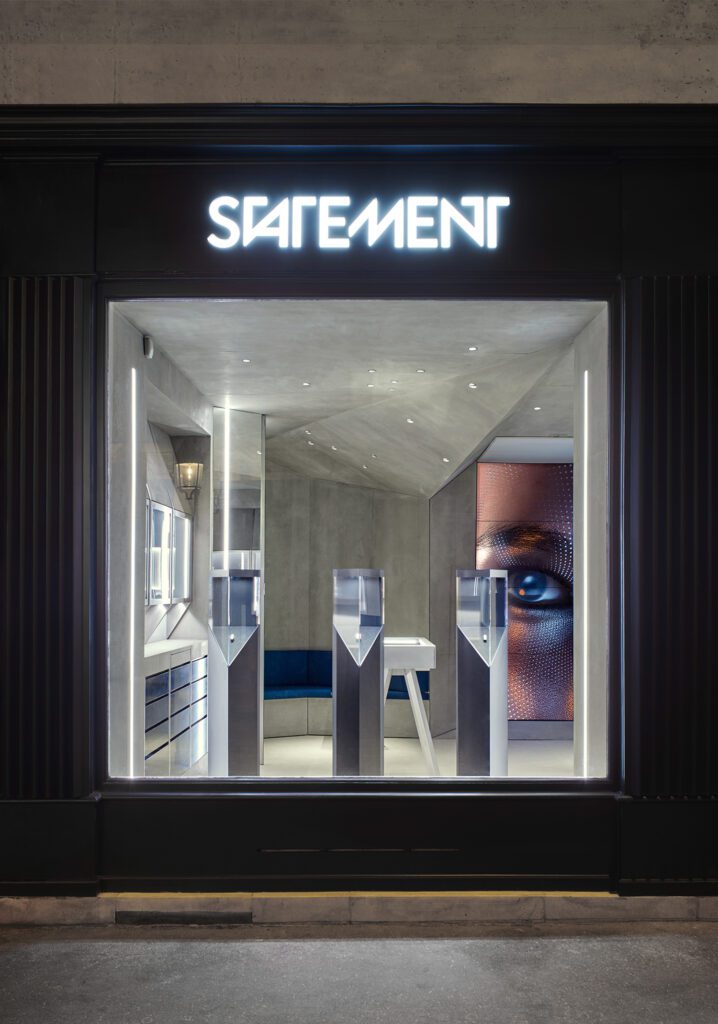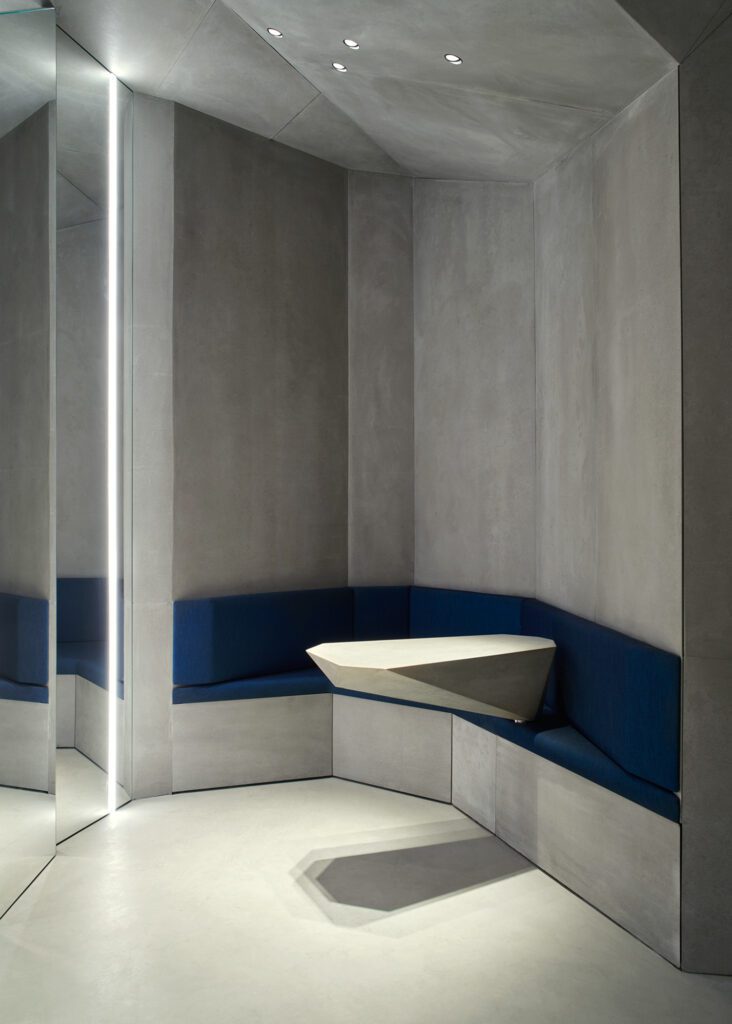 The furniture and fixtures add to the expressive effect. In the display cases on the walls, pendants hang on custom powder-coated metal hooks that give off a slightly archaic vibe. A number of freestanding vitrines, slender triangular columns topped with illuminated glass compartments, suggest a 21st-century version of ancient stellae. And, servicing an angular concrete table cantilevered from the wall, a built-in banquette upholstered in blue fabric breaks up the monochromatic palette.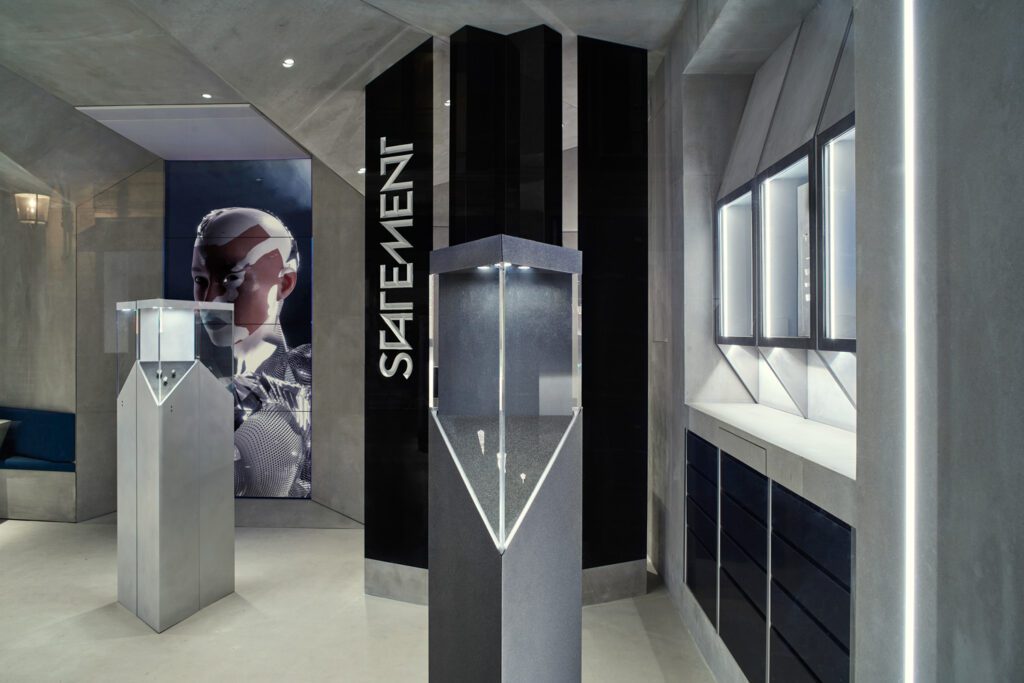 There is another source of color and movement, however: An interactive video installation, conjured by creative director Régis Tosetti of Napo People and artist Thomas Traum of Traum, presents the exploits of Alyh, the virtual heroine of the jewelry house, who strides through her digital universe with disarming grace and confidence. It's hard to imagine a better avatar of Statement's half-jewelry, half-armor essence.