The Queen City Rules: Modern Architecture In Charlotte, North Carolina
The exquisite abstraction that is the NASCAR Hall of Fame resembles a giant gleaming tire careening sideways. Pei Cobb Freed & Partners Architects calls this elliptical building wrapped in stainless steel the "architecture of speed and spectacle," a description that might well apply to Charlotte, North Carolina, overall as it races to the finish line in a frenzy of construction. "What was a rather conservative place 15 years ago has become more forward-thinking," associate partner Bruce White says. "You can see it in the architecture."
The terra-cotta exterior of the Bechtler Museum of Modern Art by Mario Botta Architetto with Wagner Murray Architects; photo by Joel Lassiter.
Spotting the NASCAR Hall of Fame amid the Queen City's increasingly busy skyline is easy. Just look for the silvery logo on the 20-story NASCAR Plaza next door. In some ways, White says, this office tower is the linchpin connecting the Hall of Fame to the 1995 convention center via a skywalk and a 40,000-square-foot ballroom. In the tower's double-height limestone-clad lobby, ribbons of stainless steel undulate across the ceiling, above Ludwig Mies van der Rohe's black Barcelona chairs, and a curtain wall overlooks traffic zooming into uptown, as downtown is counterintuitively known.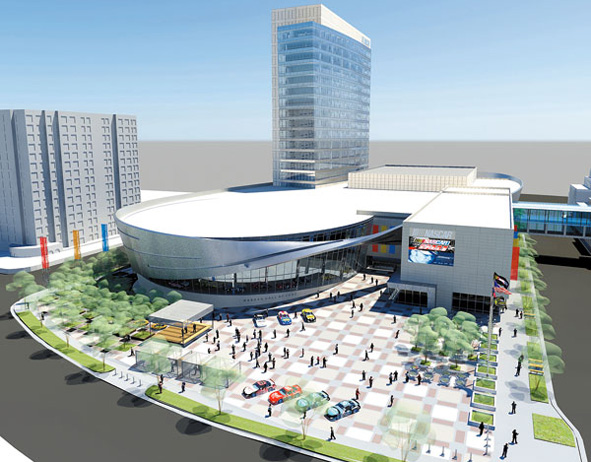 A computer rendering of the NASCAR Hall of Fame building and NASCAR Plaza tower by Pei Cobb Freed & Partners Architects; courtesy of PEI Cobb Freed & Partners Architects.
Keeping up with uptown's architectural evolution has become a game of Who's on First, as in First Street, where three of the four institutions that compose the Levine Center for the Arts have sprouted. When the Mint Museum Uptown by Machado and Silvetti Associates opens in October, the ensemble—formerly called the Wells Fargo Cultural Campus—will be complete. The first building finished was the Freelon Group's Harvey B. Gantt Center for African-American Arts + Culture, named for an architect who was also Charlotte's first black mayor. (His Gantt Huberman Architects collaborated with Kieran Timberlake on the angular UNC Charlotte Center City, scheduled for completion this fall.)

At the Levine Center's Bechtler Museum of Modern Art by Mario Botta Architetto, one of the many wonderful things is that a fantasy re-creation of patron Andreas Bechtler's childhood living room from Switzerland is displayed on the second floor, complete with Le Corbusier chairs, Diego Giacometti tables and lamps, a touchingly tattered wing chair, and a rumpled sofa. Bechtler's desire to present this vignette is based less on sentimentality than on a desire to show how art adds meaning to everyday life and how his parents' collection shaped his own tastes and understanding. There's something so intimate and humble about the display that the museum had to put up ankle-high barriers to prevent people from plopping down.

Chairs by Harry Bertoia and sculptures by Mark Lindquist in the atrium at Founders Hall, renovated by the architecture firm Little; photo by Tim Buchman.

On the remaining corner at the Levine Center, TVSDesign's Knight Theater and Duke Energy Center occupy a superblock that took more than half a decade of economic ups and downs to come together, requiring a level of cooperation among competing firms that distinguishes Charlotte's tight-knit design scene. This spirit is evident in the ways the entire campus is integrated. The 12 architectural firms involved, plus their contractors and consultants, compared notes with one another at every step, from sight lines to color palettes.
For the Knight Theater's interior, TVS used color to play off the terra-cotta exterior of the Bechtler. Making the theater and museum complement each other was important, since they connect. In addition, most of the buildings on the campus share a garage, a loading dock, certain mechanicals, and an aggressive groundwater-rainwater harvesting system for cooling and the irrigation of the green roofs—contributing to Duke Energy's expected LEED Platinum certification.

Douglas Levine's chairs in reception at Octapharma Plasma by Perkins + Will; photo by Cameron Triggs.

In the heart of uptown, Bank of America's 60-story headquarters is getting a little sister by Perkins + Will. This 32-story building will feature an elaborate glassed-in garden, and another skywalk—Charlotte loves them—will connect to the shops and theater at Founders Hall. To soften its cavernous vaulted atrium and red marble floors, the architecture firm Little designed a corner street entrance to draw people in and up to a skylit self-service café, formerly a windowless fitness center.
Bank of America, which has multiple offices around town, likes to divvy up the pie, so it's not uncommon for design firms to share ideas and vendors. For one location, Gensler took its cues from the Perkins + Will tower. Both projects have story walls, for example. They're developed by the bank's internal branding unit and customized by each firm, which might insert different images in photomurals or substitute red glass film for red back-painted glass.

The 1,500-seat Knight Theater. Stainless-steel shingles in the lobby; photos by Brian Gassel/tvsdesign.

It's absolutely understood in Charlotte that Bank of America owns the color red, while Wachovia, now part of Wells Fargo, had a particular royal blue. Never mind that New Dominion Bank has brashly laid claim to cobalt, which homegrown Cdesign used to great effect for the illuminated signage and tellerless kiosks of a retail branch in a mixed-use development uptown. With the bank's predominantly Internet-based operations three stories up, the storefront functions as a billboard, especially at night when a cobalt glow bathes residents strolling by on their way to Target.
Many companies moving to Charlotte embrace the opportunity to rebrand through work space. When Octapharma Plasma, a subsidiary of a Swiss company, relocated from Atlanta, the owners took advantage of lower real-estate costs to upgrade from "building standard." Perkins + Will obliged by channeling a European sensibility via eucalyptus-veneered paneling, travertine flooring, mid-century furniture, and a break room that could be mistaken for a wine bar. "People and companies choose to come, because the city is new, clean, refreshed, and raring to go," senior interior designer Gardner Vass says. "It's a blank slate, and all the resources are here."

Gensler's break room for Katten Muchin Rosenman, a law firm in the Duke Energy Center; photo by Christopher Barrett.

Apparently, one particular resource trumps all others—ask the attorneys at Katten Muchin Rosenman. For their office at Duke Energy, Gensler designed an inviting lunchroom with glass pendant globes and Ross Lovegrove chairs. That's where, on the Friday of the ACC men's basketball tournament, lucky clients got to tuck into fried chicken, hush puppies, and tater rounds from Price's Chicken Coop.