The Sensorial Process of Liquor-Making Offers a Design Blueprint for a Hotel in Yan'an, China
Through a series of sensual design elements, a boutique hotel in Yan'an, China, designed by Zhijian Workshop, envelops guests in the process of making the region's traditional liquor—shan bei jiu or "North Mountains Wine." In the lobby, visitors encounter an art installation featuring tubes filled with cereal seeds from which the liquor is made, which are meant to evoke "the sight of colorful fields in the countryside," says lead designer, Aurelien Chen who worked on the project with his colleague, Wang Ke Yao. Ceramic jugs, traditionally used during the fermentation process, offer wayfinding cues throughout and appear in a cascading water feature outside, embodying the seed-to-glass transformation. The central courtyard also includes an installation made from interwoven metal panels, reminiscent of the baskets used to steam and distill the liquor.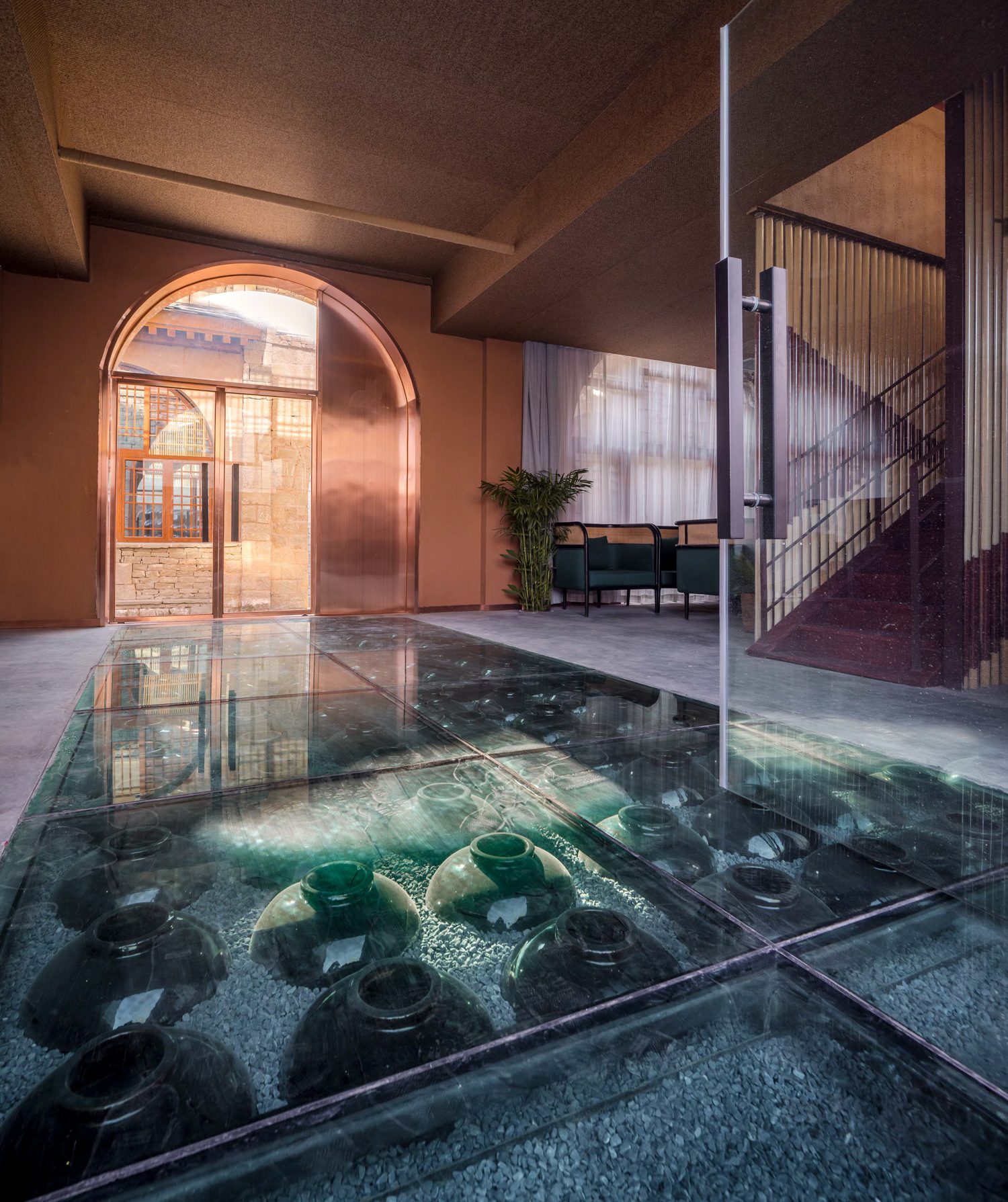 Influenced, in part, by the warm colors of the cereal seeds, the hotel palette features dark reds, yellows and browns alongside creamy neutrals. The architecture of the space at large reflects that of traditional distilleries as well as local Yaodong or "house caves," which are "carved out of a hillside or built from earth and sand bricks," says Chen. Guest rooms are coated in a paint mixed with seeds for added tactility, inviting visitors to engage with the texture and material. Even the wicker furnishings and woven fabrics throughout call to mind the tools used in the liquor-making process, says Chen.
In the hotel bar, a custom terrazzo bar top features embedded chards of green glass from broken liquor bottles—the result of an onsite experimentation. The bar itself is made of stacks of Jiuqu—bricks of a concentrated yeast mix used in the alcohol fermentation process. The bricks, which have a distinct smell, introduce an olfactory element as guests taste the liquor, creating a stay marked by an immersive journey into the art of traditional liquor-making.