These Homes Capture Incredible Views
Homes that turn a wide-angle lens on nature.
1. Firm: Rural Design
Site: Milovaig, Isle of Skye, Scotland
Description: Less really is more, as the saying goes. Take this windswept cottage for two in Scotland's remote Hebrides archipelago. There is simplicity of form: a rectangle topped by a triangle, like a child's drawing of a house. Simplicity of materials: corrugated aluminum (outside) and painted pine (inside). And simplicity of process: architects Alan Dickson and Gill Smiths built the home themselves, over three years of weekends. The raw metal shell takes cues from local sheds while being imbued with a forward-thinking spirit. "The aluminum cladding has strong associations with modernity," says Dickson. "It calls to mind the optimism of the Apollo space program, of astronauts stepping out of Airstream trailers on their way to the moon." To that materiality, he and Smiths added Corbusian hits of color fine-tuned to the area, from the gorse-yellow panel slotted between windows to the grass-green tile in the bathroom.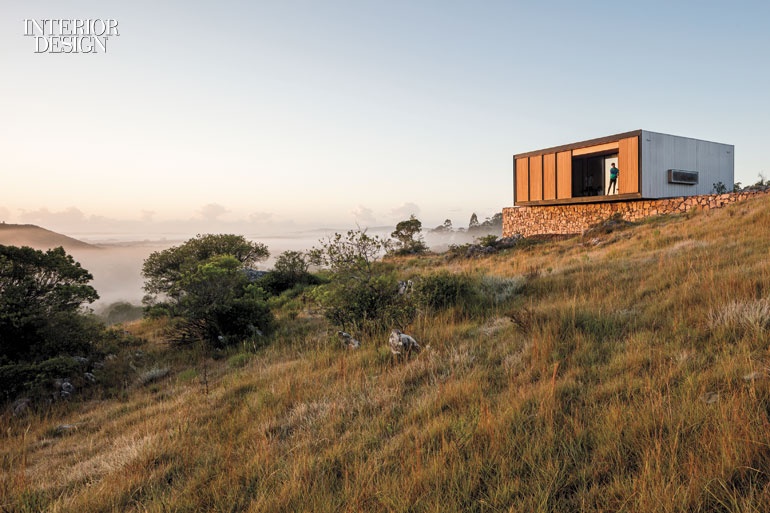 2. Firm: Mapa
Site: Punta del Este, Uruguay
Description: For a family whose members live in far-flung places—the parents in Abu Dhabi and Argentina, their daughter in London—this off-grid prefab on the edge of an olive grove offers the chance for reconnection. Whenever they can, the family members retreat to the small but sweet vacation home near Montevideo, designed with a nod to Jean Prouvé and the Eameses by prefab experts Mapa. Fabricated in-factory in just four months, it was trucked in twin modules to the site and bolted together atop stone walls specially built to level the steep plot. The perfectly symmetrical layout has sleeping suites flanking the open living room, a veranda, and a woodsy Canadian pine kitchen. The hero, though, is the system of sliding lapacho wood panels on two sides that attenuate light when the home is in use and close, clamlike, when not. Based on the design concepts pioneered in this project, Mapa is currently developing smaller "plug-and-play" Minimod Tinyhouses, manufactured in Portugal; the first will be installed later this year in upstate New York.
3. Firm: Marc Koehler Architects
Site: Almere, Netherlands
Description: Care to live inside a painting? Marc Koehler made it possible for a family of three with a love of 17th-century Dutch landscape art. A simple four-story box of powder-coated corrugated steel looks onto the IJsselmeer, a man-made lake, and its surrounding fields through a composition of 11 windows cut into the back elevation. If the portals recall canvases arranged on a gallery wall that's no accident: the proportions were taken from masterpieces by the likes of Rembrandt and van Gogh. Even the content is similar, the parallels between art and reality teased out by the architect's framing—right down to that almost otherworldly quality of Dutch light.
> See more from the Fall 2016 issue of Interior Design Homes