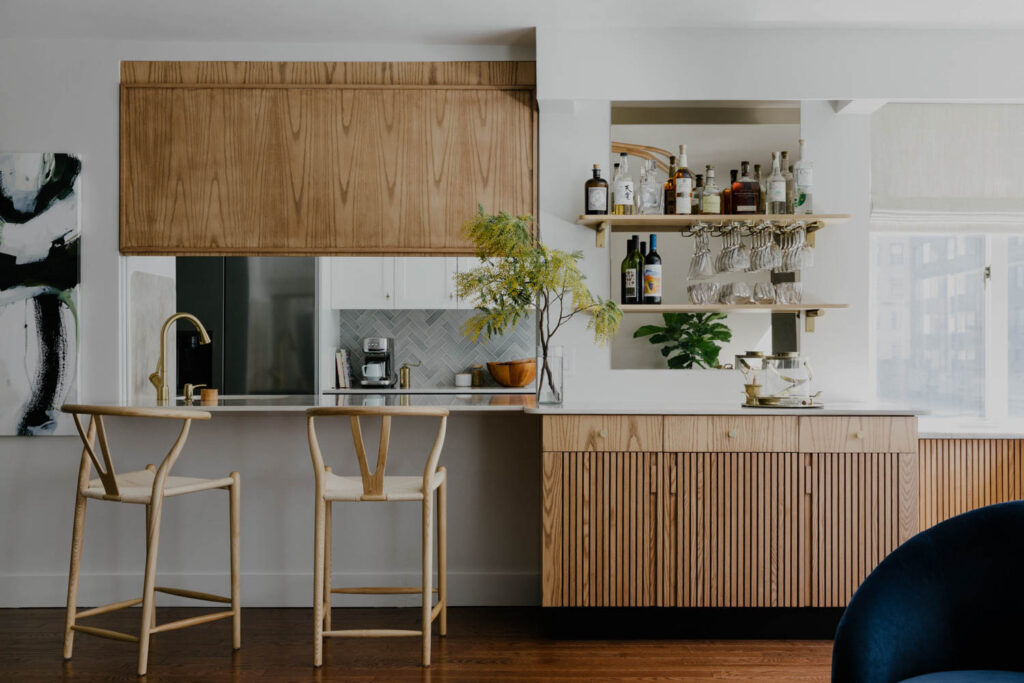 Playful Wallcoverings Enliven This Tranquil Manhattan Apartment
What makes a Manhattan apartment feel like a sanctuary? That's the question that Milena Bica-Shibata, founder and principal designer of The Whistling Well, was tasked with answering, transforming an expansive yet outdated apartment into a modern home for a family of three. Taking into account the family's lifestyle, which centers around hosting and connecting over homemade meals, the design team created a multifunctional tranquil kitchen, complete with a breakfast nook and bar.
At 1,800 square feet, the apartment also features three bedrooms and baths, as well as plenty of communal areas, including a lounge and living room. "Understanding different energies of various natural materials, we were able to carefully select [those] that offered harmony and variety of textures and temperatures," says Bica-Shibata. These include stained oak, ash, leathered quartzite, linen, leather, wool, brass, artisan ceramic tile, marbles, and warm tinted glass. "The palette is a beautiful balance of cool and warm colors that dance together," she adds.
Clean lines and round edges soften the space, as does the custom wood ceiling trim that balances the living room while drawing the eyes upward. Wood elements continue into the kitchen and bar, which is also custom. "We very much wanted to have the bar be a continuation of the perimeter millwork that transitions into the eat-in area with its operable partition," says Bica-Shibata. "We studied proportions and materials closely so we could achieve a harmonious and beautiful composition." With layers of natural materials and earthy hues throughout, the home exudes a sense a calm, serving as a true oasis in the middle of Manhattan for a family and their friends.
Explore This Expansive and Tranquil Manhattan Apartment Design