Thomas Melhorn Designs a Florida Home Inspired by Wabi-Sabi Philosophy
"The architecture of this house came from the spirit of place; the setting drove the look and personality," confesses Christian Thomas, principal architect at Thomas Melhorn. "The gentle curve in the roof was in response to the shape of the dunes from years of ocean breezes, the materials were carefully curated to [reflect those] that would be found on or nearby the site, and the shape of the structure was in response to the light and views."
Located on the north end of Jupiter Island, Florida, and owned by multi-generational cheese importers, this property also is characterized by the 45-degree shift in its floor plan to allow Atlantic Ocean views from almost every room while enhancing natural light, depth, and a casual indoor-outdoor flow.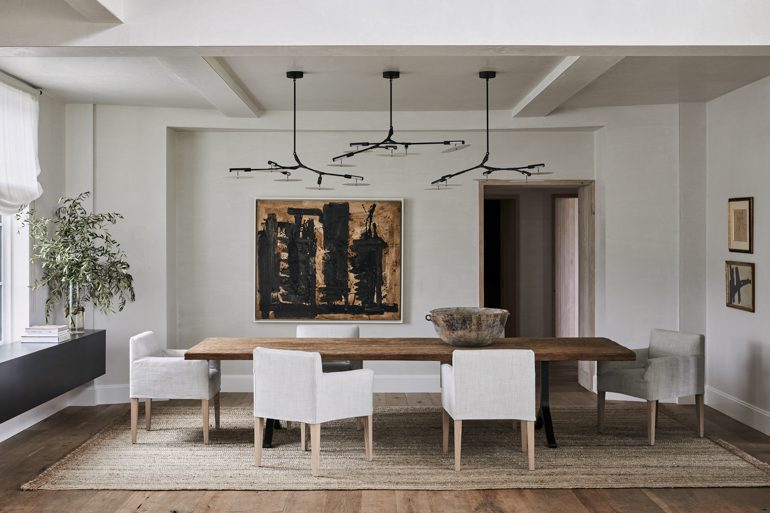 "I would say the most challenging part of the design of this house was remaining true to the materials that we curated," confesses Thomas. "It is our belief that the more a material is tooled by humans the less timeless it can become."
Inside, where interior designer Betsy Brown used earth tone furniture and vintage touches, the timber and wood beams, which meld into plaster walls, were stained and treated naturally. For the exterior, she utilized copper hardware, taking advantage of its ability to oxidize and produce a shade of blue mimicking the color of the ocean through time. "It was important to us to catalog the history of the house by employing finishes that would age gracefully leaving the marks of previous generations," says Thomas. The Japanese refer to this approach as wabi-sabi—finding beauty in nature's imperfections.