Tihany Design Completes First Residential Project in 25 Years in Dubai
A gleaming contemporary villa, surrounding a lush lawn with a shimmering swimming pool, would undoubtedly be right at home in parts of Miami or Los Angeles. However, this is Dubai. Sure, the largest city in the United Arab Emirates has the world's tallest building, the Burj Khalifa, but a house of this sort seems quite another story. Interior Design Hall of Fame member Adam Tihany confirms our assessment.
Tihany Design has been responsible for scads of homes-away-from-home—think a global galaxy of cruise ships and five-star hotels, among them the Four Seasons Resort Dubai at Jumeirah Beach, right on the Persian Gulf. However, the firm hadn't designed a private residence in 25 years. "It's not for lack of opportunity," Tihany explains. "Designing a home is so personal. It's a full immersion that delves into personalities, habits, and lifestyle." We get it— it's like being a shrink. Or a mother, he adds: "When you're finished, there's almost a postpartum letdown, so involved were you in someone else's life."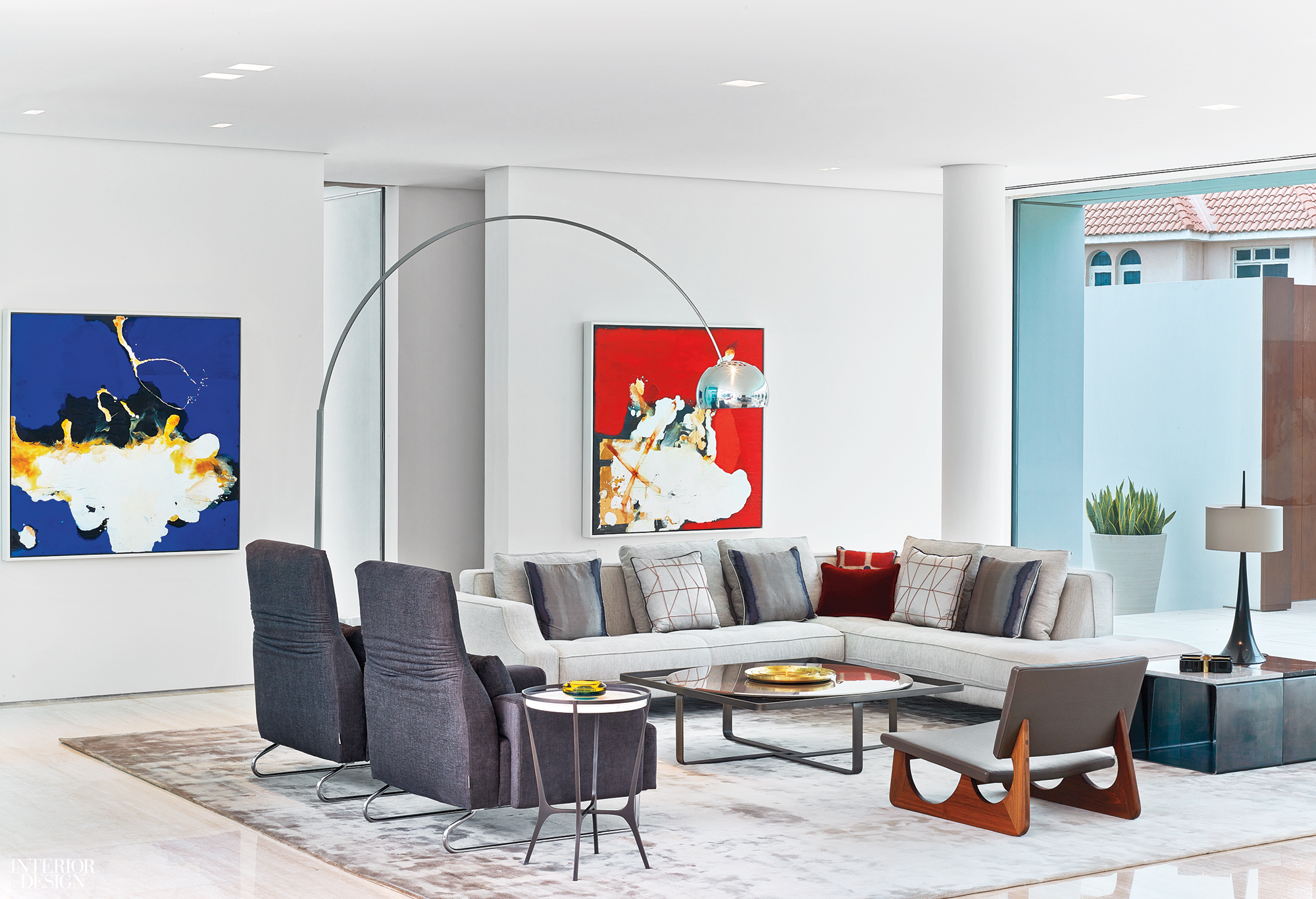 What, then, got him to take the plunge with the project in Dubai? Part of the temptation derived from the cast of characters involved. The architect was DXB–Lab Architecture principal Khalid Al Najjar, whose point of view Tihany describes as "minimalist yet emotional." Then there was the young, entrepreneurial owner, willing to grant the design team a blank slate from the outset. With no guidance or constraints, Tihany recalls wondering, would this be a dream project or a nightmare in the making? Fortunately, the next two years proved the former to be the case.
Assuming a long, low profile, the house unfolds in a C-shape to encompass 20,000 square feet on two levels aboveground, plus one below-grade. Spaces include a pair of living rooms;
a dining room; a "show" kitchen where friends gather to cook, versus the full industrial kitchen for staff; a study; four guest rooms; and a master suite taking over the upstairs of one wing, above a gym. He describes the subterranean level's leather-lined screening room as "a cockpit"—complete with matching leather-upholstered chairs that he named Stanley after his favorite film director, Kubrick. Down the hall, the majlis is a room that gives a nod to Arab tradition. Typically a place for receiving male guests, it's conceived here as a contemporary den. It can be reached either from inside the house or via the adjacent patio, connected to the ground level by an outdoor spiral staircase.
Everywhere, glass doors slide open to the outdoors, an update on the traditional Arabian courtyard house. "From November through March, the weather is spectacular," Tihany assures us skeptics who assume Dubai is always an oven. "It's like Southern California."
Glass is a major component of a surprisingly simple materials palette. On the facade, a band of Italian travertine runs across the white stucco. The travertine then "seeps into the interiors," he says, referring to its appearances as a window seat, cladding walls, and paving the floor on the ground level. A wall of ruby-red back-painted glass sets the tone in the "show" kitchen, dominated by a honed- marble island. A long wall stretching through the ground level of one wing is walnut-paneled, cleverly concealing built- ins along the way. Upstairs, the wide floor planks are walnut. It's back to stone in the den, anchored by black marble. Wool-silk rugs are everywhere.
In keeping with the ceiling heights, less than 9 feet, he kept furniture low. He also indulged his passion for Italian design with many of the pieces he chose. Achille and Pier Giacomo Castiglioni's inimitable Arco lamp illuminates one of the living rooms, while the other features a pair of Massimo Castagna's Golden Moon low tables in brass and glass. And, of course, there are custom designs. A chandelier with blue-tinted glass diffusers made in Venice hangs above a dining table with an elongated oval glass top resting on a base in walnut and stainless steel. In the master suite, the red-and-gold fabric of the bedroom's headboard contrasts with the sit- ting room's cheerful sunny-yellow crescent sofa.
For continuity, outdoor furniture is likewise low-slung. Massive, bright red seating rules the courtyard. On the den's patio, an undulating chaise longue in cherry-red channel-tufted leather shares space with slim blue-upholstered settees. Throughout, Tihany drew on his hospitality experience—even if it's invisible. Comfort is top-priority. Luxury and efficiency follow. So, we can't help asking, could this be a precursor to more residential projects? Perhaps.