Tissellistudioarchitetti Brings Light Inside Italian Duplex Apartment
What a delightful surprise to discover in the historic heart of Cesena, a city between the better-known Ravenna and Rimini on Italy's Adriatic Sea coast, a duplex apartment that's thoroughly contemporary. Minimal, light, airy, and ingenious are all pertinent adjectives. But it wasn't always that way. Tissellistudioarchitetti's Filippo Tisselli initially confronted spaces that were dark, cluttered, and claustrophobic, dare we say a 2,000-square-foot mess?
Removing nonstructural walls on both levels, adding new doorways to the downstairs terrace, and inserting a skylight in the upstairs master suite all addressed the darkness problem. Doing away with corridors brought fluidity to the downstairs floor plan, now configured as a living room, an eat-in kitchen, and a guest bathroom. Throughout, the envelope's palette is limited: herringbone teak flooring with white walls enlivened by strategically placed swaths of sunny yellow and panels of gold-tinted mirror, shimmery touches of elegance.
There's not a conventional door or armoire in sight. Credit for that goes to the project's most innovative element, a system of panels made of white-lacquered cedar cylinders of varying diameters. Tisselli calls it a "living wall," not in the sense of a vertical garden but because the cylinders' size and shape remind him of bamboo. In the kitchen, which at first glance appears almost empty, the panels slide or swing open to reveal shelves, appliances, and a work surface to supplement the island. In the bedroom, panels front the closets in addition to serving as a quasi-concealed door for the master bathroom.
Fixtures, all wall-mounted, add interest. The master bathroom's sink, toilet, and bidet are glazed a brutalist concrete gray. In the guest bathroom, a bright yellow sink contrasts with the adjacent shower's turquoise glass front.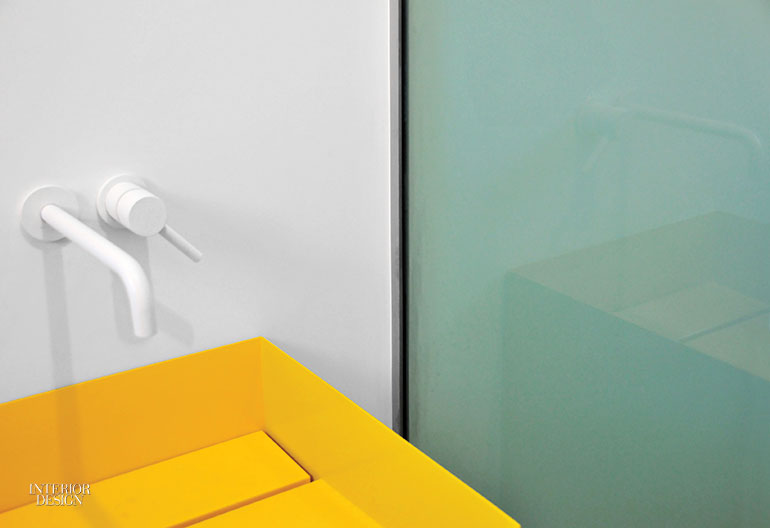 Another intriguing detail: The kitchen's door, not part of the cylinder-panel system, is plain white, punctuated by two inset teak strips. The vertical strip intersects with the horizontal strip to form a cross. In Italy, food is sacred.