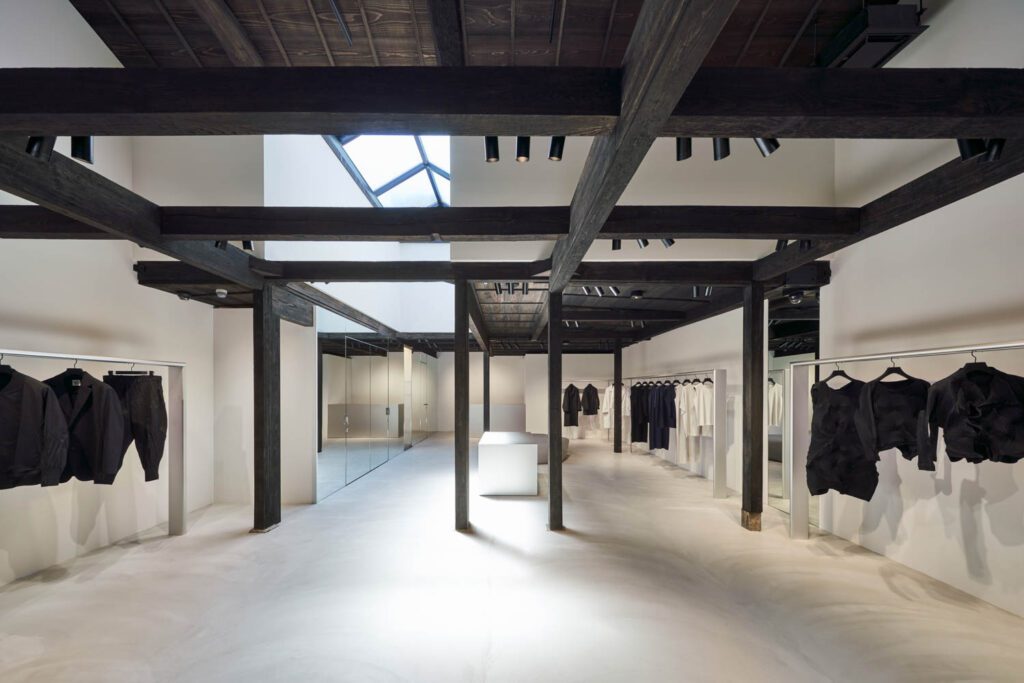 Tokujin Yoshioka Transforms a 200-year-old Townhouse into a Flagship Store for a New Issey Miyake Brand in Kyoto, Japan
Kyoto, the former imperial capital of Japan, is famed for its machiya, traditional wooden townhouses dating from the Edo period (1603-1867). Developed as both residences and workplaces for the city's growing merchant class, they typically comprise a narrow two-story tiled-roof structure with a shop in the front, family living space in the rear, and one or more interior courtyard gardens. Street windows are covered with sliding wood-slat screens that provided privacy while admitting daylight and fresh air.  
Construction of new machiya has been prohibited since the end of World War II, so restoration of historic townhouses is the only way for Kyoto's carpenters and craftspeople to maintain a link with the city's rich building tradition. In 2018, wildly innovative fashion house Issey Miyake tapped Naoto Fukasawa Design to transform a 19th-century machiya into a gallery and retail space for its principal label. Now designer Tokujin Yoshioka has turned a nearby town house into a second Miyake store, this one reserved exclusively for the company's recently launched A-POC ABLE brand of aesthetically and technologically advanced clothing. An acronym for "a piece of cloth," A-POC refers to a radical design concept and manufacturing technique Miyake first introduced in 1998, whereby computer-programmed looms and knitting machines produce seamless tubes of fabric that can be formed into garments largely without the need for conventional cutting and sewing processes.
In renovating the 200-year-old town house, most recently a stationary shop specializing in classic washi paper, Yoshioka aimed at linking tradition to innovation by harmoniously combining the structure's historical elements with modern materials and contemporary attitudes. The street facade retains such signature machiya features as dark-stained timber, wood-slat screens, and a kawara clay-tile roof. While there are no exterior noren—the bannerlike curtains that traditionally hang over a shop's entrance to protect from sun, wind, and dust, and to display the name of the business—there is a single steppingstone of the type usually found in front of chashitsu teahouses.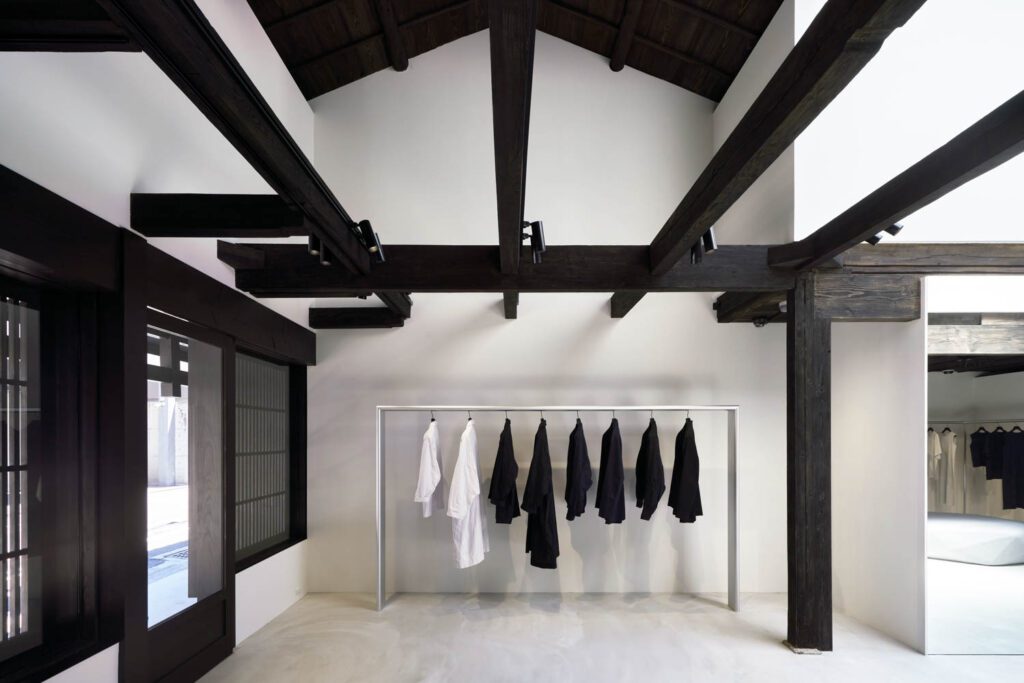 Yoshioka stripped the 870-square-foot interior down to its walls, exposing the townhouse's original post-and-beam timber structure. The black-stained wood stands out graphically against the white plaster walls and smooth concrete floor, while a new skylight keeps the rear of the serene space as bright and airy as the front section. The designer uses the lightest touch to introduce the cyber age into this timeless environment: shop fittings, including the elegantly minimal garment display racks that line the walls, are made of integrally molded recycled aluminum, a production method that replicates the seamless construction of the clothing hanging on them. A wall of mirrors not only conceals fitting rooms and other facilities but also provides a shiny, hard-edged surface that plays pleasingly against the soft, satiny glow of the aluminum elements. As Yoshioka puts it, "Like the manufacturing of Issey Miyake, which fuses technology with handcrafts, this space expresses the contrast of history and the future."