Top 10 Residential Projects of 2020
For most of us, 2020 marks the year where we've spent more time at home than ever before. Our top 10 residential projects of the year offer comfort and style—all while staying safe.
1. Ancient and Modern Converge at Model Villa in China by ONE-CU Interior Design Lab
In the Guangdong province of northwestern China sits the city of Sihui, its name formed from the words for and convergence due to its location where the Xijiang, Beijiang, Suijiang and Longjiang rivers meet. It's also the site of Poly South China's Landscape Mansion development, in which ONE-CU Interior Design Lab has created a model villa that brings the ancient location into the 21st century.
2. Inside the Modern California Compound of Assembledge+ Founder David Thompson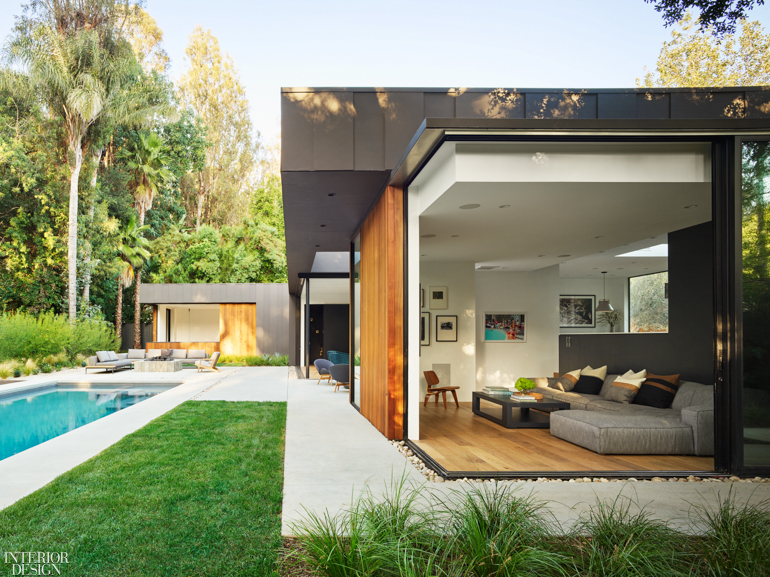 Architect and Assembledge+ founder David Thompson's modernist house is located in the foothills of Los Angeles' Laurel Canyon and as such departs from the design tropes of concentrating on killer views. Since the site offered no sweeping panoramas, the dwelling is conceived as an inward-facing composition surrounded by foliage. And composition is precisely the correct word. Thompson designed the residence as a series of three red cedar and glass pavilions, partially clad with charcoal composite panels and encompassing almost 5,000 square feet.
3. The Room Studio Renovates a Barcelona Apartment in the Heart of the City
At almost seven miles, Barcelona's Diagonal Avenue is one of the city's most important arteries—and a great repository of architectural history. So when local architecture practice The Room Studio set upon renovating this apartment, located in the most central area of Diagonal Avenue, preserving the soul of the space was a top priority.
4. Mason Studio Designs Minimalist Shanghai Interiors That Break from Tradition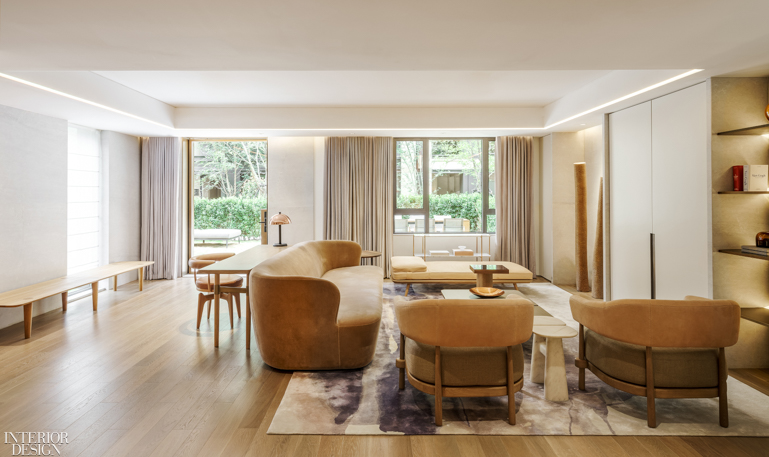 Led by partners Stanley Sun and Ashley Rumsey, Toronto-based Mason Studio completed the interiors of the Jing'an Prime Land Townhomes, two residential three-story townhouses in Shanghai. The two units (2,303 square feet and 1,937 square feet, respectively) are stacked atop each other and designed to enable multi-generational living. The two homes feature Western-style, open-plan layouts and a minimalist Scandinavian-inspired look.
5. Goddard Littlefair Layers Personality and Serenity into a London Apartment
The curvilinear ribbon façade of the UNStudio-designed Canaletto tower in Islington became a landmark in East London when it opened in 2017. For the interior of one of its 2,000-square-foot apartments, Goddard Littlefair wanted to soften the exterior's rigorous expanses of glass and metal. Throughout the three-bedroom, three-and-a-half bath space, custom furnishings in tones of blush, light blue, and cream join what Littlefair calls "layers of personality, a mix of materials from light wood, marble, and ceramics to demure metallics, reflecting the design of the building's façade."
6. Idea:list Studio Creates Simple, Elegant Interiors for a Slovenian Apartment
When a client approached Ljublina, Slovenia-based Idea:list Studio to create interiors for her new apartment, most of the work was already done: Hardware was installed, as was oak laminate parquet and the bathroom's ceramic tiles and necessities. "What to design for a lady with many passions who eats her life with a large spoon?" asked the studio's co-founder Tina Begovic. "She wanted to keep her apartment bright, seemingly warm and simply shaped, with some addition of the blue which she adores so much."
7. Alterstudio Architecture Creates a Dynamic Family Home for Texas Art Collectors
Contemporary art collectors Janelle and Alden Pinnell had the idea of making a home for themselves, their three children, and their expanding collection. "We needed to build something from scratch," Alden says. Treating the project like a collaboration at the Power Station, the Pinnells gave their chosen artists—Alterstudio Architecture—the freedom to experiment, while remaining fully involved clients every step of the way.
8. Transition State Designs a Family Home with Custom Solutions
Life as a young couple with three children is complicated enough; home should be a calm refuge. That, at least, is the idea behind a 4,473-square-foot home by Santa Monica, Calif.-based Transition State co-founders Lauren Schneider, Kelli Riley, and Jenna Rochon. "Designing with children in mind is always challenging," the team says. "We thought a lot about the way they would interact with the space and the pieces within it and avoided choosing products with sharp corners or easily stained fabrics."
9. Yael Gal Interior Design Goes for Gold with a Glittering Tel Aviv Condo
Tel Aviv might be home to the architecturally celebrated White City, but that doesn't mean the city's residents necessarily want to live in a white box, as Yael Gal discovered while spending a few weeks with the owners of a 4,000-square-foot condo in the heart of the city. "They are warm people with an overarching sense of modernity," Gal says, but "they simply love the color gold." And so the designer installed "glittering details" everywhere.
10. Franz Kafka's Residence in Prague Undergoes Its Own Metamorphosis
In fin de siècle Prague, there lived a writer whose work often fused realism with surrealism. Franz Kafka, who needs no further introduction, was born in a period of decadence and ennui, but also a period of hope for a new beginning. This stark contrast embodies the essence of the art nouveau building where Kafka once lived, and where past and present coexist. Courtesy of architecture firm ANTA and Denisa Strmiskova Studio, the apartment boasts generous layouts and historic wooden trusses in dialogue with contemporary elements like glass handrailing and custom built-in furniture for an altogether stark, minimalistic look.