Top 10 Unusual Projects of 2018
For the end of the year, we've rounded up projects that are anything but ordinary. From the immersive to the transformative, here are our picks for the most unusual projects of 2018.
Firm: John Pawson
Project: Jaffa
City: Tel Aviv
Standout: This 19th-century hospital was transformed into a luxury hotel. In this picture, the majestic former chapel enters the 21st century without sacrificing its former glory.
Firm: X+Living
Project: Hangzhou Neobio Family Park
City: Hangzhou
Standout: X+Living took Alice in Wonderland aesthetics and ran wild with them in this indoor play park and restaurant. The park was an honoree in the Entertainment category of our Best of Year Awards 2018.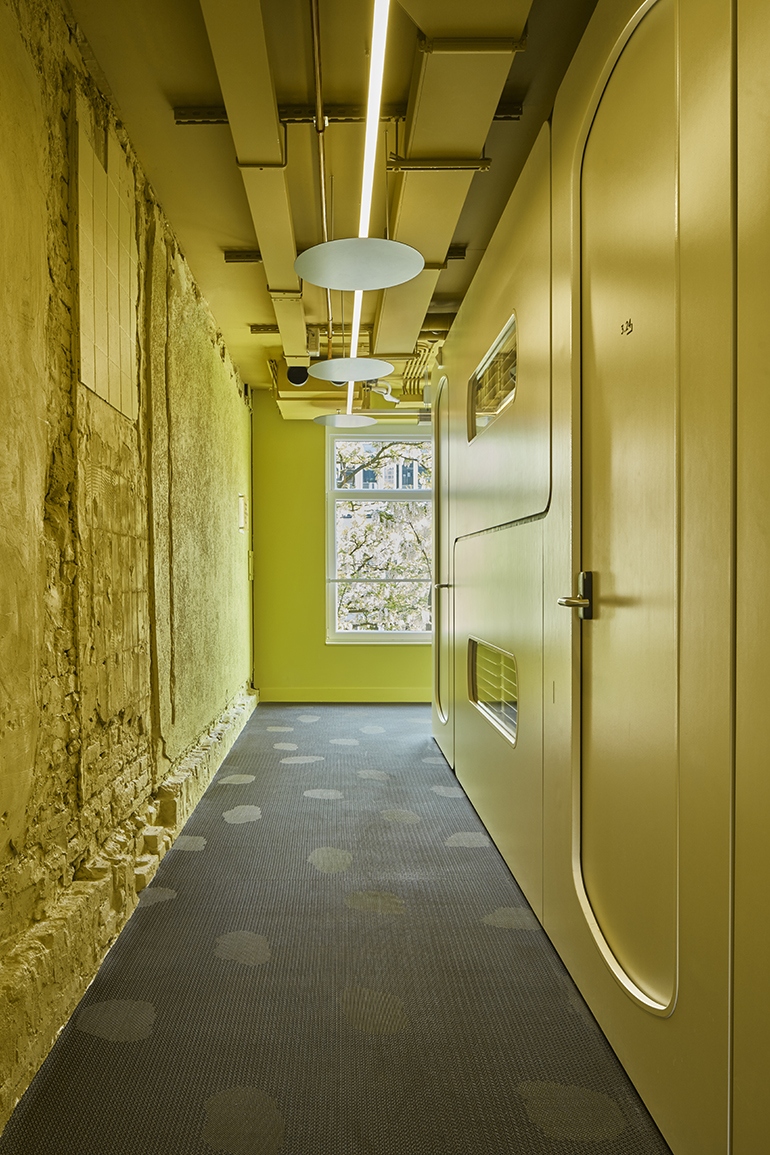 Firm: Studio Modijefsky
Project: CityHub
City: Rotterdam
Standout: This hotel spans across three buildings, each with a different color scheme (yellow, pink, and blue). The intensity of each building's respective palette changes on each floor, making use of daylight to create contrast and visual drama.
Firm: Starbucks Coffee Japan
Project: Starbucks Coffee Kyoto Ninei-zaka Yasaka Chayaten
City: Kyoto
Standout: Ninei-zaka, a historic stone-paved street, seems like an unexpected place for a Starbucks, but this tourist-heavy neighborhood was the perfect spot for the coffee behemoth to set up shop.
Firm: The System Lab
Project: Healing Stay Kosmos
Site: Ulleungdo, South Korea
Standout: This remote, otherworldly resort is located on a volcanic island three hours from the South Korean mainland. Its sparse, organic aesthetics meld into the island's rugged landscape.
Firm: Wutopia Lab
Project: Aranya Kids' Restaurant
City: Qinhuangdao
Standout: The amenity space was designed with a different vision than the typical brightly-hued child aesthetic: soap bubbles to play in, surrounded by dreamlike planetarium lights. The restaurant is the winner of the Kids' Zone category of our Best of Year Awards 2018.
Firm: Schemata Architects
Project: °C
City: Tokyo
Standout: The sleep pod hotel used to be a stop-by for business travelers, but now it's a drop-in sauna inspired by Finnish spa culture.
Firm: Marchi Architectes
Project: H33
City: Parigny
Standout: This two-level modular home in France was built solely to display and house the Symbioz, a self-driving electric car by Renault.
Firm: NBBJ
Project: The Spheres
City: Seattle
Standout: In an environment created for plants and people to thrive, this urban work space floats in a jungle of 40,000 plants. The Spheres is an honoree in the Green category of our Best of Year Awards 2018.
Firm: One Plus Partnership Limited
Project: Chow Thai Fook
City: Hong Kong
Standout: The jewelry store, wrapped in fuchsia like a gift box, features glass cases with dining-style seating to make for a more casual sales environment than the typical countertop. The store is an honoree in the Mid-Size Retail category of our Best of Year Awards 2018.