Two Cups by Daipu Architects Design (Beijng) Corporation Co.: 2017 Best of Year Winner for Bar/Lounge
Hiking the trails that loop across the ridges surrounding the metropolis known as the Mountain City, a Yangtze River port that's become a major destination for Chinese tourists, principal Dai Pu noticed how at ease residents were with the terrain. So Dai decided to channel it through the mountainlike elm shapes that dominate this bar's 1,100-square-foot interior. "I realized that architectural forms should respond to—and respect—the local topography and landscape," he says.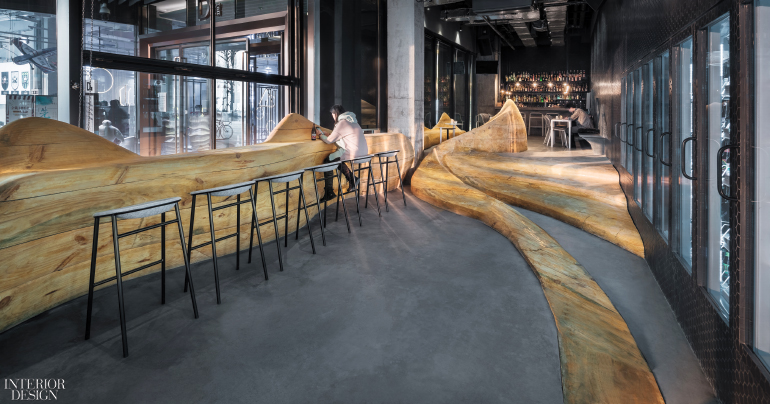 CNC-milled based on digital models and assembled on-site, the mini mountains appear to cluster in a picture-perfect range when viewed from outside, through the retractable storefront. Inside, they separate to become functional objects, serving as the bar counter and lounge seating. A patron might perch on a bench, for example, as if nestled between hills. "They introduce more relaxed body gestures," he says. "You can lean, sit, and even lie down." The dark neutral background—raw concrete for the floor and sidewalls and charcoal-gray glazed ceramic tile on the back wall—throw the mountain shapes in high relief, emphasizing the organic character of the grain and knots. The wood is also intended to show wear with use, a natural process evoking those involved in making the international craft beers served.
Project Team: Gong Changing; Wen Shikun; Cao Hui; Zhan Hui; Caryn Chen.
> See more from the December 2017 issue of Interior Design
> See all 2017 Best of Year winners and honorees