Urban Art Projects Transforms Parking Garage in Australia
Urban Art Projects is creating some thunder down under. The Australian art collective has just transformed an unsightly parking garage in Brisbane into "Landlines," an artwork by Jennifer Marchant constructed of 549 aluminum panels.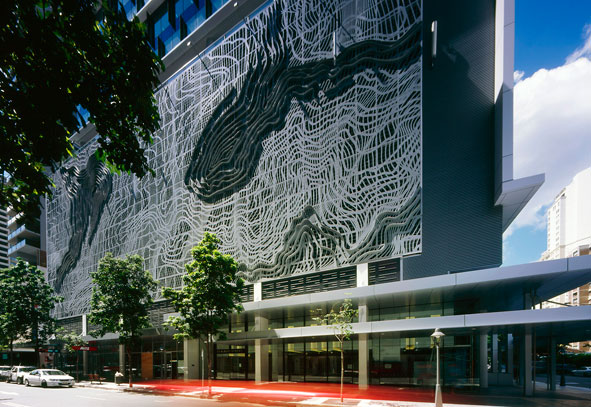 The project began when hometown architects Nettleton Tribe, enlisted to add 13 floors of office space to the 30 year old, nine-story garage, brought in UAP and Marchant to create visual character at the street level. They delivered by wrapping the structure in 4-by-11 foot aluminum panels that naturally ventilate the sub-tropical garage, reducing the buildings carbon emissions to the tune of over $900,000 in savings for the client over the use of a mechanical ventilation system.
In addition to their inherent green value, the panels have been contoured to resemble a map of the mountainous nearby Main Range National Park, transforming its Albert Street streetscape.
"Fifty Three Albert Street illustrates the huge potential value integrated artworks can contribute to a project, in this case saving the client money, significantly reducing the building's carbon footprint whilst also enhancing the public realm," say UAP principal Daniel Tobin.
All images copyright Aperture Photography; courtesy of Urban Art Projects.