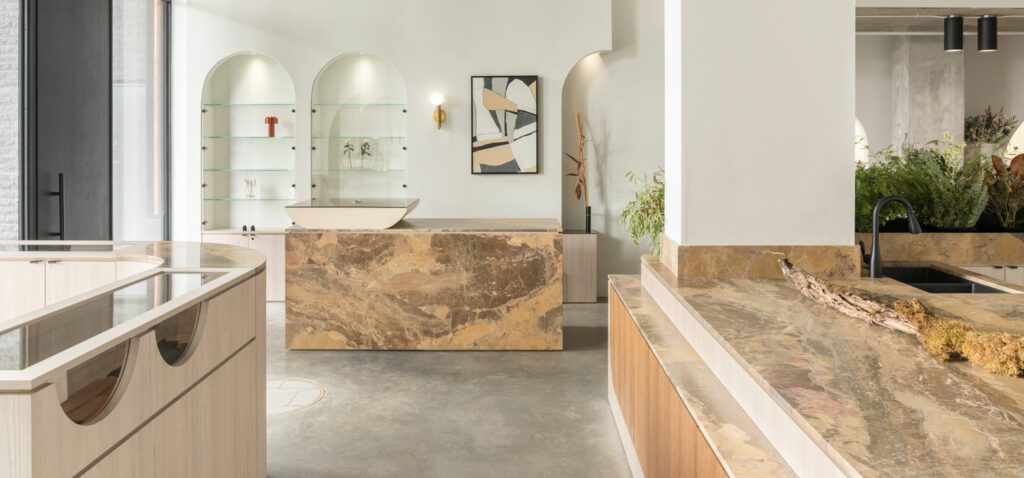 Vancouver's Newest Retail Locale by Ste. Marie Honors Traditional Craft
Double height ceilings, a spacious storefront and organic, experience-driven interiors connect the "world of craft and fine goods" in Vancouver's latest retail destination, Cadine. The owners wanted the brick-and-mortar to "extend beyond the sale of goods, engage the community, and foster purpose," says Ste. Marie founder Craig Stanghetta. Stanghetta, who began his career in set design, took inspiration from the building's well-articulated architecture, curves in nature, as well as the owners' passions for floriculture and leather-working, yielding a conscientious and interactive design through the lens of stewardship to the land.
Inside, the floral station takes center stage. While it could lean "fussy or manicured," Stagnetta paired fine construction with varying materials, some left intentionally unpolished. White drywall acts as a canvas for the leathered granite, one of the earliest material choices, while reflective glass, carved-out archways and wood are used throughout to capture a warm, natural ethos. "We wanted the florals to be the star but for people to see the dichotomy of rough and soft materials," he adds. There are even blackened steel hoops, which mimic the appearance of gymnastic rings, to display fine textiles.
At Cadine, the belief is that "less is better" and the minimalist palette allows guests to be enveloped by the array of fresh florals, art, home decor and jewelry on display. Much like being welcomed in a friend's home, shoppers are invited to explore, contemplate, and create long-lasting memories.