Various Associates Channels the Five Elements for Morph Event Venue in Shenzhen, China
They both hail from China, but Dongzi Yang and Qianyi Lin went abroad for school—and stayed there. In 2009, they met at the University of the Arts London, where Lin studied interior design and Yang architecture, and went on to the Royal College of Art for master's degrees. In 2017, both just 28 years old, they founded Various Associates, a collective of spatial, graphic, interactive, and product designers working on inter­national research-based projects.
One such project is Morph, an 11,000-square-foot event venue in Shenzhen, Lin's hometown and a relatively new city in a country grounded in tradition. To layer in national context, the designers began by researching Beijing's Forbidden City. They found that the palace complex has a color palette of red, blue, black, gold, and yellow, and each, as defined by ancient Chinese philosophy, represents one of the five elements: fire, water, wood, metal, and earth.
Before applying their findings to furniture and finishes, they outfitted the site with rotating doors that open and close according to the needs of the performances or parties within. "It's all about interaction," Lin says. "That's what makes it a fantastic place to socialize." Guests enter through a tall passageway of hand-dyed blue fabric. "Its height shows off the material's quality," Yang explains. Red velvet sofas populate the lounge area. The main functional space is the atrium, behind a wall covered in matte black tile. Throughout, gold-foil detailing replicates that found in Buddhist temples and travertine walls and ceilings represent the yellow element, earth.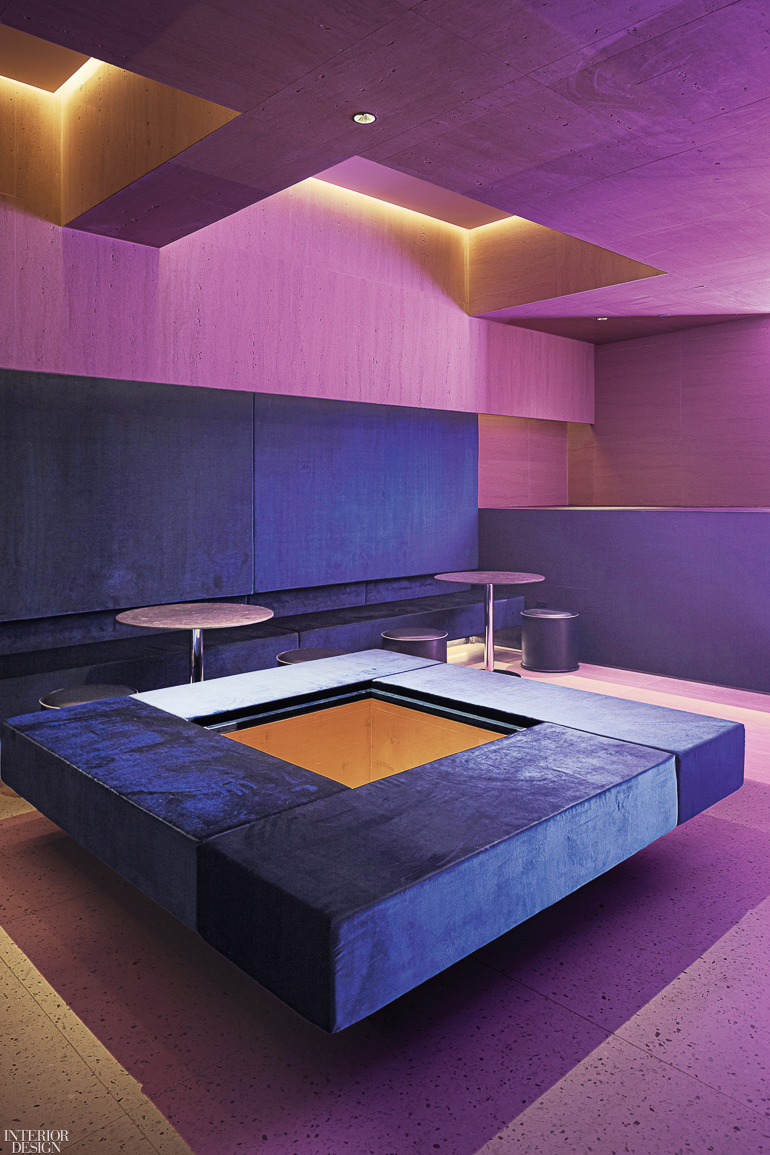 > See all seven emerging design talents from the November 2019 issue of Interior Design