Various Associates Subverts Department Store Conventions for a Boutique in Qingdao
Two years ago, Various Associates scooped up the fashion retail prize at
Interior Design's Best of Year Awards for SND, a department store in Chongqing, China. Its austere symmetry, dominated by a pyramidal superstructure that appeared beamed down by some alien life form—or perhaps carved by ancient gods—was a smash hit with the public. It also caught the eye of the owner of J1M5 Boutique, a high-end, multibrand womens wear store, who tapped VA to design an outpost in a shopping mall in Qingdao, on China's east coast.
Qianyi Lin and Dongzi Yang—partners in work and life—both hail from China but went abroad for school. They met in 2009 at the University of the Arts London, where Lin studied interior design and Yang architecture, and both went on to the Royal College of Art for master's degrees before returning to China, where Yang worked for renowned architect Liu Jiakun, and Lin for her father. In 2017, the couple—both then just 28 years old—founded their own multidisciplinary firm in Shenzhen, Lin's hometown, giving it the egalitarian name Various Associates, an allusion to the collaborative nature of design. "We didn't want a studio that was famous for just one architect," Lin explains.
J1M5 was formerly named Jimu in pinyin, meaning building blocks. With that idea in mind, Lin began researching the history of the department store buyer, someone who traveled the globe with a suitcase bringing back goods to sell (the term "trunk show" hints at such voyaging). That led her to think about luggage: Suitcases and trunks open, store things, and move easily; many contemporary variants even rotate. VA decided to build the same functions into the interior architecture of the new J1M5 store.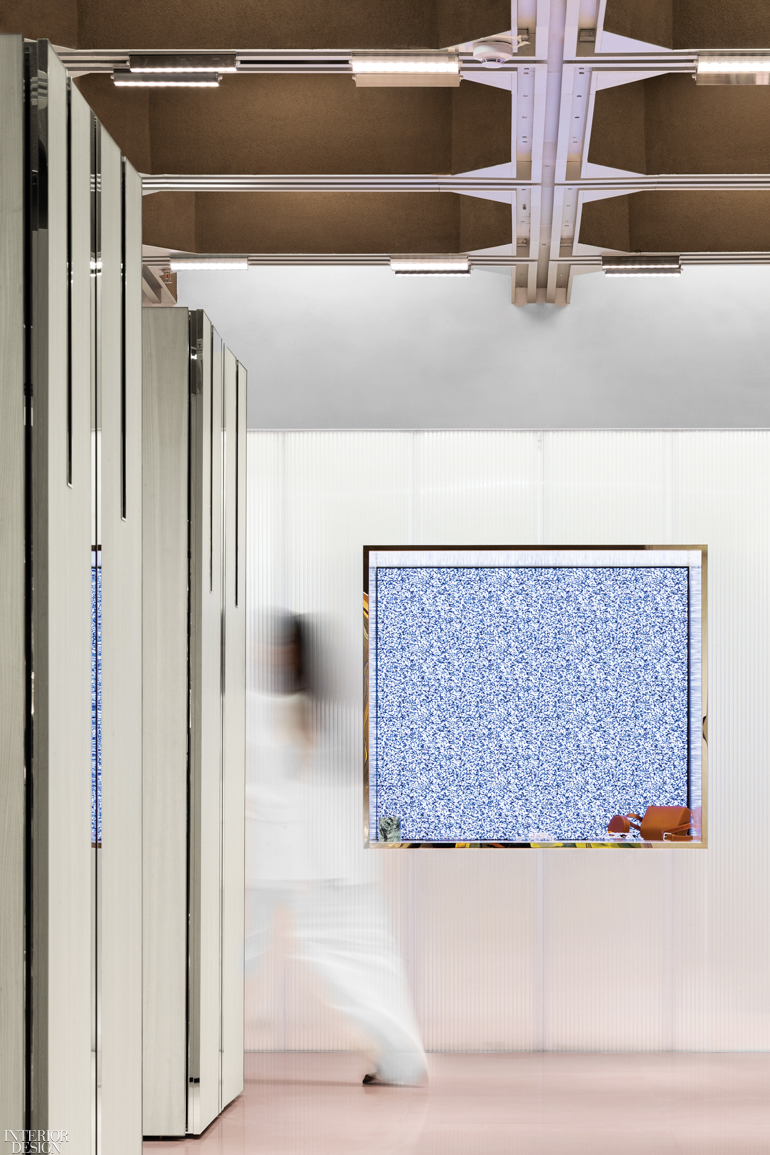 There were already two huge structural columns in the 2,860-square-foot second-floor space. What if they added…16 more? Ordinarily that would be considered less than ideal. Designers usually remove columns, not wanting to block flow or sightlines. "It was a unique choice for a department store," Yang admits. But these columns—actually lightweight floor-to-ceiling closets—are mobile: Guided on a custom 31-by-72-foot grid of overhead tracks, they can be pushed around at will, changing the floor plan entirely. Each closet also rotates 360 degrees horizontally. "The goal was to create a retail space that's as movable and flexible as a suitcase," Lin says. "In this way we tied the history of the traveling buyer to the store."
Possible configurations include moving the units en masse to one side of the boutique to provide open space for large events or positioning them to create different catwalk routes for fashion shows. The quadripartite modules themselves operate in different modes: Open, they become shoppable clothing racks or mannequin display podiums; stepped into, they function as fitting rooms; closed, they provide concealed storage—a back-of-house stock room is no longer necessary—while slots in their sidewalls accept clothing rails, adding hanging space between columns. "We broke the conventional display-oriented retail mode," Yang acknowledges, "creating an entirely new system."
VA selected a sallow "green-around-the-gills" gray stain for the custom wood-veneered closets and chose puce terrazzo for flooring. The colors are deliberately complex and slightly "off." "Nothing too pure," Lin emphasizes. It's all very 2020s-does-1990s, reminiscent of the earlier era's normcore minimalism (think Prada in its heyday). With sartorial trends typically cycling around every 30 years, it's a scheme that's just right for a cutting-edge fashion boutique.
Embedded in one wall, four large accessory-display niches provide a splash of unexpected vivacity. Backed by a digital screen playing an ever-changing stream of images, each alcove adds a jolt of audiovisual excitement, acting like a window in a setting that has none. Further panache emerges in the guest lounge, where mirrored walls immerse customers in a sense of infinite space. It's a savvy strategy that gets shoppers' spouses and friends out of the way by giving them a place to sit on cashmere-upholstered lounge chairs and play with their phones. Lin reasoned that a photo op for mirror selfies would be just the thing to engage their attention. "Anything you do you see reflected in the mirrors," Lin notes. "It makes people more conscious of what they're doing and take better care of their surroundings." Posing for selfies, they are likely to look more elegant than sprawled out scrolling through TikTok, and since the coffee table is mirrored too, they're made aware of any mess put on it, reflected or even doubled, fun-house style. The multiplicity of reflections demands a certain level of decorum—Michel Foucault's theory of self-surveillance writ large.
The boutique wouldn't be a 2021 design without a pandemic coda, of course. In true contemporary style, the project was designed entirely virtually since VA could not visit the site. In fact, due to ongoing COVID-19 travel restrictions, the couple has not walked through the completed project. Like so much of life today, the experience happened via Zoom.
Project Team: Bo Huang; Meiyu Jiang: Various Associates.
Read next: Various Associates Channels the Five Elements for Morph Event Venue in Shenzhen, China