Vox Architects Conjures Neon Magic at Sports Club X-Fit in Russia
In architecture and fitness, things can fall apart in order to come together in a newer and healthier way. That, at least, was a guiding principle for Vox Architects in designing a fitness center for Clever Park, a housing development in Yekaterinburg, a city in the Urals region of Russia.
"We worked with the idea that when a person comes to a sports club, they want to become different, to be reborn," Vox head of creative development Maria Akhremenkova begins. "It's about transformation." Mutual transformation, actually: At Sports Club X-Fit, Vox's third project in Yekaterinburg, any space that a person enters is both transformed and transformative in ways that are simultaneously subtle and dramatic, and that relate to the city's ongoing history as a center of Russian avant-garde culture, particularly in the first third of the 20th century.
"Many foreigners come to Yekaterinburg to see the architecture," Akhremenkova continues, referring primarily to the city's rich stock of constructivist buildings, more than 140 in total. Russian constructivism, which flourished in the Soviet Union in the 1920's and early '30's, put futuristic geometric forms and technologically advanced materials to socially conscious ends—hence the angular, concrete-and-steel style's popularity in Yekaterinburg, one of the nation's first industrial cities and
a longtime hotbed of revolutionary fervor. (The Romanovs were murdered there in 1918.) Vox drew on the movement's dynamic aesthetics—if not its Bolshevik politics—when designing X-Fit.
"What connects us to constructivism is a lot of geometry," Vox founder and chief architect Boris Voskoboynikov says. From the outside, the six-story, 45,000-square-foot X-Fit building—a steel-and-glass curtain-wall slab comprising five floors of club facilities above ground-level parking—looks like a conventional exercise in the international style. But its angular, brilliant-hued interiors tell a different story. "We divide space with color," Akhremenkova explains. The fitness chain's brand palette—green and anthracite gray—is splashed with broad expanses of purple and yellow to define volume, suggest mood, create focus, or effect transitions and transmutations. "The element of transformation is the most interesting thing for us," she emphasizes. "It allows us to change reality."
Along with color, lighting and mirrors are used to spectacularly transformative ends in the sports and fitness
facilities. "They're all built around optical effects," Voskoboynikov says, referring to spaces that undergo dramatic visual metamorphoses as a viewer moves around them. In one fitness studio, for example, a swath of green paint that runs across the floor, up the wall, and over the ceiling suddenly coalesces into an enormous 3-D triangle when experienced on axis. Or another studio, in which mirror, paint, and angle of vision conspire to create what appears to be a large, freestanding purple square. "When patrons first come to exercise, they're not focused,
they fall apart," Voskoboynikov says, reverting to the project's governing metaphor. "Once they start to work out, they become whole," as do the spaces, which move from intriguing perplexity to satisfying intelligibility.
Used as psychological and physical energizers, color and light have a theatrical impact—especially in the cyc­ling studio, where white and green LED strips converge on a wall-size video screen playing movement-inducing imagery. Adding to the drama, many spaces are configured like stage sets, designed to encourage the taking of selfies, a stratagem that echoes constructivism's innate theatricality and love of display.
But along with exuberant showmanship, X-Fit echoes another of the revolutionary period's key aesthetic move­ments: suprematism. Fierce abstractionists who worked with basic geometric forms—circles, squares, and lines—and a limited range of colors, the suprematists were forbears of today's minimalists. "Minimalism is always purification, a fresh view of things," Voskoboynikov observes. "We are minimalists in our conception and creative work. We try to use minimum means to achieve maximum effects."
These principles are especially evident in the club's pool area, which recalls the work of suprematist artist and
architect El Lissitzky in particular. "The enclosing shell is half white and half black," Voskoboynikov reports. "When swimming laps, you move from light to dark and vice versa, so the experience is one of continuous change." A line
of green tile on the pool bottom extends up the end wall to merge with a green LED strip that runs the full length of the mirrored ceiling—a continuous ribbon of color that animates the space. Green, yellow, and purple tile is used to create an ombré-effect wall emblazoned with the motivational message #MOVEMENT IS LIFE, reinforcing the sense of dynamism.
The suprematist references were not altogether conscious. "They're just part of our culture, which we were naturally transmitting further," Voskoboynikov admits. In that sense, "We didn't have a plan," Akhremenkova adds. What really links X-Fit to the Russian avant-garde is a desire to impart energy and joy: "We want to share a positive sense of the world and the happiness of living," Voskoboynikov says in conclusion. "That is what we see as our overarching goal."
Keep scrolling to view more images of X-Fit >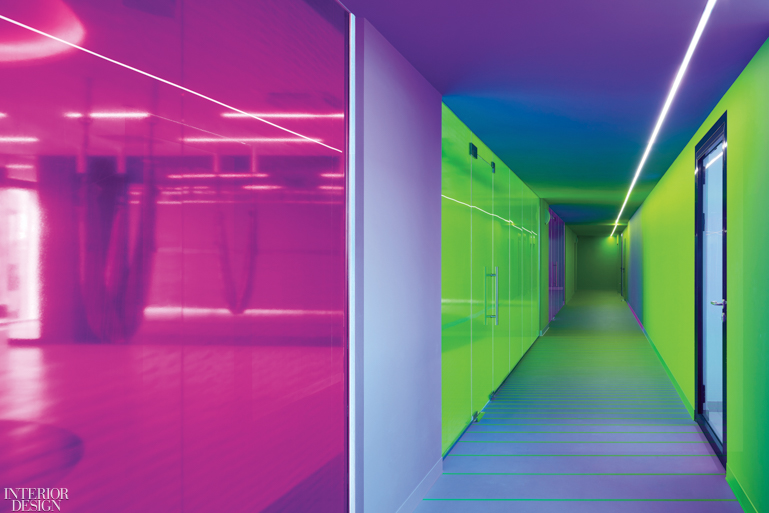 Project Team: Alina Epifanova; Julia Noskova: Vox Architects.
Project Sources: Heradesign: Acoustic Paneling (Cycling Studio). Ariostea: Floor Tile (Pool). Interbau: Pool Tile. Estima: White Tile. Emanel: Mosaic Wall Tile. Kerama Marazzi: Yellow Wall Tile. Throughout: Foresta: Wood Flooring. Regupol: Synthetic Floor Covering. Gerflor: PVC Floor. Tikkurila: Paint.
Read next: Eight Inc. Creates First Keepland Gym in Beijing for Chinese Digital Fitness App Maker