Vox Architects References Space Flight at the Gagarin Airport in Saratov, Russia
Nearly 60 years have passed since Yuri Gagarin became the first human being in space. Today, that historic voyage is honored at something else flight-oriented: Gagarin Airport in Saratov—the same Russian city in which the Soviet astro­naut landed in 1961 upon returning from his 108-minute orbit around the earth. It's in that new airport that Vox Architects has unveiled a cosmically inspired VIP lounge.
Vox, a Moscow firm led by chief architect Boris Voskoboynikov and head of creative Maria Akhremenkova, had already completed other airports and lounges throughout the coun­try for the clients, SarAero-Invest JSC and Airports of Regions MC. For this project, how­ever, "We referenced the idea of defying gravity, waiting for a miracle," Voskoboynikov explains. Although the word luxury never came up in briefings, Voskoboy­nikov says that he and Akhremenkova "strived to create an atmosphere of care and attention—there's always an elec­trical socket and room for luggage."
That the lounge is 11,200 square feet across two floors helps provide the space needed for such amenities. The levels are connected by a circular floating staircase with an elevator in its core. Upstairs, the spaces are private, with meeting and conference rooms geared toward business travelers. The ground floor, where reception and the boarding gate are, is more open and social, offering a restaurant, bar, and children's play area. Among the lounge's themed elements are circular lamps resembling solar flares, cloudlike white-and-gray porcelain flooring, and pops of brilliant blue. "The color reminds us of a rocket shooting into the meso­sphere," Akhremenkova notes.
Acrylic in that shade is a component of one of the lounge's more memorable moments. It lines the freestanding, spherical "capsule" modeled after Vostok 1, the spacecraft that carried Gagarin into the heavens, in a corner by the windows. Children are often found climbing aboard. "It passes on this amazing story to a new generation," Akhremenkova adds. "My seven-year-old daughter took part in the advertising shoot and still recalls the capsule with delight"—a stamp of approval from a very important VIP.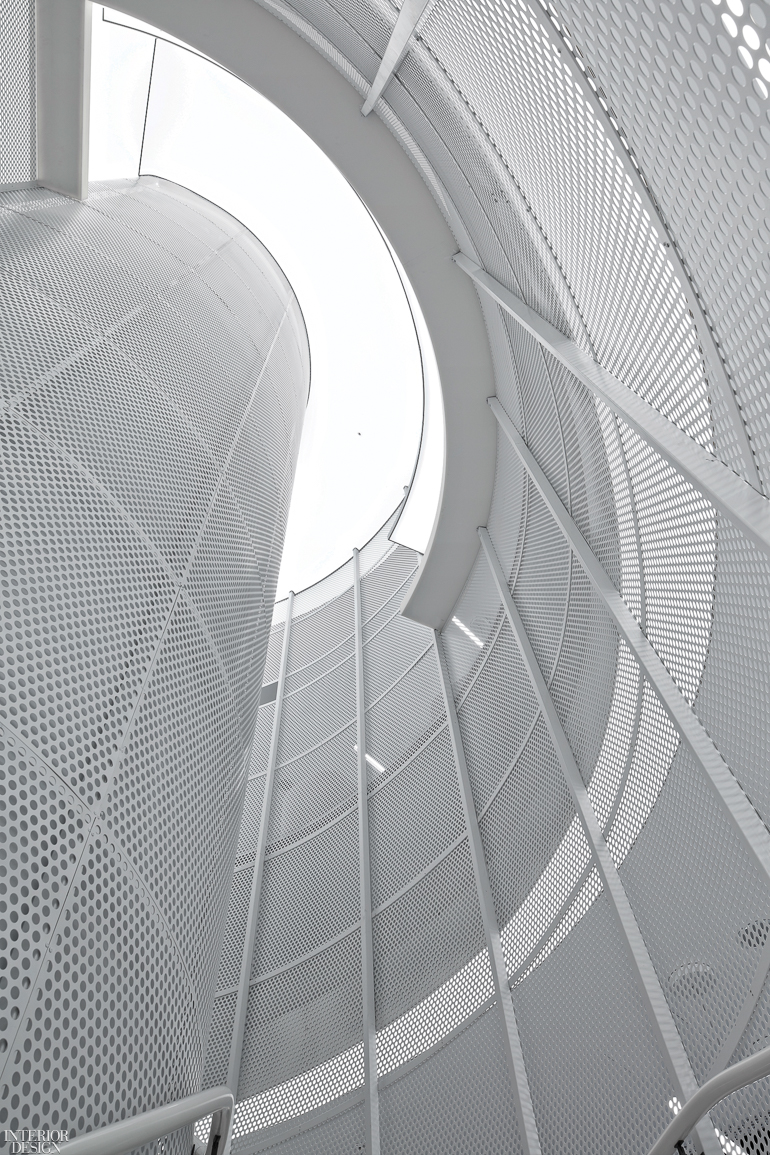 Project Sources: Six Inch: Table (Capsule). Steklo Moda: Printed Glass (Hall). Arfa: Ceiling System. Artemide: Light Fixtures (Meeting Room), Pendant Fixtures (Conference Room). Cor: Chairs, Table. Walter Knoll: Stools (Bar), Sofa (Sitting Area). Vitra: Black Tables (Sitting Area), Small Mirror (Restroom). Arper: Chairs (Conference Room). Dyson: Sink Fittings (Restroom). Throughout: Hi-Macs: Solid-Surfacing. Smile: Custom Furniture. Laminam: Floor Tile. Artemide: Linear Pendant Fixtures. Project Line: General Contractor.
Read next: Vox Architects Conjures Neon Magic at Sports Club X-Fit in Russia