Warmth and Modernism Are at the Heart of 3XN's Design for Olympic House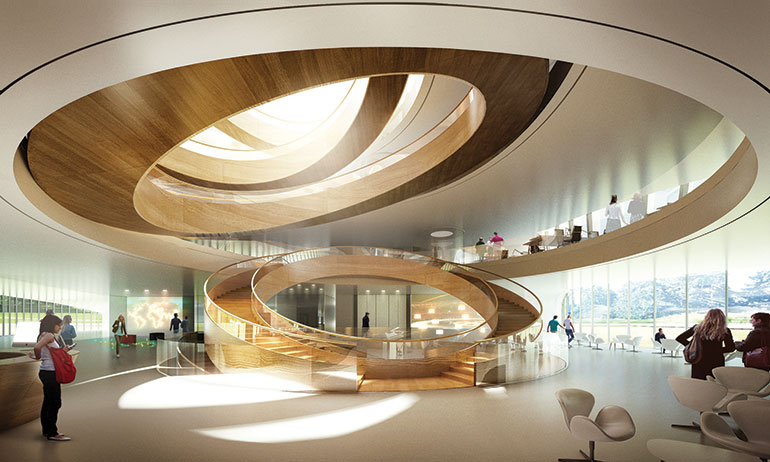 Countless athletes contemplate the Olympics in the context of their future—architects, however, not so much. Kim Herforth Nielsen, founder and senior partner of Denmark-based architecture firm 3XN was one of the few to win a truly once-in-a-lifetime opportunity to work with the International Olympic Committee (IOC). Nielsen led his team of talented designers and architects to create the new headquarters of the IOC, called Olympic House.
Out of 114 firms, his was selected to redesign the IOC's headquarters in Lausanne, Switzerland. After nearly three years of construction, the project is nearing its completion. IOC President Thomas Bach worked closely with Nielsen's team to lead the project's design direction. Two of the most poignant concepts President Bach wanted the design to articulate were sustainability and transparency. Nielsen and his team certainly delivered; the build is LEED platinum-certified, and has reused 90 percent of the concrete from the previous headquarters that was demolished to make way for the new build.
Read more: Vox Architects Transforms Moscow Olympics Aquatics Facility for Fitness Chain World Class
Like its predecessor, the headquarters is located in Lausanne's Louis Bourget public Park. The headquarters is an open campus, and the public is able to walk right up to the building's exterior. Fully transparent window treatments allow in ample light and views of the surrounding park, and create a connection between the public and the committee's work inside the building itself.
Read more: 5 Cool Design Features of Mercedes-Benz Stadium
One of the standout design features of the build is the circular staircase that connects each floor of the five-story building. It's a stunning homage to Pierre de Coubertin's iconic Olympic Rings, and at present is almost entirely completed.
The building will house the 206 Olympic committees—more than even the United Nations has, according to President Bach—and will open with a ceremony on June 23, 2019.
Read more: 13 Sports-Inspired Spaces