Warner Music Group's Revamped West Coast Headquarters Launches on a High Note
Combine an august site, a prominent entertainment company, and top-notch architecture firms, and you're likely to have a hit. Such is the case for the West Coast headquarters of Warner Music Group in Los Angeles, which occupies the former Ford Model T factory and showroom, designed in 1914 by Parkinson and Bergstrom and recently re-imagined by Rockwell Group and Rockefeller Kempel Architects.
It was 2014 when the 240,000-square-foot property, composed of a derelict five-story tower plus a two-story annex, was spec renovated by RKA. The firm handled core and shell work, infrastructure, parking, and developing outdoor spaces. Rockwell signed on when WMG purchased the site, commissioned to conceive not a mere workplace but "social, transformable spaces, where artists could hang out," Rockwell partner Greg Keffer recounts, "the project's complexity was unique for us." He's referring to WMG West Coast having seven businesses, Atlantic Records, which has Cardi B on its roster, and Elektra, with Brandi Carlile, among them. The businesses were split up in three locations scattered around L.A. "Now, they would all be under one roof," Keffer continues. "How to make everyone feel part of a big company was what WMG pushed us to solve—all our work is driven by creating a narrative of why people should be in the same space together."
This being the music world, a stage seemed fitting. Here, one lies off reception, and it's the plan's keystone, part all-hands and part concert area—there's even a bandshell that nods to the Hollywood Bowl. To accommodate audiences—so far, Lizzo and Shea Diamond have performed there—Rockwell carved out a portion of the second floor to yield a 24-foot-high volume. The resulting stadium stair provides seating for some of the 600-count population; there're also tiered lounges on the surrounding mezzanine. When the stage's empty, the zones function as meeting and alternative work spaces. Speaking of which, office areas unfold on all five floors: Mostly music labels on the first three floors, and Warner Chappell Music, the publishing arm, on the top two, newly conjoined by a mini stadium stair.
Rockwell was careful to celebrate each company's identity in its workplace. Rhino, one of the oldest brands, has a retro vibe; the entry displays vinyl album covers. Warner Records, with such artists as Jason Derulo and Dua Lipa, is more street, with murals from Tristan Eaton, Shepherd Faiery, and KMNDZ commissioned by Norman Wonderly, Warner Records's executive vice president of creative services. But all have access to artist lounges, sightlines to factory windows, and proximity to original mushroom-capped columns
They also all share the site's commissary, which, with Keffer's hospitality prowess, could easily be mistaken for a restaurant: Pale slatted millwork juxtaposes with handsome seating by the likes of Patricia Urquiola and Neri & Hu upholstered in striking blues. A similar blue appears on the rooftop water tower, newly branded with WMG's logo.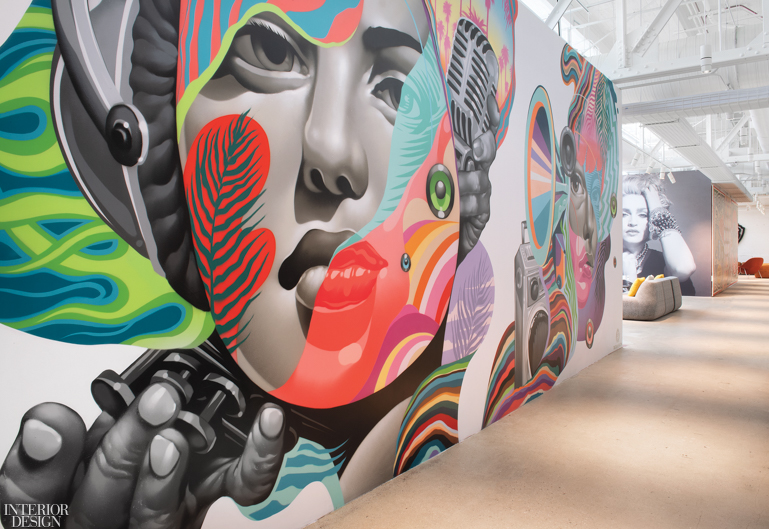 Project Resources: Community Manufacturing: Custom Ottomans (Stage). Knoll: Blue Strap Chairs (Stage), Ottoman (Lounge). M2L: Seating (Reception). Febrik: Seating Fabric. 11th St. Workshop: Custom Chan­delier. Allied Maker: Ceiling Fixtures (Lounge). Brendan Revenhill: Sconces. ABC Home: Rug. +Halle: Chair. The Rug Company: Rug (Stage). Andreu World: Chairs (Commissary). SPMdesign: Custom Logo Stools. Kvadrat: Chair, Stool Fabric. Throughout: Fni Custom: Custom Furniture. Radical Co-Operative: Custom Graphics. Bold: Lighting Consultant. Nabih Youssef Associates Structural Engineers: Structural Engineer. Ama Consulting Engineers: MEP. Criterion Acou­stics: Acoustical Engineer. Architectural Wood­working Company La; Div51: Woodwork. Howard Building Corporation: General Contractor.