Window Shopping: Young Talents Design Windows at Selfridges & Co.
ADAM ANDRASCIK
"This was my first 3-D project of any kind, and having it be on the busiest shopping ­street in the world added an enormous amount of pressure," women's wear designer Adam Andrascik says. "I couldn't have done it without the amazing visuals team at Selfridges." Windows and concepts manager Sarah McCullough's staff, encompassing every discipline from interiors to ceramics, has made the department store a must-see for creatives of every stripe.
Andrascik's constructions in torn paper echoed his spring-summer collection's themes of deconstruction and negative versus positive space. He placed incandescent bulbs inside clear plastic mannequins, then prepared fluorescent strips to be placed behind paper layers. He left the crucial layer-cutting till the last minute, he admits: "I must have been crazy." The combination created depth through shadow, drawing viewers closer and closer until their noses were practically pressed up against the glass.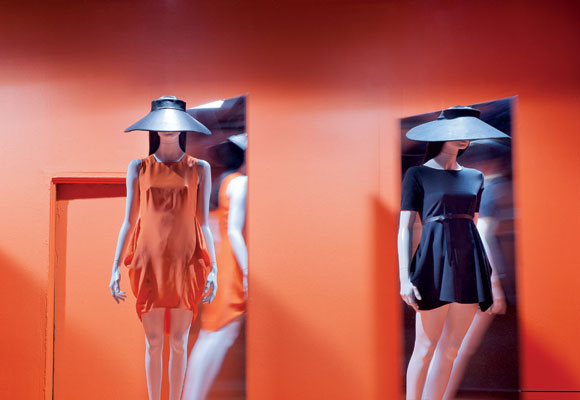 MASC
Duncan Shaw and Billy Yick conjured a kinetic tangerine world to show­case dresses from their label's explosive inaugural season. "We incor­porated bright color and reflections to achieve max­imum impact with a simple idea," Shaw explains. As the hanging mannequins replicated themselves in mirrors on rotating plinths, continuously hiding and revealing dress details, the result was a touch unsettling.
"We have a dark side to our identity," he says, adding that Masc is "our spelling of mask, referring to our exploration of mystery and curi­osity." McCullough had just two words to add: brave and brilliant.
WILLIAM RICHARD GREEN
A Savile Row-trained menswear designer­, William Richard Green so enjoyed "getting out the glue gun and scalpel," he says, that he has declared himself hooked on windows-and will soon install his second, for another London store. "We love doing these projects," he continues­. "It's a bit like being at college again."
He interpreted the Selfridges assignment by extrapolating from a print on one of his spring-summer shirts, transforming it into a madly graphic black-and-white view of a waiting room as a metaphor for purgatory. "The shirt was a collaboration with illustrator­ Martin Wollerstam, and we blew up a section of that to the size of the window, using foam board and markers," he explains.
Response, from press and public alike, has been fantastic-with an odd exception. "My parents didn't like it," he confides. Clearly, exceptions prove the rule.