Wolcott Creates a Greenhouse Vibe for Los Angeles Florist Bouqs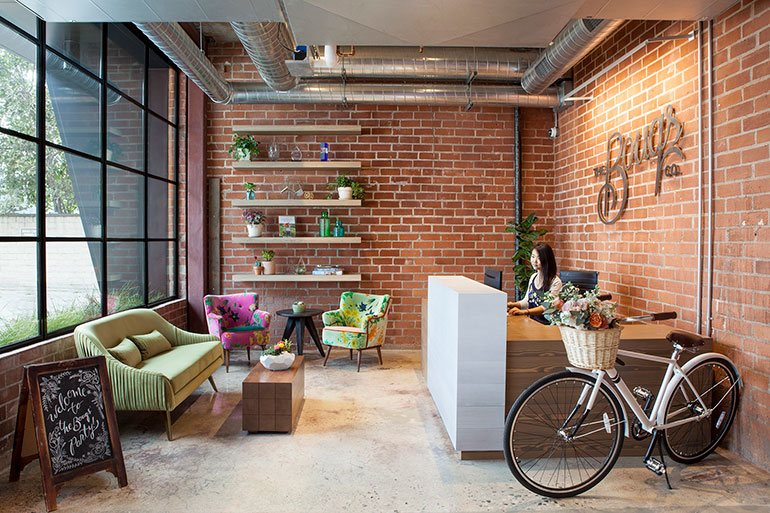 It all started with Shark Tank. Founded in 2012, Bouqs is an online florist giving new meaning to the oft-bandied phrase, farm to table. In this case, it's flower farm to cocktail table—or maybe a desk. Streamlining operations to eschew middle men gives the grower partners greater revenue.
Uprooting Venice origins for its growing staff of 60, the firm relocated to a 14,000-square-foot brick and glass bow-truss building in Marina del Rey, California. Enviable for the bones, but with inherent challenges. Ultimately, they posed no sweat to Wolcott designer Andie Chang.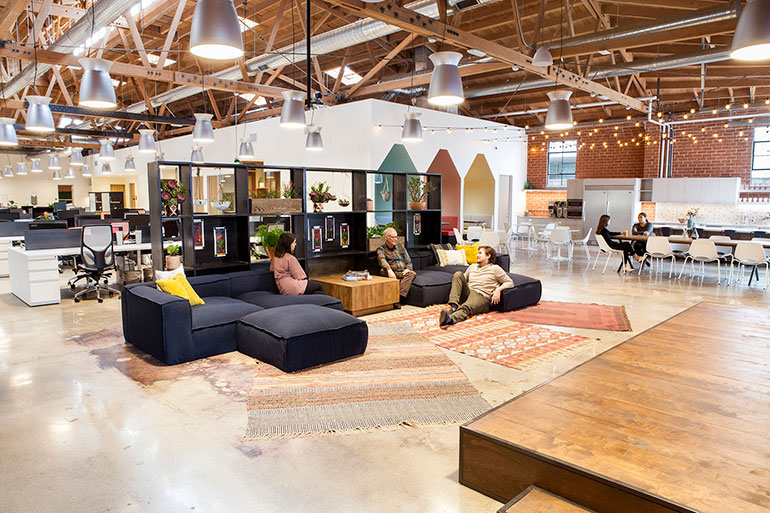 Most crucial was the ceiling's limited load-bearing capacity. That meant tight collaboration between design and engineering teams to implement ductwork, lighting, and equipment. Full-height walls were out. So even though Bouqs is an open workplace, meeting and conference rooms were part of the program, along with a floral design lab and the obligatory pantry and play space.
Chang solved the problem with freestanding structures of glass and drywall. Most striking is the central pavilion with a trio of semi-private niches painted blush rose, daffodil, and pale hydrangea. Behind, the floral design space has a wall of wood-like plastic laminate cabinetry. Wood, the real thing, appears as a reclaimed and whitewashed version for the reception desk.
Aside from the blooms strewn throughout the space, Chang created tulip-esque pendants for the niches and chose a floral tile for the pantry. At the entry, the chandelier casts a flowery shadow.
Furniture throughout is comfy-cozy. As for all the rugs? Says the designer: "They blanket the space with the colors and textiles of the Bouqs's South American farm community."